Miriam Yalan-Shteklis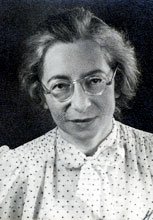 Was a Jerusalem-born writer and poet, renowned for her contributions to children's literature and children's poetry. She was the recipient of the first Israel Prize for Children's Literature in 1956.
Early Life
Miriam Vilensky was born to Dr. Yehuda Leib Nissan Vilensky (later known as "Yalan," based on the acronym of his name: Yehuda Leib Nissan) and Hadassah, daughter of Yitzhak Lifshitz, in the village of Potoki, near the city of Kremenets in southwestern Russia (now Ukraine).
Her father was a Zionist leader, one of the founders of the Jewish National Fund, and a member of the underground movement "Bnei Moshe." Miriam was raised with strong Jewish and Zionist values.
Tragically, her mother passed away when she was only sixteen years old. She had two brothers: Samuel Vilensky (Mouli), who became a civil engineer, and Emanuel Yalan (Manoli), who pursued a career in architecture.

After completing her high school education, Yalan-Shteklis studied psychology and social sciences at the University of Kharkov and later pursued Jewish studies at the Higher School for Jewish Studies in Berlin. She also earned a degree in literature from the School of Literature in Paris.


Immigration to Israel

In 1920, at the age of twenty, Miriam immigrated to the Land of Israel and settled in Jerusalem's Rehavia neighborhood. Initially, she worked at the Hadassah offices, but after some time, she was employed as a librarian in the Slavic department at the National Library, where she worked until her retirement.

In late 1929, she married Moshe Shteklis, a prominent figure in the pre-state era of Israel. The couple did not have children. During the writing of her book "Etz Roze Gamadim" (I Awaited, I Awaited, I Wept, I Wept), she invited the book's illustrator, Bina Gevirz, to live with them. Gevirz and Moshe Shteklis fell in love, leading to Miriam's divorce from Moshe in 1939, after he left with Gevirz. From then on, Yalan-Shteklis lived alone.


Writing Career

Miriam Yalan-Shteklis wrote extensively, including poems and stories for both adults and children. Her works were first published in the children's newspaper "Davar L'Yeladim" (Words for Children) and were later collected and published as books.

In 1956, she was awarded the Israel Prize for her literary contributions and became the first recipient of the Israel Prize in the field of children's literature. In 1968, she was honored with the Jerusalem Prize.


Musical Adaptations of Her Poetry

Many of Yalan-Shteklis's poems have been adapted into songs, becoming cherished assets in Israeli children's music. Some of her famous songs include "Michael" ("I Awaited, I Awaited"), "Dany the Hero," "The Soap Cried A Lot," "Sun, Sun High Above," "Ginji" ("To the Golden Rosh"), "Yedidi Tin Tin," "Golden Doll," "The Owl Has a Home," "Etz Roze Gamadim," "Ruach Ruach," and more.

The lyrics to these songs have been set to music by various composers, but they are most notably associated with the group "HaChalonot HaGvohim" (The High Windows) and its lead vocalists, including Josie Katz, Shmulik Kraus, and Arik Einstein. These songs have become classics in Israeli children's music.


Legacy and Commemoration

Miriam Yalan-Shteklis's legacy is celebrated in various ways:

1. Schools and Streets: The Miriam Yalan Shteklis Ort School in Netanya and streets named in her honor in Petah Tikva and Be'er Sheva commemorate her contributions.

2. Books and Documentaries: Several books and documentaries have been published about her life and work, ensuring her memory lives on.

Miriam Yalan-Shteklis's writings continue to be cherished in Israeli culture, especially among young readers, and her songs remain a beloved part of Israeli children's music, solidifying her place in the cultural heritage of the nation.

---
Reviews (0)
No reviews yet.