Joel Zusman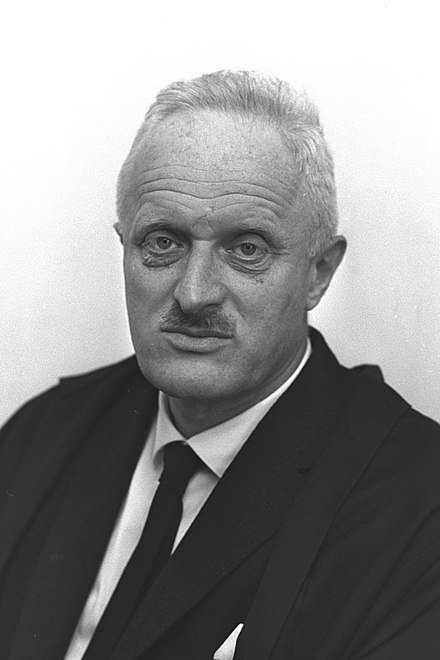 Was the fourth President of the Supreme Court of Israel. He was awarded the Israel Prize for Law in 1975.
Biography:
Joel Cohen-Zusman was born in 1910 in Krakow, which was part of Galicia (Austro-Hungarian Empire at the time, later becoming part of Poland). He studied law at universities in Frankfurt, Heidelberg, and Berlin. In 1933, he earned his doctorate in law, and a year later, in 1934, he immigrated to Israel. In 1937, he was accredited as a lawyer by the British Mandate authorities and began practicing law. He furthered his studies at the University of Cambridge, receiving an LLB degree from the University of London in 1939.
Zusman became a member of the Haganah in 1941. With the outbreak of the War of Independence, he served as a legal advisor within the Israel Defense Forces (IDF), holding the rank of Deputy Chief Military Advocate. He continued to serve until he was appointed as a judge in the Tel Aviv District Court in 1949.
After a brief tenure as a judge in the district court, Zusman was appointed as a justice of the Supreme Court in 1951, a position he held for several terms. On January 11, 1953, Zusman was appointed as a permanent justice of the Supreme Court, and on October 7, 1970, he became the Acting President of the Supreme Court. Following the retirement of President Simon Agranat, Zusman was officially appointed as the President of the Supreme Court on September 8, 1976.
During his tenure at the Supreme Court, Zusman also chaired the Central Elections Committee for the Fourth Knesset in 1959. He headed the committee responsible for investigating the circumstances of the Al-Aqsa Mosque fire in 1969.
Zusman retired from his position as President of the Supreme Court on February 29, 1980, eight months before reaching the age of 70, due to health reasons. He passed away on March 2, 1982. His two sons, Amnon and Amir, also became lawyers and specialized in practicing law at the Supreme Court. His daughter, Dafna, did not pursue a legal career.
In addition to his role as a Supreme Court justice, Joel Zusman served as a lecturer with the rank of professor (emeritus) in the Faculty of Law at the Hebrew University of Jerusalem. As a professor, he educated numerous students, including Professor Yitzhak Zamir (later a Supreme Court justice) and Professor Gabriela Shalev.
Joel Zusman authored several significant books in the field of law, including "Contract Law" and "Arbitration Law." However, his most notable work was "Civil Procedure Rules," which went through seven editions. In this book, Zusman compiled and analyzed all the existing legislation and case law related to civil procedure, with a primary focus on efficiently and expeditiously managing legal proceedings and, ultimately, emphasizing the importance of addressing substantive issues while avoiding unnecessary litigation.
Joel Zusman was awarded the Israel Prize for Law in 1975. He passed away in 1982 and was buried in the Kiryat Shaul Cemetery.
Philosophical Positions:
It appears that Zusman believed in nurturing civil procedure not solely out of a commitment to procedural principles, but rather as an appreciation that safeguarding procedural rights is essential for protecting substantive rights.
He was concerned that justice should be delivered efficiently, and he emphasized the practical outcomes of judicial decisions. Before rendering a judgment, Zusman would often pause and reflect on whether the proposed solution was practical. If he found it unworkable, it was a sign to him that he had erred in his analysis.

In one of his notable judgments, Zusman supported the disqualification of the "List of Socialists" from running in the Knesset elections, relying on natural justice and the democracy's need to protect itself.


Notable Judges:
During his time as President of the Supreme Court, Joel Zusman worked alongside several notable judges, including Dunkelblum, Heshin, Asaf, Zilberg, Brenner, Goytein, Vitenko, Cohen, Meni, Halevi, Kister, Atzniuni, Sharshvski, Ben-Perat, Asher, Alon, Bakur, Beisky, Levin, Cohen, Cohen, Levin, Bach, Netanyahu, Halima, Goldberger, Maltz, Orr, Heshin, Zamir, Dorner, Tal, Shtarsberg-Cohen, Kedmi, Tirkl, Anglerad, Rivlin, Frochya, Levy, Arbel, Zilbertel, Rubin, Jubran, Danziger, Shaham, Meltzer, Hazin.
Temporary Appointments:
Temporary judges who served during Zusman's presidency included Bakir, Zehar, Levin, Zaltner, Cohen, Ben-Atu, Shiloh, Shinbouim, Avnor, Weiss, Ben-Dror, Vinograd, Volenstein, Ariel, Aloni, Ben-Yair, Goldberger, Alon, Ilan, Zoaibi, Berliner, Edial, Heshin.
Please note that this translation is a factual and comprehensive overview of the provided text, presented in a documentary style.
---
Reviews (0)
No reviews yet.