Daniel Friedman: A Life in Law and Legal Scholarship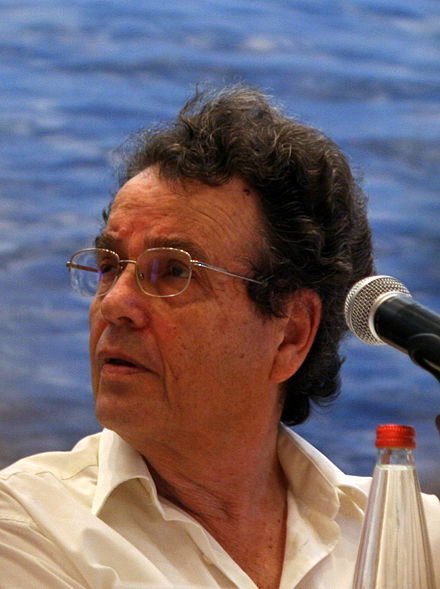 In the annals of Israeli jurisprudence, one name that stands out prominently is that of Daniel Yona Friedman. Born on April 17, 1936, he is an Emeritus Professor of Law at Tel Aviv University and the College of Management, a recipient of the Israel Prize for Legal Research (1991), and a member of the Israel Academy of Sciences and Humanities. Furthermore, he served as Israel's Attorney General during the early 1980s.
Early Life and Family

Daniel Yona Friedman was born in British Mandate Palestine to Victor and Judith, with his maternal lineage extending back seven generations in the Holy Land. He is married and a father of three, residing in Ramat Aviv. His educational journey began at Gymnasia Geula, a school founded by Israel's founders, where he cultivated a passion for geography and knowledge of the Land of Israel, actively engaging with the Scouts movement.

At the age of 17, in 1953, he commenced his legal studies at the Hebrew University of Jerusalem, subsequently serving as a legal officer. During his academic years, Friedman forged relationships with prominent legal figures such as Mishael Cheshin, Yitzhak Zamir, Yitzhak Englard, and Aaron Barak.


Academic Career

Before earning his law degree, Friedman completed his first book, "Motor Vehicle Insurance." He also served in the military legal department. Later, he pursued a Doctor of Laws degree at the Hebrew University, supervised by Professor Uri Yadin. His doctoral dissertation, titled "Methods for Insuring Road Accident Victims," was submitted in 1965. Friedman furthered his legal education at Harvard University, where he obtained a master's degree in law.

In the 1960s, he worked as an academic assistant to Professor Zeev Zeltner at the Faculty of Law, Tel Aviv University. In 1968, he was promoted to senior lecturer and subsequently granted the title of professor. From 1974 to 1978, he served as the Dean of the Faculty of Law. He was instrumental in founding Tel Aviv University's interdisciplinary Center for Research in Law and served as its first director. Additionally, he held the Daniel Rubinstein Chair in Civil and Comparative Law at Tel Aviv University. He also served as a visiting professor at law schools at Harvard, London, Pennsylvania, and Fordham universities. Several of his doctoral students, including Nili Cohen, Ariel Porat, Nina Zaltzman, and Ofer Groskopf, went on to become law professors at Tel Aviv University.

In 1990, Friedman founded the Law School at the College of Management, serving as its dean until 1997, after which he returned to teaching at Tel Aviv University. During the 1980s and 1990s, he declined offers from Meir Shamgar and Aharon Barak to be appointed to the Supreme Court, a move praised by Mishael Cheshin as "undeniably deserving of the Supreme Court."

Friedman is renowned for his expertise in administrative law, comparative law, and civil law, including contract law, insurance law, and tort law. He has published numerous articles in these fields in the "Iyyunei Mishpat" (Legal Studies) journal of Tel Aviv University's Faculty of Law and other legal periodicals. Alongside Nili Cohen, he co-authored the "Contracts" series, considered one of the seminal works in the field. The first volume of this series received the Zussman Prize for Jurisprudence.

In addition to his academic work, Friedman has participated in various public committees and advisory panels. In 1985, he was appointed as a member of the Basle Committee to investigate the stock exchange manipulation by Israeli banks. He also served on several legal advisory committees, including the committee chaired by Aharon Barak, which drafted the memorandum on monetary offenses.

In 1983, he was awarded the Zeltner Prize for Jurisprudence. He also received the Minerva Prize for Excellence in Law. In 1991, he was honored with the Israel Prize for Legal Research. He is a member of the Israel Academy of Sciences and Humanities.

Friedman is a member of the advisory board of the Israeli Forum for Law and Liberty.

Internationally, Friedman is a member of the American Law Institute and an Emeritus member of the International Academy of Comparative Law. He is also a member of the advisory board of the European Review of Contract Law and a consultant to the American Law Institute on issues related to wealth creation and non-profit law.

In early 2008, a jubilee book was published in his honor, titled "The Book of Daniel: Essays on the Thought of Prof. Daniel Friedman," edited by Professors Nili Cohen and Ofer Groskopf. This book contains 18 of Friedman's seminal articles, each accompanied by a tribute article written by a prominent legal scholar specifically for this volume. The editors of the book highlighted Friedman's influence in the following manner:

Friedman's impact is evident in the fact that there are hardly any Supreme Court decisions in the realm of civil law, including contract law and wealth creation, that do not cite his work as a reference for legal interpretation and formulation.

Furthermore, the editors outlined Friedman's approach to jurisprudence:

Friedman is known for his balanced and gradual development of the law. His originality lies in his ability to build on existing legal foundations while adapting them to the contemporary context. In this regard, his approach can be situated between that of Professor Gadi Tedeschi, who places maximal weight on legislative text within the continental legal tradition, and that of Professor Aharon Barak, the former President of the Supreme Court, who advocates a more revolutionary approach. Barak sought to break free from the constraints of tradition, as evident in his struggle to shape the interpretation of new Israeli legislation. Friedman's intermediary position is characterized by his belief in a reasonable, but not absolute, reliance on written law. For example, his interpretation of "Estoppel" in contract law extends far beyond Tedeschi's perspective and, presumably, what Tedeschi would have been willing to adopt. It also departs from the stance of Friedman's contemporary, Dorit Beinisch, who was nominated to be the President of the Supreme Court.


His Views on the Israeli Legal System

As a proponent of legal reform, Friedman spent many years defending the Supreme Court from attacks by ultra-Orthodox factions. He argued that these attacks posed a substantial threat, stating that, "The attacks by the ultra-Orthodox factions on the Supreme Court and its president reflect a fundamental undermining of the democratic mechanisms established by the state. The question at hand is not solely about the appointment process of Supreme Court judges, which is generally considered fair and balanced."

However, in later years, Friedman became critical of the Israeli legal system. According to him, in the 1980s, the Israeli Supreme Court underwent a transition from cautious judicial activism to a more aggressive form, significantly expanding its discretion and influence. In an article, he stated that this process came at a heavy price, as "the common denominator of the legal community eroded," and "the legal security in the civil domain was seriously compromised." Friedman also pointed out that not only was the legal security undermined, but also the legal autonomy of the parties involved, their reasonable expectations, and their trust in the courts. He began writing regularly in the "Yediot Aharonot" newspaper, criticizing legal decisions that, in his view, harmed the public's trust in the judiciary.

In his opinion, the peak of this transition was seen in the verdict of the Tal Law case (High Court of Justice 5712/97), in which the Supreme Court set aside the Knesset's judgment and established its own guidelines regarding the deferment of military service for yeshiva students. In his 2009 article, "The Degeneration of Israeli Society: The Supreme Court and the Haredim," Friedman explained that the Supreme Court had displayed an unbridled use of judicial power that exacerbated the public's lack of trust in the legal system. He further argued that this deterioration of the relationship between the judiciary and the public was deeply rooted in the Supreme Court's use of judicial activism.

In subsequent years, Friedman published additional articles in "Yediot Aharonot" and other media outlets, criticizing specific judgments and the general course of the Israeli legal system. He continued to argue that the Supreme Court's overstepping of its authority and use of judicial activism contributed to a decline in public trust in the legal system and a degradation of civil order.

Friedman's legal scholarship and his engagement with the Israeli legal system have made a lasting impact on the field of law in Israel. His dedication to his work, his contributions to legal scholarship, and his service to the nation as Attorney General and in various advisory roles have solidified his legacy in the annals of Israeli jurisprudence.


References

1. "Daniel Friedman: A Life in Law and Legal Scholarship" (Hebrew). Retrieved from https://blogs.tau.ac.il/law_friedman/

2. "Daniel Friedman - Curriculum Vitae" (Hebrew). Retrieved from https://www.tau.ac.il/law/friedman/docs/Dan_Friedman_CV.pdf

3. "חשיבותו של דן פרידמן ז"ל והמשמעויות שבשמו" (The Significance of Dan Friedman z"l and the Implications of His Name) (Hebrew). Retrieved from https://www.haaretz.co.il/magazine/magazine/.premium-MAGAZINE-1.10998950

4. "פרופ' דן פרידמן, ז"ל - קרובו מספר" (Prof. Dan Friedman, z"l - A Tribute) (Hebrew). Retrieved from https://www.haaretz.co.il/magazine/magazine/.premium-1.10998949

5. "התערערות וסרבות תפקידו של בג"ץ" (Decline and Refusal of the Role of the Supreme Court) (Hebrew). Retrieved from https://www.yediot.co.il/articles/0,7340,L-3948069,00.html

6. "הגילוי יותר מהחשד - פרופ' דניאל פרידמן ספג בזעם הציבורי" (The Discovery Beyond Suspicion - Prof. Daniel Friedman Absorbed Public Anger) (Hebrew). Retrieved from https://www.nrg.co.il/online/1/ART2/259/878.html

Please note that this information is accurate as of my last knowledge update in September 2021, and there may have been further developments or events related to Daniel Friedman since that time.

---
Reviews (0)
No reviews yet.