Moshe Efrati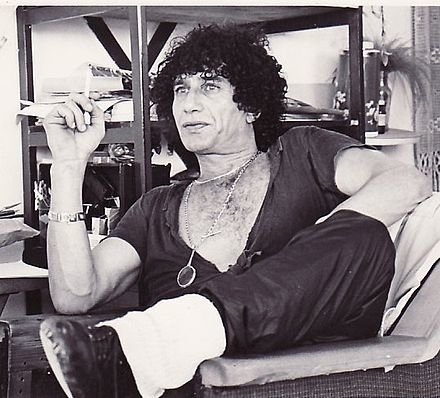 Moshe Efrati (1934 – September 26, 2020) was an Israeli dancer and choreographer, honored with the Israel Prize for Dance.
Biography
Born as Moshe Guyat in Jerusalem to Ephraim and Rebecca, he was a sixth-generation native of Israel. Shortly after his birth, his family was abandoned by his father. His mother worked at the Egyptian Consulate in Israel, Mahmoud Faouzi. His five older brothers were members of underground movements in the country, and three of them were wounded in their activities.
Efrati attended the "Tachkemoni" school, and at a young age, he began working as a laborer and farmworker. In his youth, he became involved in dance as a sport to develop the body and studied at a studio run by Chasia Levy-Agron. He returned to the studio after his military service, during which his mother passed away.

He performed at the studio in 1958 in front of Martha Graham during her visit to Israel. Following her visit, he accepted her scholarship offer to study at her dance school in New York. In 1962, he managed to fund his trip and spent two years studying under Graham. During this time, he also studied under Louis Horst, Antony Tudor, and Dan Froward. Efrati lived in Harlem and was exposed to Afro-American culture.

In 1964, he was invited back to Israel and joined the "Batsheva" dance group, where he served as a principal dancer alongside Rena Schenfeld and Ehud Ben-David. Afterward, he became its main choreographer. Upon his performance with the group, Irene Gertie wrote: "The big surprise of the evening for me was a male soloist named Moshe Efrati.
This dancer has all the necessary qualities: talent, discipline, concentration, rhythm, and dramatic power, with an ideal physique for a male dancer. His personality is strong and unbreakable, in my opinion, it cannot be changed." In 1971, Efrati founded the dance group "Dmama," composed of deaf dancers.
Over the years, he included dancers with hearing abilities who were members of the "Afati Dance Group," which he founded in 1974 and later renamed to "Kol V'Dmama" (Voice and Silence). Among the dancers was Amnon Damti, who served as the principal dancer for 15 years. The group disbanded in 2001 due to the cessation of financial support from the Ministry of Education and Culture and Efrati's personal economic difficulties.

Efrati was married to Tamar Gutshalek. In the mid-60s, he met Avivah Pazi. In the late 60s, they married, and a son was born to them. After Pazi met Shuki Levy and left the house, the couple separated and later divorced. From the 1970s until 2000, he was married to Esti Nadler.

In 2001, Efrati was struck by a stroke and rehabilitated from partial paralysis on his right side.

Moshe Efrati passed away on September 26, 2020, and was laid to rest in the Yarkon Cemetery.
---
Reviews (0)
No reviews yet.