Ladislav Snellor: Shaping Israel's Automotive Landscape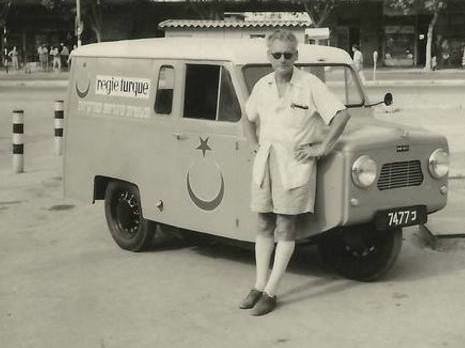 Ladislav Snellor (1914 – December 14, 1988) was an Israeli industrialist who co-founded Autocars in 1957, along with Yitzhak Shubinsky. He played a crucial role in overseeing the technical aspects of the company until his retirement in 1963.
Biography

Born on the border of Czechia and Slovakia, Snellor fled to the Netherlands in 1939 and later immigrated to Israel.

Snellor settled in Haifa, renting a room in the Hadar neighborhood, where he began buying and selling used cars. In 1947, he married Erika Löwy in Tel Aviv. During the Israeli War of Independence, Snellor served as a paramedic.

In 1952, Snellor approached the British company "Reliant Motors," which granted him a license to assemble three-wheeled cars from their production line. He established a company named "Cars and Garages Ltd." and began assembling a few three-wheeled vehicles in a small workshop in Tel Aviv. These three-wheelers were primarily used for milk transportation.

Yitzhak Shubinsky, a distributor of Turkish cigarettes in Israel, visited Snellor's workshop to purchase a three-wheeled car for marketing imported Turkish cigarettes. Subsequently, Shubinsky decided to venture into the automotive business. Snellor, who had the technical expertise, was the first to import the necessary parts and assemble the three-wheeled vehicles.

Snellor and Shubinsky, combining technical know-how with entrepreneurial spirit, signed a partnership agreement and decided to shift towards manufacturing four-wheeled cars. They renamed the company "Autocars Ltd." To this partnership, they added the "Israel Automobile Company," an importer of Ford cars. Their vision was to produce a simple, affordable car for the average worker. However, they encountered several challenges. The laws in those days stipulated that only one-third of the production could be sold domestically, with the rest intended for export.

Recognizing the need for a new car model, Snellor and Shubinsky approached the British company Reliant Motors, with which Snellor had been working for some time. The company was commissioned to plan and construct the prototype, and Snellor traveled to England for several months to learn the car assembly process.

In September 1958, two disassembled vehicles arrived in Israel, painted black. These were Reliant Regent, British cars designed for the discerning. Here, the assembly of the kits began, and the vehicle's bodywork was made of fiberglass rather than metal, due to limitations in the young Israeli industry. The car was marketed as the "Sabra" abroad and briefly as the "Tzabra" domestically.

In late 1959, the "Susita" was born after Autocars announced a nationwide competition to name the car, which was won by Yosef Shub, then a student who later earned a Ph.D. in agronomy. "2,355 proposals were submitted, with seven suggesting the name 'Susita,' and the winner received 500 pounds."

In 1959, government regulations were eased, requiring only half of the production to be exported. During that time, "Kaiser-Ilan," led by Ephraim Ilan, terminated its contract with Renault and ceased production of Renault cars for the local market. This shortfall prompted the government to allow Autocars to produce these models for the local market.

To improve the car's reputation, Snellor and his wife, along with a few friends, embarked on a European journey in 1960 with the Susita. They sailed to Piraeus, Greece, and continued their journey to Yugoslavia, Italy, and London, visiting a total of 13 countries during a multi-month trip. The Susita survived the journey and returned safely to Israel.

While Shubinsky was the entrepreneurial force connected with government offices, Snellor, the technical expert, managed to transform Snellor's small workshop into a large industry. Their relationship was professional and cordial. Towards 1963, Autocars began preparations to move to a new, larger facility in Tirat Carmel, marking Snellor's final days with the company.

After parting ways, Snellor continued to lead Autocars, initially in partnership with the "Israel Automobile Company" and later, from 1965 onwards, with the luxury car company "Standard-Triumph" and "Koor Industries," under an agreement that allowed him to remain as CEO and retained 26% of the shares.

Ladislav Snellor passed away in 1988, leaving behind his wife, Erika, and their only daughter, Irit (born in 1949).
---
Reviews (0)
No reviews yet.