Abba Fromchenko: The Legacy of an Israeli Industrialist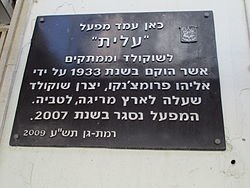 Abba Gershon Fromchenko (August 4, 1916 – November 5, 2005) was an Israeli industrialist and the CEO of Elite, a renowned Israeli confectionery company, for 21 years. His life and contributions to the company are a testament to the growth and success of Elite as a prominent business in Israel.
Biography:
Abba Fromchenko was born in Latvia to parents Sarah and Eliyahu Fromchenko. In 1933, at the age of 17, he immigrated to Israel with his family. Just a year later, in 1934, his father established the Elite confectionery factory in Ramat Gan. Abba pursued engineering studies at the Technion in Haifa. After completing his studies in 1938, he began working for Elite.
His initial role was supplying Arab-owned stores, but over time, he became a representative of Elite to the British Army in Palestine. Abba joined the company's management team and supervised production processes.

Abba Fromchenko, together with his partner Mark Mushovich, played a pivotal role in developing Elite into one of the largest conglomerates in Israel. In 1955, Elite made a groundbreaking move by introducing instant coffee production to Israel. Until then, instant coffee was only available abroad and was not imported to Israel.
Elite established a coffee plant in Safed, while the knowledge required for this endeavor was provided by a Jewish instant coffee manufacturer from the United States. Abba Fromchenko served as the engineer and executor of this new initiative, while Mushovich was responsible for marketing and promoting the product.
In the initial years of marketing in Israel, instant coffee was considered a luxury item, but within a decade, it had become an immensely popular and everyday product in Israel, forever associated with Elite. Abba Fromchenko was also responsible for the design of Elite's iconic instant coffee tin, which remained virtually unchanged for many years. In the 1970s, Elite began producing glass jars for its instant coffee, but due to strong consumer demand for the original tin packaging, Elite returned to using the branded tin.

In the 1960s, Abba Fromchenko was appointed CEO of Elite and chairman of the board of directors of its subsidiary companies, while his partner Mark Mushovich served as the chairman of the company and CEO of the subsidiary companies.

In 1979, he was among the founders of the holding company "Danut," which collapsed in 1985.

In the 1980s, the Ferman Group acquired control of Elite, including the shares held by his brother, Yaakov Fromchenko. Following this development, Abba Fromchenko decided to retire from the company. In 1987, after fifty years of active involvement with Elite, he announced his resignation from the company's board of directors and the sale of his shares in the company.

Abba was married to Ruth and was the father of two daughters: Tamar (Tami) Wolf-Philosoph, who was married to attorney Avi Philosoph, and Baya Oz. Abba Fromchenko's contributions to the growth and success of Elite and his legacy in the Israeli business world continue to be remembered and celebrated to this day.
---
Reviews (0)
No reviews yet.