Israel Gurion: A Multifaceted Israeli Artist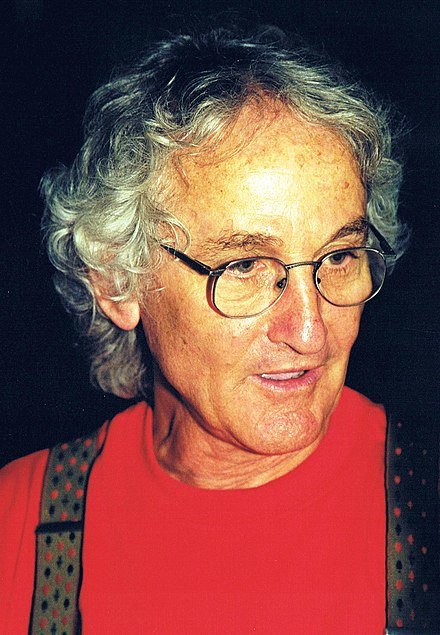 Israel Gurion, born Israel Gershstein on November 2, 1935, in Jerusalem, is a multi-talented Israeli artist known for his contributions as a singer, musician, actor, comedian, director, painter, mime, composer, and dancer.
One of Israel's most versatile artists, he has graced the stage for over six decades, leaving an indelible mark on the world of Israeli entertainment. In recognition of his outstanding contributions, Israel Gurion was awarded the title of "Yakir HaIr Tel Aviv-Yafo" (Honorary Citizen of Tel Aviv-Yafo) in 2017.
Biography

Born to secular parents with ties to the Labor Movement, Gurion attended the religious Tachkemoni School in Jerusalem. Interestingly, his future partner, Bani Amdursky, also attended the same school, although they didn't know each other at the time, as there was a significant age difference between them.

Gurion's talent for singing was discovered by chance during a school choir lesson. Unable to contain his laughter, he received a stern reprimand from the teacher and was challenged to prove whether he could sing better than the "fake" singer. His astonishing performance not only silenced the teacher but also surprised Gurion himself, revealing his natural gift for singing.

His first musical instrument was an accordion, acquired through his family's meager finances, as his parents traded in their watch to purchase it.

After leaving Tachkemoni, Gurion pursued his studies at the Israeli Air Force Technical School and later served in the Israeli Air Force as an aircraft technician.

For 35 years, Gurion was half of the famous musical duo known as "HaDudaim" (The Mandarins). Their partnership began in the late 1950s when Gurion and Bani Amdursky, accompanied by Israel Gurion's guitar, sang together at a gathering. This marked the discovery of their unique vocal combination.

The duo, "HaDudaim," also participated in various other musical ensembles. Israel Gurion was part of the second incarnation of the Yarkon Bridge Trio (alongside Amdursky and Arik Einstein). Their collaboration produced the hit "HaTov HaRa VeHaNa'ara," which included "HaDudaim" and the singer Josie Katz. This group achieved success with cabaret-style songs, showcasing Gurion and Amdursky's outstanding acting abilities, along with impressive movement and mimicking skills.

In 1973, "HaDudaim" joined forces with the female duo "Susan and Fran" to release the folk album "Keshet Be'anan" (A Rainbow in the Clouds). The album featured Hebrew adaptations of English and American songs, translated by Tirtza Atar and Dan Almagor.
The album was accompanied by successful nationwide performances. In 1985, "HaDudaim" collaborated with the "HaPraverim" duo to release a joint album.

In 2001, Gurion released a solo album featuring songs from his 1966 debut solo album and additional tracks as a bonus. These bonus tracks were from the Israel Defense Forces (IDF) program "Studio Number 1," recorded in 1975, and a nostalgic live performance held at the "Enav" hall in Tel Aviv in 2000.
In 2002, Gurion partnered with the singer Samir Shukri, and together they released an album featuring the poetry of Naomi Shemer. The album included a new song written and composed by Gurion himself, titled "Bo'i, Bo'i Kallah" (Come, Come, Bride). The album also included a letter written by the poet herself.

In 2005, Gurion surprised fans with the release of a single titled "B'Sheket Kaze" (So Quietly). This single, for which he composed the music to his wife Micky's lyrics, served as a precursor to his full album, which was released in May 2006.
Both the single and the album were produced and arranged by Daniel Salomon. Alongside the eleven songs written by the Gurion couple, the album featured a song by Lorca, translated from Spanish by Rena Litan. The album was well-received upon its release.

In 2009, Gurion joined forces with Asaf Amdursky, the son of his longtime partner Bani Amdursky, and began performing "HaDudaim" songs together. In 2013, they released the album "Shirim HaDudaim" (HaDudaim Songs), featuring 18 tracks recorded by the duo, including many beloved "HaDudaim" songs and a new song written and composed by Gurion titled "Bo'i, Bo'i Kallah."
The album achieved gold status. Following the album's success, the duo recorded a follow-up album in 2018, collaborating with additional musicians such as Yehuda Poliker, Judy Ravitz, and Shlomi Shabat.

After the passing of his partner, Bani Amdursky, Gurion joined Hanan Yovel and the "HaPraverim" duo to form a quartet known as "The Friends of Bani." They occasionally perform at various events, preserving the memory of the beloved singer and actor.

Israel Gurion also made appearances in television programs, especially those targeted at children. He was featured in the Israeli television program "Shalosh Arba Chamesh VeChatzi" (Three, Four, Five, and a Half) and participated in road safety campaigns on Channel 1 in 1976.

From 1976 to 1981, Gurion was part of the educational television program "Mah Pit'om" (What Suddenly).

He provided the voice for Jiminy Cricket in the first version of "Pinocchio," a classic Disney film, in 1993 and sang the movie's theme song, "Im Tav'i Mashe'ala" (If You Wish Upon a Star).


Publications

In 2012, Gurion appeared as a presenter in an advertisement for the food supplement "Mega GluPlex," alongside Hana Laszlo and Yair Qarni.

In 2018, Gurion, along with Eitan Masuri, portrayed the musical duo "The Date Palm Trees" as part of an advertising campaign for date palm growers and marketers.


Additional Performances

Gurion frequently performs solo shows, where he showcases his various talents, including his comedic prowess, impressionism, and saxophone playing, often accompanied by his guitar. His performances, such as "From HaDudaim to Yarkon Bridge," serve as a culmination of his career.

Gurion has also taken part in various festivals, including the Israeli Children's Song Festival, where he competed with the song "Nachum Takum" and secured seventh place in 1983.

His flexible body enables impressive mime performances, influenced by renowned mime artist Marcel Marceau, whom he performed alongside abroad.


Personal Life

Gurion has been married to Micky since 1972, and they have two children. He resides in Tel Aviv.

In summary, Israel Gurion's career spans multiple decades and artistic disciplines. His enduring contributions to Israeli music and entertainment have left an indelible mark on the cultural landscape of Israel.

---
Reviews (0)
No reviews yet.