Estée Lauder: The Cosmetics Mogul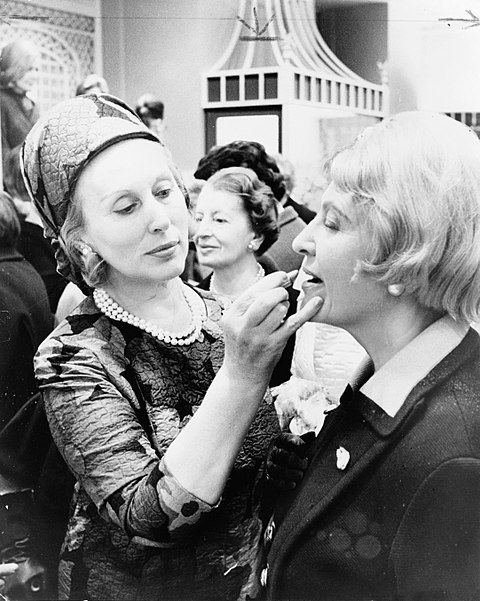 Estée Lauder's journey from a Hungarian-Jewish immigrant family in Queens, New York, to the pinnacle of the cosmetics industry is a testament to her vision, determination, and entrepreneurial spirit. Her legacy endures through the global cosmetics empire she built and her enduring influence on business and politics. Estée Lauder remains a remarkable figure in the annals of American and international business history.
Estée Lauder, born on July 1, 1908, as Estée Josephine Mentzer in Queens, New York, was a Jewish-American businesswoman who made an indelible mark on the cosmetics industry. Her story is one of determination, entrepreneurship, and innovation, earning her a place among the most influential business leaders of the 20th century. This documentary-style article explores her life, legacy, and the global cosmetics empire she built.


Early Life
Estée Lauder was born to Hungarian-Jewish parents in 1908 under the name Esther Josephine Mentzer. In 1930, she married Joseph Lauter, an immigrant of Jewish descent, and they had two sons, Leonard and Ronald. Estée divorced Lauter in 1939 but remarried him in 1942. The couple remained married until Joseph Lauter's passing in 1982.
In the 1930s, the Lauter family changed their surname to "Lauder," possibly influenced by the more Americanized pronunciation.
The Cosmetics Empire
In 1946, Estée Lauder founded her eponymous cosmetics company, Estée Lauder. Initially, the company offered a limited range of products. However, within 15 years, it expanded significantly in the United States. In 1960, Estée Lauder opened its first international store in London on Bond Street.
Estée Lauder's stocks were first offered to the public in November 1995 on the New York Stock Exchange at a price of $26 per share, eventually becoming part of the S&P 500 index. In the last five years, the company has generated returns of approximately 200%, with a market capitalization of around $35 billion.
The company follows a policy of annual dividend distribution, offering a yield of 1.1%.
Estée Lauder's Impact
Estée Lauder's influence extended far beyond the cosmetics industry. In 1988, she was the only woman named in TIME magazine's list of "20 Most Influential Business Geniuses of the 20th Century."
She was also the recipient of the Presidential Medal of Freedom.
Legacy
Estée Lauder's elder son, Leonard, joined the management of the Estée Lauder cosmetics company in 1958 and later became its CEO and Chairman of the Board.
Her younger son, Ronald Lauder, served as the President of the World Jewish Congress since 2007. He is a politician affiliated with the Republican Party and was closely associated with Ronald Reagan, the former President of the United States. At one point, Ronald Lauder was considered close to Benjamin Netanyahu and even facilitated secret communication with Syria during Netanyahu's first term as Prime Minister. However, their relationship later soured, with Lauder publicly expressing opposition to Israeli government policies.
Estée Lauder in Israel
Estée Lauder officially entered the Israeli market in the early 1990s, a time when many international cosmetics companies, including L'Oréal, Helena Rubinstein, and Revlon, were already engaged in export and trade activities with Israel since the 1970s.
Interestingly, Estée Lauder was among the companies that refrained from establishing public trade ties with Israel and actively participated in the economic boycott of Israel during that period. Despite the company's Jewish ties, its export activities to Israel were discreet.
In 1991, official approval was granted for the import of Estée Lauder products to Israel through "Adi Tamrakim." That same year, the company's products were initially sold in boutique stores and gradually made their way into supermarket chains.

In 1999, Ronald Lauder established "Alkol Israel Ltd." in Israel, effectively becoming the official importer and representative of Estée Lauder brands in the country.
---
Reviews (0)
No reviews yet.