Jack Cohen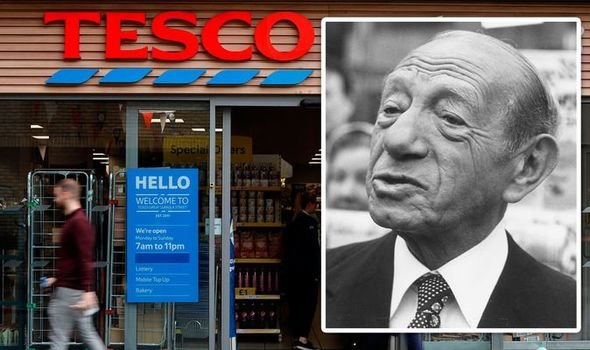 Tesco, an international British supermarket chain, ranks as the second largest in terms of profits (after Walmart) and the third largest in terms of revenue (after Walmart and Carrefour). The company operates stores in 14 countries across Asia, Europe, and North America and is the leading supermarket chain in the United Kingdom (where it controls 30% of the market), Ireland, Malaysia, and Thailand.
Tesco offers a wide range of products for sale, including food items, clothing, office supplies, electronics, as well as insurance services for cars, homes, and pets. Additionally, Tesco runs its telecommunications and internet services, fuel stations, banking, and more.


History
Tesco was founded in 1919 by Jack Cohen as a market stall selling surplus groceries left over from a market in London. The Tesco brand made its debut in 1924 after Cohen ordered tea from a company called "Thomas Edward Stockwell," with TESCO being the initials of Thomas Edward Stockwell Cohen.
The first store featuring the Tesco brand opened in 1929. The Tesco brand was first publicly traded on the London Stock Exchange in 1947. The first self-service store opened in 1956 in St Albans, and in the same year, the first supermarket was established in Maldon. In the 1950s and 1960s, Tesco grew both organically and through acquisitions of other chains, eventually owning more than 800 stores.

Initially, the store specialized in food and beverages, but it later expanded its product range to include clothing, electronics, financial services, telecommunications, optometry, DVD and CD rentals, music downloads, internet services, and software.

Jack Cohen's motto was "Pile it high and sell it cheap." Later, he added the motto "YCDBSOYA," which stands for "You Can't Do Business Sitting On Your Arse."

In 1987, Tesco acquired the Hillards supermarket chain, which included 40 stores in Northern England, for £220 million. In 1994, the company bought a large chain in Scotland, becoming extremely popular in the region. In 2006, the town of Inverness, Scotland, was even nicknamed "Tescotown" as a result of Tesco's dominance, with half of every pound spent on food in the area going to Tesco.

In 1995, the company introduced a customer loyalty card, and in the same year, it started offering online shopping services. In 1997, Tesco acquired several retail chains in Ireland for £640 million, establishing a strong presence in both Ireland and Northern Ireland. In the same year, the company partnered with Esso petrol stations, resulting in some petrol stations displaying the Tesco logo while Esso began selling Tesco-branded fuel.

In 2000, a resident of England who called himself "Sally" demanded that Tesco allow cash withdrawals from its ATMs, which were located in Tesco stores, using a Tesco Clubcard. In his letters, he threatened to send letter bombs to Tesco customers if his demands were not met. A few months later, "Sally" sent letter bombs to customers, injuring one woman lightly. The rest of the letter bombs were intercepted by postal authorities.

In 2003, Tesco began offering home and mobile phone services in addition to its internet services.

Tesco Stores in England are divided into six formats, differing in size and product range.


Global Presence

Tesco operates stores around the world, including in China, Turkey, the Czech Republic, Slovakia, Poland, and more. Tesco's strategy involves collaborating with local companies to meet each country's unique consumer needs. Additionally, Tesco acquires local businesses in some countries. In Thailand, the company operates Tesco Lotus, which it owns.


Horsemeat Scandal in Tesco Burgers

In January 2013, it was discovered that Tesco's beef burgers contained up to 29% horse meat and pork meat, despite being labeled as 100% beef. The products, which included a mix of horse, pork, and beef meat, were sold in various supermarket chains in the UK and Ireland, particularly under Tesco's own brand.
The incident sparked public outrage, as horses are considered beloved pets in the UK and Ireland. UK Prime Minister David Cameron called the incident "completely unacceptable." It was revealed that the meat was slaughtered in Poland, packaged in Ireland, and sold in stores in Ireland and the UK. Following the incident, Tesco removed 26 products from its shelves and initiated an investigation in collaboration with authorities.


Cessation of Products from Judea and Samaria (West Bank)

During Operation Protective Edge in the summer of 2014, Tesco announced that it would stop sourcing products from suppliers of dates that were packaged in Judea and Samaria (West Bank).

Tesco has been selling Israeli food products, particularly fruits and vegetables, under its own brand. Among the products were also dates produced in Israel but packaged in Judea and Samaria. Following customer complaints, Tesco decided to end its relationship with this dates supplier.
Additionally, Tesco contacted two health and beauty suppliers, requesting a list of all products they sold and their ingredients from Israel and the territories. Tesco claims that the decision is not politically motivated and not connected to the conflict in Gaza but is solely related to standard product sourcing practices.

Tesco has adhered to the European Union's guidance to label products imported from the territories as "West Bank" instead of "Israel." They also specify whether the product is of Palestinian origin or produced in settlements. Over the years, Tesco and other companies have faced pressure from radical left-wing organizations as part of the BDS campaign to boycott products from Israel, especially those originating from the territories.
---
Reviews (0)
No reviews yet.