Thomas Friedman: An American Journalist and Pulitzer Prize Winner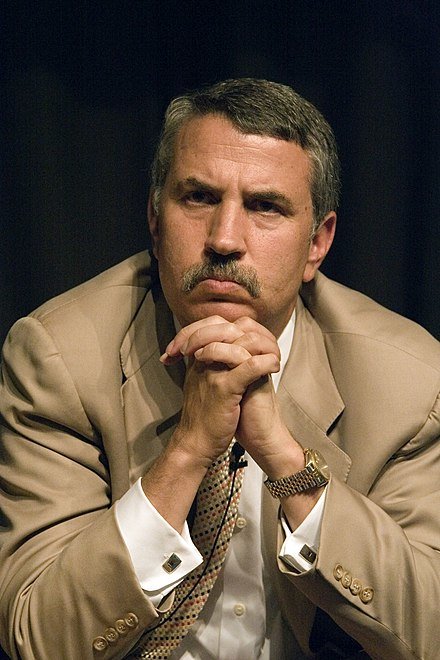 Thomas Lauren Friedman, born on July 20, 1953, is an American journalist, columnist, and author. He is a three-time Pulitzer Prize winner and has been writing opinion columns on foreign affairs for The New York Times since 1995.
Friedman is known for his moderate liberal views and his support for the modernization of the Arab world and globalization. His books and articles primarily focus on international relations, international trade, globalization, and environmental issues.


Early Life
Born and raised in the suburbs of Minneapolis, Minnesota, in 1953, Friedman came from a family with diverse backgrounds. His father, Harold, was a merchant, while his mother, Margaret, worked part-time as a homemaker and an accountant. During his childhood, Friedman learned Hebrew and spent five summers at the Herzl Camp in Wisconsin.
In 1968, he made his first visit to Israel and began volunteering for various causes there. During his high school years, he spent three summer vacations on Kibbutz Hahotrim near Haifa. His time in Israel led him to start learning Arabic.

Friedman pursued Middle Eastern Studies at Brandeis University in Massachusetts, later spending two semesters at the Hebrew University of Jerusalem (1972) and the American University in Cairo (1974).
In 1975, he earned his undergraduate degree from Brandeis and subsequently received a scholarship for further studies at St. Antony's College, Oxford University, in England. There, he completed a master's degree in Middle Eastern studies and modern history. In June 1978, he completed his studies at Oxford.


Early Career
In 1977, Friedman began working at the London bureau of United Press International (UPI). In 1979, he was sent to Beirut, where he resided in the Muslim quarter of West Beirut. In 1981, he was hired by The New York Times, and in 1982, he was sent to Beirut again, this time serving as the bureau chief.
In June of the same year, his apartment was bombed during a conflict between rival factions in his building, which had ties to different political groups in Lebanon.
During his two years in Lebanon, he covered the events of the Sabra and Shatila massacre, the First Lebanon War, and the assassination of President-elect Bashir Gemayel. His coverage of the Lebanon War earned him a Pulitzer Prize.

From June 1984 to 1988, Friedman served as the Jerusalem bureau chief of The New York Times. According to him, before his appointment, The New York Times consistently avoided appointing Jewish reporters to the Jerusalem bureau. During his tenure in Jerusalem, he won another Pulitzer Prize, this time for his coverage of the First Intifada.
A few weeks before leaving Jerusalem, during a family trip to the InterContinental Hotel on the Mount of Olives, his family was attacked by a young Palestinian who threw a stone toward his wife as she drove. The stone completely shattered their car's windshield.

In January 1989, Friedman returned to the United States and was appointed the diplomatic correspondent of The New York Times in Washington, D.C. He focused on foreign affairs, including the tenure of Secretary of State James Baker.
In 1993, he was appointed The New York Times' White House correspondent, and in 1994, he began writing on foreign policy and economics. In 1995, he started his opinion column on foreign affairs, initially focusing on international economics and globalization.
Following the events of September 11, 2001, he shifted his focus to the threat of terrorism, earning him another Pulitzer Prize in 2002. Friedman supported the U.S. intervention in Iraq in 2003 but became critical of the U.S. involvement in Iraq after the fall of Saddam Hussein's regime.


Documentary Work
In 2003, Friedman produced a documentary film about the separation barrier in the West Bank, and in 2004, he made a documentary about globalization in India. In 2005, he produced a documentary about relations between Europe and the United States in Europe.
Personal Life
Thomas Friedman is married to Ann Bucksbaum, and they have two daughters.
Writing on Israel and the Peace Process
Friedman has written extensively on Middle East affairs, with a particular focus on Israel and the peace process. His writings on the Israeli-Palestinian conflict have been both influential and controversial.
He supports Israel's right to defend itself against terrorist attacks but has also criticized the policies of Prime Minister Benjamin Netanyahu's government. He has advocated for American pressure on Israel to make concessions in the Palestinian peace process.
In the midst of Operation Protective Edge in 2014, Friedman wrote an article in which he argued that Israel's objective in the Second Lebanon War was to "deter Hezbollah and teach it a lesson." He claimed that Israel was among the few who believed they had won the war, as the damage inflicted on Hezbollah's organization and civilian infrastructure in Lebanon would make them think thrice before launching attacks on Israel. However, he also expressed uncertainty about whether Israel's objective in Operation Protective Edge was to teach Hamas a lesson or destroy it.
Friedman has criticized Israeli government policies regarding settlements in the West Bank and voiced concerns about the viability of a two-state solution. In his writings, he has at times described Israel's actions in harsh terms, comparing its government to a spoiled child and its cabinet to "madmen." He has called for a stronger U.S. role in resolving the Israeli-Palestinian conflict, especially during periods of heightened tensions.
In February 2011, amid the Egyptian revolution, Friedman called on President Barack Obama to lead Israel and the Palestinians to the negotiating table, stating that given the new situation in the Middle East, it was "vital for Israel's future." After the Egyptian revolution, Friedman criticized Israel, accusing it of exploiting the upheaval for tactical purposes and labeling it as a government "disconnected from reality." Friedman also called for the United States to "stop being Israel's crack dealer" and argued that Israel had lost touch with reality.
In December 2017, Friedman visited Israel and praised President Donald Trump's decision to officially recognize Jerusalem as Israel's capital. In his regular column in The New York Times, he wrote that, "in nearly 30 years of covering United States foreign policy, I've never seen a president give up so much for so little in return." He also mentioned that he planned to write a book on U.S. foreign policy during Trump's first year in office, which he intended to call "The Art of the Giveaway."
Thomas Friedman's writings on Israel and the Middle East have elicited a range of reactions, with some accusing him of being anti-Israel, while others appreciate his perspective as a supporter of Israel with valuable insights.
Legacy and Impact
Thomas Friedman has been a prominent voice in American journalism, shaping public opinion on international relations, globalization, and the Middle East. His work has been recognized with multiple Pulitzer Prizes, and his columns continue to spark discussions and debates on these important issues.
As a journalist, author, and commentator, Thomas Friedman remains an influential figure in the field of foreign affairs and journalism. His long career at The New York Times and his dedication to understanding and explaining complex global issues have left an enduring mark on journalism and international discourse.
---
Reviews (0)
No reviews yet.