Sonia Rykiel: A Fashion Icon's Legacy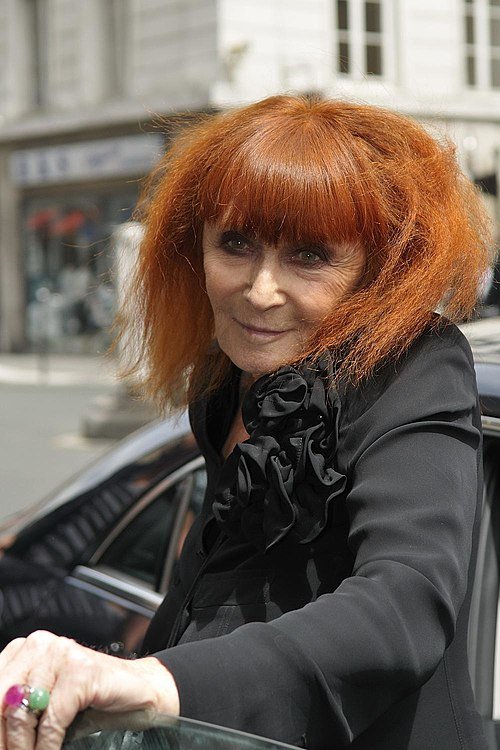 Sonia Rykiel (French: Sonia Rykiel; May 25, 1930 – August 25, 2016) was a French-Jewish fashion designer who left an indelible mark on the global fashion scene. Often referred to as the "Queen of Knits" in the world of Parisian fashion, Sonia Rykiel was considered a trailblazer for her ability to consistently define "the next big thing" in fashion and adapt it for mass production.
In the 1960s and 70s, she embodied the global liberated woman through her creations and personal style. She was also socially engaged in several charitable projects in Israel and was a member of the "Bat Shalom" organization, promoting women's peace activism.


Early Life
Sonia Rykiel was born in 1930 in Neuilly-sur-Seine, a suburb in the western outskirts of Paris. She was the eldest of five daughters in the Flis family. Her parents, Jewish immigrants from Eastern Europe (her father of Romanian descent and her mother of Russian descent), worked tirelessly to make ends meet.
In 1948, Rykiel worked as a window dresser at Grande Maison de Blanc in Grenade de Blanche, where she met the painter Henri Matisse, who praised her work. In 1951, she married Sam Rykiel and in 1954, she began managing the upscale boutique "Laura," which she inherited from her parents. In 1956, their daughter Nathalie was born, and in 1961, their son Jean-Philippe (known as "An") was born.
Rykiel started designing clothes during her pregnancy when she couldn't find clothes that suited her taste. In 1962, she designed a sweater that she called "the poor boy sweater," which became a huge success. She sold her knitwear as part of her husband's shop. In 1964, she designed a dress with an especially low neckline for the Laura boutique in Galerie de la Madeleine. In 1965, she established her eponymous company. In 1967, Vogue magazine referred to Rykiel as the "Queen of Laura Boutiques with Beautiful Red Hair."
In 1968, she divorced her husband, and her challenging financial situation compelled her to further her fashion business. In May of the same year, she opened her flagship store on Rue de Grenelle in Paris, followed by another store in Galerie de la Madeleine a year later. Her designs were even sold at Bloomingdale's in New York. In 1971, she launched her first fragrance. In 1972, Rykiel was included among the 12 European top designers by Vogue magazine, who crowned her as the "Queen of Knits."
In 1973, she was appointed as the vice president of the Chambre Syndicale, the French fashion organization, a position she held for 20 years, and her daughter Nathalie Rykiel was chosen to continue her legacy in 2008. In 1976, Rykiel introduced a line of knitwear for men. In the same year, she presented the "nonfashion" collection, based on the idea that fashion doesn't exist on its own, without style.
To emphasize this concept, she shortened the length of evening dresses and adorned them with the word "MODE" on the front. In 1977, she became the first designer to offer ready-to-wear fashion through a catalog, making fashion accessible to a wider audience. From 1978, she also added accessories to her repertoire. In 1979, she published her first book, "Et je la voudrais nue."

In 1981, Rykiel appeared on the television show of Andy Warhol, who referred to her as the "shining modern woman." She gave Vogue magazine a touch of masculinity mixed with feminism, creating the "tomboy" look and establishing a sensual connection between women and their clothing. Later, Warhol created four portraits of Rykiel. In 1982, she was chosen to redesign the Hotel Crillon in Paris. In 1983, the Sonia Rykiel boutique opened on Madison Avenue in New York. In 1985, she designed the Lotte Hotel in Paris, earning her an award from the International Fashion Organization. In 1987, she launched a cosmetics line in Japan. In 1988, her book "Célébration, 20 Ans de Mode" was published.
In 1992, she designed shoes and accessories. In 1993, a fashion exhibition of her designs was held at the Musée de l'Orangerie in Paris. In 1995, she collaborated with singer Malcolm McLaren on the song "Who the Hell is Sonia Rykiel?" for his album. In 1998, she appeared in the film "Belles." In 2000, she designed over 250 costumes for the musical "The Ten Commandments." In 2004, she launched a line of lingerie. Starting in 2009, she collaborated with H&M to market her fashion products.

Her daughter, Nathalie, continued her mother's legacy, developing and expanding the Sonia Rykiel fashion brand. In July 2019, the Sonia Rykiel fashion house closed its doors due to financial difficulties.


Rykielism

Sonia Rykiel was a revolutionary not only in her fashion style but also in her fashion philosophy. "Rykielism" was a movement she founded in 1968 on the streets of Saint-Germain-des-Prés, Rive Gauche, Paris, where she opened her first boutique. Rykielism combined sociology and style, celebrating women's liberation through their senses, intelligence, and lack of fear of convention. Rykielism meant liberation itself. It was a way of life that gave birth to a unique style. Rykielism thrived not only in the "Rive Gauche" but also worldwide. It appeared wherever women appreciated their freedom.

In the 1960s, a historic shift occurred in Western fashion. Young people sought unconventional and non-gendered clothing to distinguish themselves from their parents. They preferred a less formal style to diminish gender differences. Fashion was meant to complement the bodies of the younger generation. Mini-skirts and looser silhouettes in bold colors broke into the fashion scene.
Sonia Rykiel spearheaded the movement, which led to the rise of "ready-to-wear" fashion in France in 1970. Her designs defined a new era and her personal style became iconic. She encouraged women to be smart, attractive, and mysterious all at once, and to create their own personal style. Rykiel introduced a bohemian yet elegant style, which she referred to as "unfashionable."
She emphasized that women didn't have to conform to a specific fashion but should follow their own tastes. In fact, she went against the grain of high fashion that aimed to dictate women's choices by imposing their designs.

Rykiel prioritized the comfort of women's daily wear in her designs. Her clothes were meant for women going out in public, for leisure, and for work, designed to make them look their best. Her designs celebrated the liberated female body, and her clothing was considered sporty and daring for the time, especially in the 1970s. She took fashion "as a game," mixed genders in fashion, and used original knitwear to maximize comfort.


Innovations in Fashion

Sonia Rykiel was known for several innovations in the fashion world:

1. Knitwear Revolution: One of her most iconic creations was the "poor boy sweater," which featured tight, striped sweaters that clung to the body. Her knitwear designs revolutionized the fashion industry and made her a household name.

2. Sensuality in Fashion: Rykiel's designs embraced sensuality and sensibility. Her clothing celebrated the natural beauty of the female form without restrictive corsets or padding, making her a pioneer in body-positive fashion.

3. Freedom of Movement: She championed comfortable, wearable clothing that allowed women the freedom to move and express themselves. Her designs were often loose-fitting and relaxed, challenging the traditional structure of women's clothing.

4. Incorporating Words into Fashion: Rykiel was one of the first designers to incorporate words and slogans into her designs, using knit patterns to spell out messages or phrases on clothing.

5. Layering and Mixing Styles: She encouraged layering and mixing different styles, textures, and patterns to create a unique and personalized look.

6. Sonia Rykiel Parfums: In 1971, she launched her own fragrance, "Sonia Rykiel," which became a successful addition to her fashion empire.

7. Ready-to-Wear Catalog: In 1977, Rykiel was among the first designers to offer ready-to-wear fashion through a catalog, making fashion more accessible.

8. Collaborations: She collaborated with various artists and designers, including Andy Warhol and Malcolm McLaren, bridging the gap between fashion and art.


Legacy

Sonia Rykiel's influence on fashion extended beyond her designs. She embodied the spirit of the 1960s and 70s in Paris, embracing the cultural and social changes of the era. Her innovative and liberated approach to fashion resonated with women seeking independence and self-expression. She challenged traditional gender norms, championed individuality, and made comfort fashionable. Her legacy lives on through her iconic knitwear, her emphasis on women's empowerment, and her impact on the fashion industry as a whole.

While Sonia Rykiel passed away in 2016, her contributions to fashion continue to inspire designers and empower women to embrace their unique style and confidence. Her name remains synonymous with creativity, freedom, and the enduring allure of Parisian chic.

---
Reviews (0)
No reviews yet.