Rafi Ginat: A Multifaceted Israeli Media Figure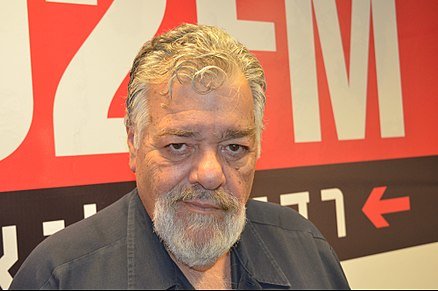 Rafi Ginat, born on February 25, 1949, is a former CEO of Channel 10, a journalist, singer, producer, media personality, and an Israeli television and radio host. He also served as the former editor of the newspaper "Yedioth Ahronoth."
Biography
Ginat was born in Jerusalem to Abraham (from Georgia) and Rachel (from Germany) Jana. He grew up in Kiryat Tivon. In his youth, before embarking on a career in journalism and media, he earned a living as a singer.
In the late 1960s, he served as the lead vocalist for the band "The Broshim," and after its disbandment, he recorded several solo songs that topped the Israeli military radio charts. His songs "Fondue of Love" and "Tzemed Chamad" also achieved high rankings in the music charts.

Starting in 1974 and for 31 years, Ginat was the announcer for Maccabi Tel Aviv Basketball Club and the Israeli national basketball team at Yad Eliyahu Arena.

In 1974, prompted by an advertisement in a newspaper about a sports journalism course, Ginat joined Israeli television. For four years, he worked as a sports presenter and editor in the sports department and then hosted the investigative and consumer affairs program "Kolbotek," which achieved exceptionally high ratings during its time on the sole Israeli channel.
The program exposed government and private sector misconduct, with memorable investigations into the quality of hummus in restaurants. Ginat also served as the head of the entertainment department at the channel and, from 1986, hosted and edited the program "B'Shidur Choqer," which addressed criminal cases in cooperation with the Israeli police. The program won the "Golden Screen" award four times.

In 1989, his name became embroiled in a legal case in which he was accused of receiving bribes and other benefits. As a result of this affair, he left his television programs on Channel 1. Two years later, in 1991, he was fully acquitted of all charges. During this period, he edited the magazine "HaOlam HaZeh" for two years.

In the early 1990s, Ginat moved to Channel 2, where he hosted his well-known programs "Kolbotek" (originally known as "Kolbodek") and "B'Shidur Choqer" for about a year. Afterward, he hosted the program "Medur" on Channel 3 via cable. In 1997, he returned to Channel 2's commercial channel, Reshet, with "Kolbotek," where he introduced the use of the term "Kombina" on Israeli television. During this period, his program conducted investigations into issues such as tainted meat seasoning and the presence of cats in meat processing plants.

In 2004, Ginat released an album titled "Personal Elections," featuring 11 new versions of songs he loved, including "16 Ton," "The Sinner," and "Hozeh Lach BaRach."
The album was widely sold, thanks to a unique marketing strategy that lowered its price. It was produced by his friend Didi Burovich. Proceeds from the album went to benefit children and youth in Israel. In the same year, he hosted the program "Medina Al HaMashek."

In 2005, Ginat was appointed editor-in-chief of "Yedioth Ahronoth" by his friend Arnon Mozes. He served in this role for two years, concurrently with hosting "Kolbotek."

In 2009, Ginat released his second album, "B'Gova HaEynayim" ("At Eye Level"), which consisted almost entirely of cover versions.

In the documentary film "The Shakshuka System," allegations were raised that Rafi Ginat attempted to prevent the exposure of a corruption case related to the Ofer family, with whom he had close friendships. During this time, he was the chief editor of "Yedioth Ahronoth."

In January 2013, Ginat was appointed as the CEO of Channel 10. This marked the end of "Kolbotek" on Channel 2 after over 12 consecutive years, and the program moved to Channel 10. In July 2014, he resigned from his position.

In July 2015, his third album, "Rafi Raf," was released.

In 2015, he began serving as a spokesperson for the Tnuva company.


Personal Life
Rafi Ginat resides in Ramat Hasharon, is married to Naava, and is the father of two daughters and a son.
---
Reviews (0)
No reviews yet.