Rafi Cohen: The Israeli Chef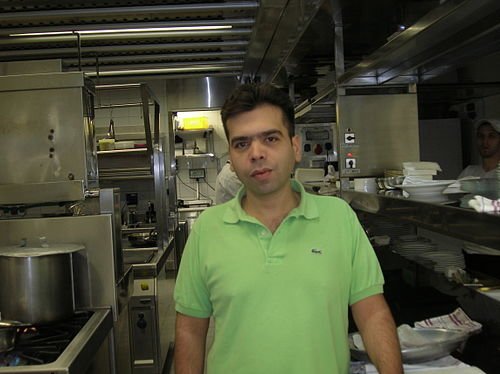 Rafi Cohen, born in 1975, is an Israeli chef and former owner of the "Raphael" bistro restaurant.
Biography
Rafi Cohen was born in Jerusalem and grew up in the German Colony neighborhood. He started cooking at a young age within his family. His introduction to Moroccan cuisine came at the age of nine from his grandmother Aziza, a native of Casablanca, who lived in Katamonim. At the age of thirteen, Cohen enrolled in the pastry department of the King David Hotel in Jerusalem.
As a teenager, he worked at the Grafa restaurant. During his military service, he worked at the Arcadia restaurant from its opening under Chef Ezra Kadem. After completing his military service, he spent two years in Paris, where he learned under the guidance of chefs Alan Passard and Pierre Gagnaire.

He later spent a year and a half in London, where he continued his culinary education under the renowned chef Marco Pierre White. In Italy, Cohen worked at the Don Alfonso Hotel-Restaurant in Massa Lubrense, near Sorrento, and then in Sant'Agata Sui Due Golfi, which is close to Naples. His four instructors there each held three Michelin stars. Upon returning to Israel, he joined the King David Hotel again, this time as the head chef of the "La Razonance" restaurant.

On October 17, 2001, Cohen opened the "Raphael" restaurant in Tel Aviv. The cuisine at the restaurant was rooted in Israeli dishes, with the addition of meats and seafood. The restaurant received acclaim from various restaurant review sections. In 2004, a bar called Hamaara opened in the same location, serving a variety of alcoholic beverages along with bar food. Among other things, the head chef at the restaurant was Yuval Ben Neriah, who later opened several restaurants of his own.

Since 2009, Cohen has been developing a line of salads together with Tzabar Salads.

At the end of 2013, Cohen opened another restaurant, "Hamishulash," on Mendeli Street in Tel Aviv. In April 2014, Rafi Cohen closed the restaurant a month after a major financial scandal was revealed involving the use of the restaurant's funds through the computer system. At the peak of this crisis, Cohen collapsed and was hospitalized.
In April 2017, the restaurant closed again, and its employees requested a liquidation order as they claimed they had not been paid their salaries since February, and the chef was unreachable. Before this closure, Rafi Cohen had been embroiled in legal disputes with former employees for two years.

On September 7, 2017, Cohen returned to Israel and was arrested at Ben Gurion Airport due to his absence from legal proceedings against him regarding assault charges. On November 6, he was arrested again on suspicion of threatening to murder his former business partner. The latter filed a complaint with the police, and shortly afterward, Cohen was arrested.

In April 2018, Cohen was declared mentally incompetent.

In April 2021, Cohen was arrested again after breaking into a synagogue and assaulting the daughter of the synagogue's rabbi when she attempted to escort him out.
---
Reviews (0)
No reviews yet.