Rina Pushkarna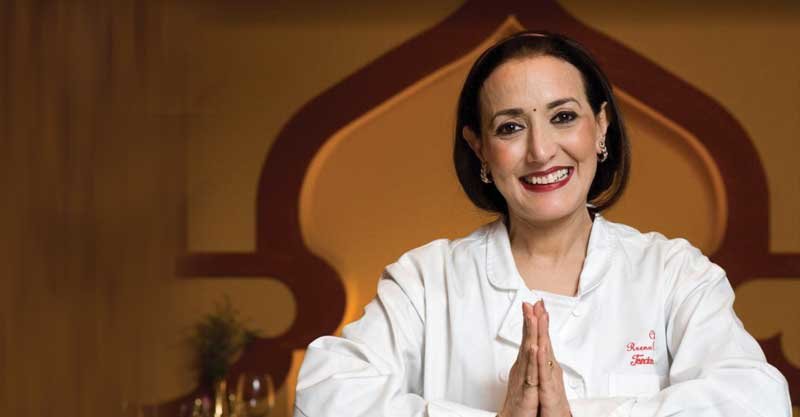 Rina Pushkarna, born on February 10, 1959, is an Israeli entrepreneur, restaurateur, and businesswoman of Indian origin who is actively involved in the restaurant industry. She is the founder and owner of the Indian restaurant chain "Tandoori."
Biography:
Rina Pushkarna was born on February 10, 1959, in New Delhi, India, to Colonel Arjun Singh, an Indian of Sikh faith who served in the Indian Army, and Mathilda (née Ezekiel Solomon), a Jewish woman of Baghdadi descent from the Jewish community in Baghdad, Iraq, living in India (see Indian Jews).
Rina has a twin sister, Rita, and three other siblings: the older brother Anil, the older sister Anita, and an adopted sister, Mitana, who is the daughter of their father's siblings. The family moved around India due to her father's military postings, and Rina grew up in spacious homes with servants.

At the age of 16, she married Vinod Pushkarna, a 22-year-old Brahmin Indian, a petty officer in the Merchant Navy. She sailed with him for nine years, during which she learned to cook from the different cuisines encountered on the ships. During that time, their two children, daughter Serena and son Kunal, were born.

Rina and her husband traveled to various places worldwide with their children, including multiple visits to Israel, until they decided to settle in Israel in 1982.

Rina Pushkarna is fluent in English, Hebrew, Hindi, Punjabi, Marathi, and Gujarati.


Career:

Rina and her husband initially opened a vegetarian restaurant named "Itchy-Dhana" in Tel Aviv's Dizengoff Square, serving Indian street food. At the time, the Israeli public was not familiar with Indian culture, cuisine, or culinary art. Unfortunately, the restaurant, which preceded its time, did not succeed, and Vinod was willing to return to the sea. Rina convinced him to make another attempt, but this time with non-vegetarian cuisine.

The couple established the "Tandoori" restaurant on Dizengoff Square in Tel Aviv, specializing in Indian cuisine. The restaurant's space was designed in an authentic Indian style, and it often featured performances by Indian dancers and singers.
This was the first of six restaurants in the "Tandoori" chain opened in Israel by the year 2000, including two kosher restaurants in Eilat and Jerusalem, known as "Kohinoor." Due to events such as the Second Intifada, which affected tourism and entertainment culture in Israel, three of the branches closed.

The "Tandoori" restaurants also hosted international events. In April 1992, Terje Larsen, the head of the Norwegian Professional Unions Institute, and Yossi Beilin had a conversation at the restaurant that led to the Oslo Accords peace talks between Israelis, Palestinians, and Norwegians. Even today, the restaurant continues to host high-ranking visitors and trade attachés.

In 2003, Pushkarna started producing frozen Indian food at her factory called "Persco" (formerly "Chef Hayam") in Kibbutz Eilon, under the brand "Rina's Fresh and Ethnic Food," selling it in supermarkets in Israel and kosher frozen food stores worldwide.

Rina Pushkarna also operated branches of a fast-food chain called "New Delhi," a Thai restaurant called "Cocoonut," and a seafood restaurant called "Atlantis" in Herzliya.

As of 2020, there are two "Tandoori" branches, located in Herzliya and Tel Aviv. These restaurants serve Indian cuisine from a selection of kitchens tailored to the Israeli palate.

In the early 2000s, Pushkarna opened a boutique for leading designer clothing in Tehran Square, Herzliya Pituach.

Pushkarna was part of the Israeli delegation during the first visit of an Israeli prime minister to India in 2003, led by Ariel Sharon.

In 2017, during the visit of Narendra Modi, the Prime Minister of India, to Israel, Pushkarna was invited to cook a meal for him at the official residence of the Prime Minister.

In 2018, she joined the entourage of Benjamin Netanyahu during his visit to India, marking 25 years of diplomatic relations between the two countries.

She contributed to the book "Mother India, Father Israel" by Israeli author Ilana Shazoor, published in 2017.


Public Activities:

In 2004, she was awarded an honorary degree by the Israel-Asia Chamber of Commerce for promoting Indian culture in Israel.

Pushkarna is a member of the Board of Directors of the Israel-Asia Center and the honorary president of the Central Council of Jewish-Indian Organizations in Israel. She is also a member of the management of the Israel-India Friendship Association and is involved in initiatives to promote women's leadership.


Personal Life:

Rina and Vinod have two children. Their daughter Serena lives in Singapore, while their son Kunal studied culinary arts in Switzerland, managed restaurants in Singapore, and currently resides in Israel.


Articles about Rina Pushkarna:

Recipes by Pushkarna.
---
Reviews (0)
No reviews yet.