Naomi Kees: A Jewish-American Feminist and Leftist Activist in Israel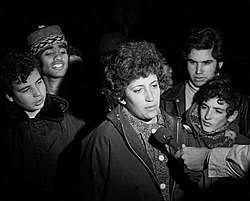 Naomi Kees (1941–1985) was a Jewish-American feminist and leftist activist who became involved in Israeli politics as a member of the Mapam party. She was born and raised in a Zionist family in New York and first visited Israel in 1965 as part of her doctoral research on Israeli elections. Two years later, she moved to Israel and worked as a lecturer in the Department of Political Science at the Hebrew University of Jerusalem.
In the early 1970s, with the rise of the Black Panthers movement in the Musrara neighborhood of Jerusalem, Kees became committed to assisting her fellow activists through counseling. Her solidarity with their struggle was influenced by her involvement in protesting the Vietnam War and advocating for civil rights in the United States.
While she didn't officially join the organization, she provided essential supplies to its members, including a tape recorder for documenting their activities, and even offered to purchase a mimeograph machine for producing flyers using funds she received as a new immigrant. Kees organized symposiums at the Hebrew University on the Black Panthers' struggle and occasionally printed various materials for them, such as a "Haggadah for Passover in the Black Panthers' Version."

Kees was also a member of the Sheli movement ("Shalom Israel, Equality for Israel") founded by Lovy Eliav and Marcia Freedman in the 1970s. In 1977, she participated in the "Committee for a Just Peace" in Paris, inspired by the Soviet Union, and attended by left-wing organizations from around the world. During the conference, it was decided that the Palestine Liberation Organization (PLO) was the sole legitimate representative of the Palestinians.
Upon her return, Kees expressed her dissatisfaction, saying, "I wasn't happy when they said there that Zionism is the enemy of humanity." In time, Kees was appointed to lead the Sheli council and represent the movement in the Histadrut's internal affairs committee.

During her time in Israel, Kees actively supported Marcia Freedman in her feminist activism, addressing issues such as violence against women, prostitution among teenage girls, breast cancer awareness, maternal health, and women's right to choose abortion. However, when Freedman founded the Women's Party in 1977 in preparation for the Ninth Knesset elections, Kees declined to join. Ultimately, the party did not surpass the electoral threshold.

Naomi Kees made her mark as an activist and advocate for social justice in Israel during the turbulent times of the 1970s. Her contributions to various movements and causes, along with her unwavering commitment to human rights, continue to be remembered and studied. Today, a street in East Jerusalem, near the Damascus Gate and the Musrara neighborhood, bears her name in honor of her dedication to the pursuit of justice.

---
Reviews (0)
No reviews yet.