Jacob Israel Neeman: A Legal Luminary and Government Minister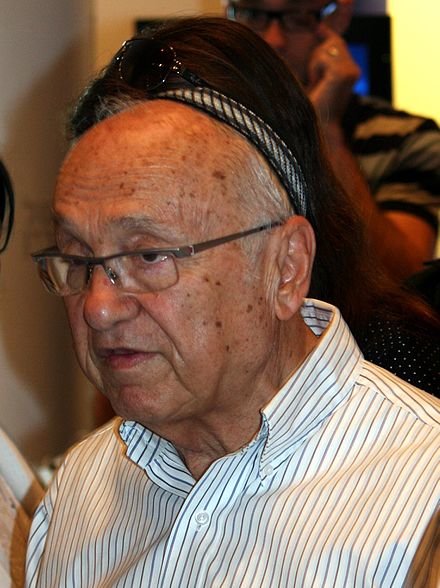 Jacob Israel Neeman (September 16, 1939 – January 1, 2017) was a distinguished attorney, a partner in the law firm "Herzog, Fox, Neeman & Shuta," and a law professor at Bar-Ilan University. He served as both the Minister of Justice and the Minister of Finance.
Biography
Born on September 16, 1939, in Tel Aviv to Menachem and Malka Neeman, Jacob Neeman was the eldest of four siblings. His father, Menachem, was a fourth-generation descendant of Benjamin Zeev Herzl. During high school, he spent a year at the Yishuv Hadash Yeshiva, followed by a year at the university high school and two years at Midrashiat Ne'eman. Upon completing these studies in August 1958, he enlisted in the Israel Defense Forces (IDF) in the Golani Brigade. After sustaining an injury, he was transferred to the General Staff.
Jacob Neeman completed his military service with the rank of lieutenant and continued to serve in the reserves, eventually attaining the rank of captain.
After his military service, he pursued legal studies at the Hebrew University, initially in Tel Aviv and later in Jerusalem, earning his bachelor's degree with honors in 1964. During his studies, he served as the secretary of the committee to examine the local authorities' tax system, chaired by Supreme Court Justice Dr. Alfred Witkon (Neeman served as a member of the committee from 1972 to 1974).
As he pursued his second degree, Neeman studied at New York University, where he earned his second degree in 1965. He returned to Israel to complete his legal apprenticeship and then went back to New York University, where he earned his Doctor of Juridical Science degree in 1968.
Academic Career
Jacob Neeman served in various teaching positions for many years:
Legal Practice
In 1964, Neeman trained under Judge Miriam Ben-Porat at the Jerusalem District Court, specializing in legal practice between 1965 and 1968. He worked in the law firm of Y. Gorntzki & Co. during that time.
In the early 1970s, he started his independent legal practice, and in July 1972, he became one of the founders of the Herzog, Fox, Neeman & Shuta law firm. He served as a senior partner in the firm from 1972 to 1979, 1981 to 1996, and 1996 to 1997 (with breaks due to his public service as the Director-General of the Ministry of Finance and as a minister). Among his various cases, Neeman represented Abba Eban in the resolution of his financial affairs abroad.
Simultaneously, he also served as the Director of Tefahot Bank's Mortgage Department from 1974 to 1977.
In 1997, upon his appointment as the Minister of Finance, Neeman sold his share in the law firm to his partners while retaining the option to return as a senior partner. After resigning from the position of Minister of Finance in December 1998, he returned to the partnership.
Director-General of the Ministry of Finance
From November 1979 to February 1981, during Yigal Hurvitz's tenure as Minister of Finance, Neeman served as the Director-General of the Ministry of Finance. To ensure the purity of his actions, it was determined that Neeman would not handle matters related to clients of the Herzog, Fox, Neeman & Shuta law firm.
During his tenure as Director-General of the Ministry of Finance, Neeman also acted as a director in two government companies: El Al Airlines and the Israel Aircraft Industries. He also chaired two boards of directors:
He was a member of the Atomic Energy Commission.
The Baisky Commission, which investigated the 1983 bank stock crisis, criticized Hurvitz and stated that he "did not understand the severity of the situation... he also bore responsibility for the improper organization of his office, as those responsible in his field did not receive his attention and were not brought before him." Neeman's responsibility in the crisis was linked to Hurvitz's decision-making.
On June 18, 1996, Neeman was appointed as the Minister of Justice in Netanyahu's government.
The day before his appointment, he met with Michael Ben-Yair, the government's legal advisor, and informed him of his intention to replace him. A few hours before his appointment, journalist Yoav Yitzhak filed a complaint with the Supreme Court, alleging that Neeman was not qualified for any ministerial role, especially the Minister of Justice, due to false statements he made and apparent criminal actions. The following day, Michael Ben-Yair announced that a criminal investigation would be launched against Minister Neeman.
On August 8, 1996, the government's legal advisor informed the Supreme Court that he had decided to open a criminal investigation against Minister Neeman. On the same day, Neeman submitted his resignation from the position of Minister of Justice. The charges against Jacob Neeman included providing false testimony to the Supreme Court (in response to Yoav Yitzhak's complaint) by delaying the start date of his contact with Aryeh Deri and his appointment as the head of a government committee by Deri.
Neeman was also accused of giving false testimony during his police interrogation regarding the Deri case. The main accusation against Neeman was advising Deri to delay the police investigation for four years. However, this charge could not be substantiated, so he was charged instead with providing false testimony about the date he provided to the court in the same case, which he later corrected before the trial began.

Neeman was acquitted on May 15, 1997, after it was found that he had acted in good faith. The court ruled that he had indeed made a false and misleading declaration, but noted that corrections made before the trial indicated that it was an unintentional error in reporting. Two lawyers from his firm, who had prepared and recorded the declaration, testified to this effect. The court expressed surprise that the declaration had not been investigated before the trial.

Neeman faced considerable criticism regarding the general lawsuit brought by the State of Israel and the conduct of the police in the investigation of public figures. Regarding his trial, he claimed it was motivated by revenge from Michael Ben-Yair, who tried to prevent his dismissal by Prime Minister Netanyahu and Minister of Justice Neeman. Neeman also alleged that the police made unwarranted public announcements about investigations into public figures to cover up their shortcomings in regular criminal cases, with the media playing a part by whitewashing Israel's image worldwide and deterring foreign investors.


Minister of Finance in Netanyahu's First Government

On July 9, 1997, Neeman was appointed as the Minister of Finance, a position he had previously held from 1979 to 1981.

With his appointment, Neeman became a close confidant of Prime Minister Benjamin Netanyahu and one of the dominant ministers in the government. Among other responsibilities, he represented the government in negotiations with the religious and conservative factions on the issue of conversion to Judaism.
Neeman was blamed for the failure of negotiations with the new immigrants and the problematic budget prepared for 1998. He was criticized by his fellow ministers for unreliability and insensitivity to the needs of the weaker segments of society. On December 18, 1998, Neeman resigned due to a lack of support from Prime Minister Netanyahu and returned to his law practice at Herzog, Fox, Neeman & Shuta.

---
Reviews (0)
No reviews yet.