Eskimo Limon (Film)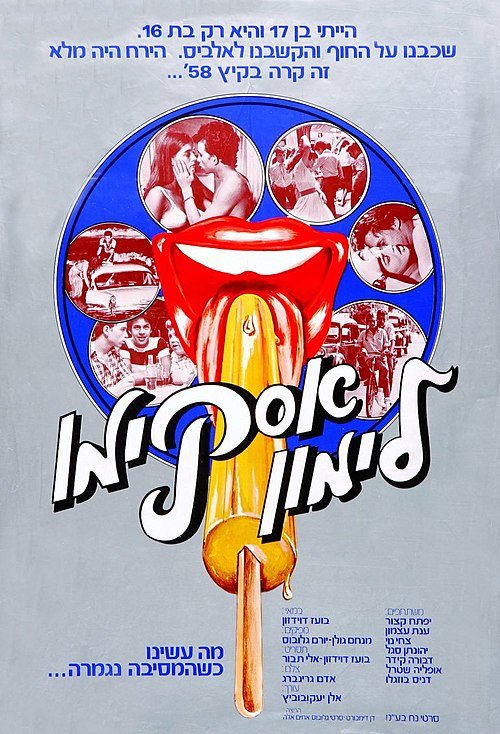 "Eskimo Lemon" is an Israeli cult film released in 1978, directed by Boaz Davidson. It stands as the most commercially successful Israeli film of all time and has achieved cult status. Its immense success led to the creation of a series of sequels.
Set in the summer of 1958, the film follows three teenagers, Benzi (Yftach Katzur), Momo (Jonathan Segal), and Yehuda'le (Zachi Noy), who are growing up in Tel Aviv, attending high school, and spending their time at the Montena ice cream parlor. Their lives take a turn when a beautiful new girl named Nili (Anat Atzmon) joins their class and captures Benzi's heart.
At a Friday night party hosted by Yehuda'le, Benzi witnesses Nili dancing with Momo and learns from Yehuda'le that if Nili is with Momo, he has no chance with her. Frustrated, Benzi drinks a whole bottle and gets intoxicated, leading Yehuda'le to take him home. The next day, Benzi starts working at an ice cream shop when a woman calls him over from a window, asking him to bring ice cream to her.
She introduces herself as Stella (Ophelia Shtruhl), and it becomes apparent that she's interested in seducing Benzi. However, he tells her he needs to return to work and promises to visit her later.

When Benzi finishes work, he calls Momo and Yehuda'le to join him at Stella's apartment. After drinking wine and dancing, they each take turns having sexual encounters with her. As Benzi's turn approaches, Stella's boyfriend, Johnny the Salt (Denis Bozaglo), arrives unexpectedly. Momo and Benzi manage to escape, but Yehuda'le, who attempted to retrieve his clothes, gets beaten up and eventually escapes wearing only his underwear.

A few days later, Momo asks Benzi for the keys to his grandmother's apartment, hoping to bring Nili there. Benzi claims he'll get them. That same evening, when the three meet at the ice cream parlor, Benzi mentions that his mother hid the keys. Disheartened, Momo gives up on spending time with Nili and goes with the others to visit a prostitute named Ricky (Dany Bozaglo).
The next day, they all feel discomfort in their genital area and realize they've contracted a sexually transmitted disease from Ricky. They consult a doctor and discreetly ask for ointment to treat their condition. A few days later, Benzi meets Yehuda'le and a schoolmate named Froika, who informs him that Momo went with Nili to the Yarkon River, where they intend to have sex. Later that evening, Momo appears at the ice cream parlor and informs Benzi about his encounter with Nili.

During their high school graduation ceremony, Benzi finds Nili crying outside the sports hall. She reveals that she's pregnant with Momo's child, and Momo abandoned her. Benzi comforts her, and then he storms into the sports hall, confronting Momo. They have a heated argument, leading to a physical altercation. Benzi later takes Nili to have an abortion, paying for it himself. He then takes her to live with him in his grandmother's apartment, pretending that they are on a class trip. Benzi confesses his love for Nili, and they share an intimate moment. Nili invites him to her upcoming birthday party.

In preparation for Nili's party, Benzi purchases an expensive pendant engraved with the words "To Nili with Love." When he arrives at the party, he searches for Nili and finds her in the kitchen, embracing Momo. Nili and Momo notice Benzi's shocked expression, and he leaves the party heartbroken, to the sound of the song "Mr. Lonely."

The film was produced by the "Nahsholim Films" studio, founded by Menahem Golan and Yoram Globus, who were also responsible for its distribution. Zeev Revach, a well-known Israeli actor, believed that the dominance of the society in the Israeli film market contributed significantly to its success. According to Boaz Davidson, the inspiration for the screenplay came from his own youth, as well as the American film "American Graffiti."

The production budget was three million Israeli Shekels, with one million designated as royalties for the songs in the soundtrack. The music in the film was carefully selected to represent the late 1950s and early 1960s, featuring hits like "Rock Around the Clock" by Bill Haley, "Tutti Frutti" and "Long Tall Sally" by Little Richard, "Put Your Head on My Shoulder" and "You Are My Destiny" by Paul Anka, "Greenfields" by The Brothers Four, "To Know Him Is To Love Him" by Phil Spector and The Teddy Bears, and the Italian hit "Piove" by Domenico Modugno (also known as "Ciao, Ciao Bambina").

"Eskimo Lemon" was not only a commercial success but also received critical acclaim. By the end of December 1978, it had sold 1,268,000 tickets in Israel, generating 12.5 million Israeli Shekels in revenue. Additionally, it was distributed in 700 copies across Europe, where it earned an additional $650,000.
The film was rated for audiences aged sixteen and above in Israel due to its explicit sexual content, but reports surfaced of younger teenagers sneaking into screenings. In total, it sold 1,350,000 tickets in Israel, making it the most successful Israeli film in history from a commercial perspective. "Kazablan" followed in second place with 1,222,500 tickets sold, and "Sallah Shabati" with 1,184,900 tickets sold. "Eskimo Lemon" also found success in West Germany, ranking 11th in the box office with 2,700,000 tickets sold.

On April 19, 1978, "Eskimo Lemon" won first prize in the annual Israeli Feature Film Competition, accompanied by a 120,000 Israeli Shekel grant. Boaz Davidson received the award for Best Director, and Adam Greenberg was recognized as the Best Cinematographer. Yftach Katzur was awarded Best Actor. The awards were presented by Israel's Minister of Transportation, Yigal Allon. The film represented Israel at the 1978 Berlin International Film Festival and was a finalist for the Golden Globe Award for Best Foreign Language Film.

The success of "Eskimo Lemon" led to the creation of several sequels, including "Going Steady" (1979), "Lemon Popsicle II" (1981), "Hot Bubblegum" (1982), "Private Popsicle" (1983), "Sapiches" (1983), "Up Your Anchor" (1985), "Young Love" (1987), "Blues Lovers" (1988), and "The Party Goes On" (2001).

---
Reviews (0)
No reviews yet.