Avshalom Kor: A Multifaceted Figure in Israeli Culture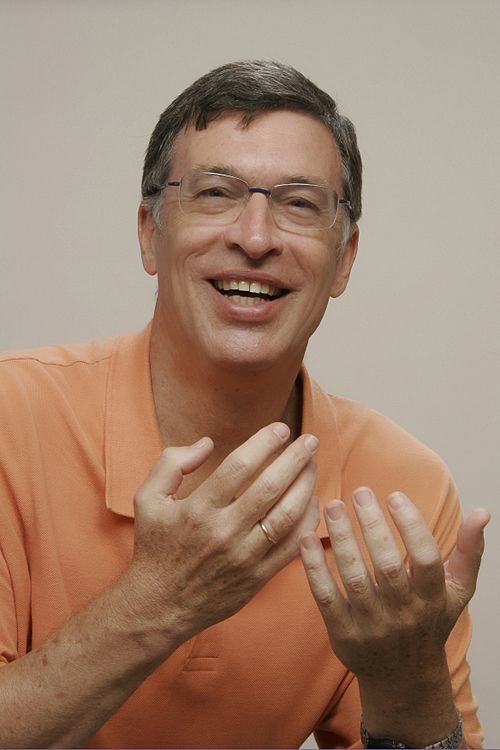 Avshalom Kor, born on September 17, 1950, in Tel Aviv, Israel, is a prominent Israeli linguist, radio broadcaster, and television host. He served as the torchbearer in the annual Independence Day ceremony in Israel in the 1970s, received the Sokolov Award for Electronic Media in 1989 for his outstanding contributions to communication and education, won the Golden Apple Award in 1990 for his work in preserving Israeli heritage, and was honored with the Prime Minister's Award for the Hebrew language in 2016.
Biography:
Avshalom Kor was born to Shlomo and Sarah Kor and grew up in Tel Aviv. His name is a tribute to his two grandfathers who perished in the Holocaust, Abraham and Shalom. His father, Shlomo Kor, was a prominent leader in the Betar movement among European refugees, a member of the Likud party, and a key figure in the management of the "Maariv" newspaper. In the 1980s, he also served as the Deputy Chairman of the Broadcasting Authority.
Avshalom has a brother and a sister: Zori (Zorach) Kor, a cybersecurity expert, and Miri Tirosh, who manages an arts school in Tel Aviv.
In his childhood, Avshalom attended the Gertz School in Tel Aviv, and during his adolescence, he studied at Tel Aviv High School 5. He completed his studies with honors in Latin and French. From the age of 13 to 18, he worked as a youth writer for the "Maariv Lenoar" magazine.
During those years, he conducted regular interviews on the educational television program "Panim El Panim," where he interviewed prominent individuals such as Yigal Yadin, the poet and writer Avraham Shlonsky, Naomi Shemer, Chief of Staff Haim Bar-Lev, and many others.

After completing his military service as an officer in the Armored Corps, Kor joined the Israel Defense Forces (IDF). In the mid-1970s, when the IDF was forming new units, they adopted Kor's suggestion to name a unit "Gaish" (meaning "body" in Hebrew), with the caveat that it should not be associated with the number 5 to avoid any confusion with a "fifth corps."

Kor is a graduate of Tel Aviv University, where he studied and later taught for many years. He also lectured at Ashkelon College. His master's thesis was titled "The Hebrew Tijan Glossary (The Traditional Yemenite Dictionary)," while his doctoral dissertation focused on "Yemenite Piyyutim as a Witness to the Hebrew Language in the Byzantine Period."

In 2019, he assumed his position at the National Library of Israel.


Linguistic and Cultural Activities:

Following his release from the IDF, Avshalom Kor wrote a weekly column called "Zeh HaMatsav" (This is the Situation) for the "Maariv" newspaper for many years.

In the 1970s, he participated in the radio program "Letzon Nofel al Letzon" (Laughing from One Joke to Another) for three years, along with Dudu Topaz, Dudu Dotan, Meir Ozial, Yoel Riffel, Moshe Timor, and Rivtal Amit.

During the 1970s and 1980s, he was actively involved in educational television programs such as "Ot Ve'Od" (Letter and More) and "Pitzuchim" (Explosions). He also appeared in general entertainment TV shows, including "Tish Nireh" (It Seems), "Ten Kav" (Give a Line), "Ze HaSod Sheli" (That's My Secret), "Tze MiZe" (Guess Who), and "Shachek Ota" (Play It).

Kor is the linguistic advisor for Galatz, the IDF's radio station, and annually mentors the new recruits in their writing assignments for the station. Since 1976, he has been hosting the radio segment "BaOfen Miluli" (In a Literal Manner), which airs twice daily on Galatz.

From 1987 to 2007, he hosted the weekly program "HaGia Zman LeShon" (The Time Has Come for Hebrew) on Channel 1. Occasionally, Hebrew language expert Yehiel Sapir joined him on the show.

Since 1988, he has hosted the annual International Bible Quiz for Jewish Youth, which is broadcast live on Independence Day on television and radio. In 2016, the responsibility for the quiz was transferred from the IDF to the Ministry of Education, but Kor returned to host it in 2017.
In addition to hosting the National Bible Quiz for Youth, he also hosts these quizzes for adults, which are broadcast live on Hanukkah on television and radio. He also hosts various royal events on behalf of the Ministry of Education and other gatherings and conferences.

In 1989, he was sent on a mission to the Soviet Union, where he trained 70 Hebrew instructors in Moscow. One of the participants he trained was the young Zeev Elkin from Kharkiv (Ukraine), who later immigrated to Israel and became a member of the Knesset and a minister.

From 1983 to 1993, Kor was a member of the board of trustees of the Eretz Israel Museum. In 2009, he was appointed a member of the Government Naming Committee.

Kor is a staunch advocate for the use of Hebrew words over foreign loanwords. In March 2020, during the COVID-19 pandemic, he established drive-in testing stations for the coronavirus called "Drive-In," convincing the authorities to change the name to an alternative suggested by soldier Galit Hadad: "Yibadek u'Sa!" (Let's Check and Go!). He later convinced the Ministry of Health, and subsequently the media, to use "Memonai HaKorona" (Corona Commissioner) instead of "Projector HaKorona" (Corona Projector). He also persuaded the Ministry of Education to use "Kvutzot" (Groups) instead of "Capsulot" (Capsules) when referring to the division of students into groups.


Personal Life:

In the mid-1970s, Avshalom Kor married his first wife, Ora, but they divorced after a few months. In 1979, he married Zehava Leitner (known as children's author Zehava Kor), and they remained married for over three decades until their divorce in 2011. They have six children, including journalist Moriah Kor, and 24 grandchildren.

In 2014, Kor married for the third time, to Navah Bodek-Aharon, an editor for "Kol Israel" and producer for Channel 1, where she worked alongside him. They divorced in 2021.


Kor's Legacy:

Avshalom Kor's enduring legacy lies in his dedication to preserving the Hebrew language and culture in Israel. Through his work in broadcasting, linguistics, and education, he has made significant contributions to Israeli society and continues to inspire others with his passion for the Hebrew language.

---
Reviews (0)
No reviews yet.