Vladimir Groysman: Ukraine's Former Prime Minister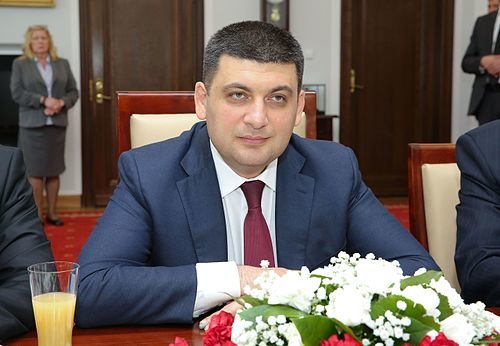 Vladimir Borisovich Groysman, born on January 20, 1978, in Vinnytsia, Ukraine (formerly part of the Soviet Union), is a Ukrainian Jew who served as the Prime Minister of Ukraine, Speaker of the Parliament, and Deputy Prime Minister of Ukraine. Before his national roles, he was the Mayor of Vinnytsia.
Early Life

Groysman was born into a Jewish family in Vinnytsia and remains openly Jewish, attending synagogue in Rishon LeZion, despite the existing anti-Semitism in Ukraine.

In 2016, while he was still the Speaker of the Ukrainian Parliament, Groysman led parliament members in a tribute to International Holocaust Remembrance Day, marking a historic first in the Ukrainian Parliament.

Some of Groysman's family members immigrated to Israel and currently reside in Ashdod. His father, Boris Groysman, a Holocaust survivor, later became a businessman after the dissolution of the Soviet Union.

Groysman himself began working at the age of 16 and later joined the political arena within a society established by his father, eventually leading it for several years.

Groysman holds a second-degree education in law and is married to Elena, with whom he has three children.


Political Career

In 2002, Groysman was elected to the Vinnytsia City Council, becoming the youngest council member at the age of 24.

In 2005, he was appointed as acting Mayor of Vinnytsia after the removal of the incumbent mayor by the City Council.

In 2006, Groysman won the mayoral elections and officially became the Mayor of Vinnytsia. Four years later, he ran for re-election and secured an impressive victory with approximately 78% of the votes, the highest level of support for a mayor in Ukraine.

In February 2014, following the events of Euromaidan, Ukraine's then-president Viktor Yanukovych was removed from power, and opposition figures took control. Arseniy Yatsenyuk, who was appointed as Ukraine's interim Prime Minister, appointed Groysman as the Minister of Regional Development and Construction.

In October 2014, Groysman was elected to the Verkhovna Rada (Ukraine's parliament) as a member of Petro Poroshenko's party and subsequently appointed as the Speaker of the Parliament.

On April 14, 2016, just days after Yatsenyuk's resignation, Groysman was elected by the Ukrainian Parliament as the Prime Minister, receiving support from 250 members of parliament with 57 opposing the appointment.

On May 20, 2019, Groysman resigned from the position of Prime Minister of Ukraine following the inauguration of President Volodymyr Zelensky and the dissolution of the parliament.

---
Reviews (0)
No reviews yet.