Sophie Wilmès: Breaking Barriers in Belgian Politics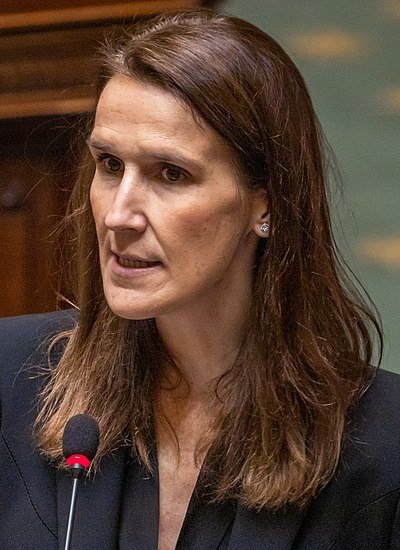 Sophie Wilmès (born January 15, 1975) is a Belgian-Jewish politician known for her liberal and Francophone stance. She has served as the Minister of Foreign Affairs for Belgium and as the Deputy Prime Minister. Wilmès made history by becoming the first woman and first Jewish person to hold the position of Prime Minister in Belgium.
Early Life:
Sophie Wilmès was born in Ixelles, a district of Brussels, and grew up in Wallonia. She is the daughter of Bernadette Granze and Philippe Wilmès. Her mother, a prominent government official, comes from a Jewish family with Holocaust survivors, while her father, of Walloon and Catholic background, was an economist and naval engineer who served as a professor of economics at the University of Liège.
Wilmès holds a degree in Applied Communication and Public Relations from the IHECS Institute in Brussels and another degree in Financial Management from the University of Saint-Louis in Brussels.


Political Career:

Wilmès, a member of the Reformist Movement (MR) party, began her political career in 2000 when she was elected to the Uccle Municipal Council in the Brussels-Capital Region. She later held positions in the Sint-Genesius-Rode Municipal Council in Flanders and was elected to the Regional Parliament of Flemish Brabant.

In 2014, she was elected to the Belgian Federal Parliament, and in 2015, she joined the government of Prime Minister Charles Michel as Minister of the Budget. With the formation of Michel's second government in 2018, her responsibilities expanded to include the civil service and science policy.

Michel's four-party coalition government dissolved when the Flemish nationalist party resigned in protest over an immigration agreement with the United Nations. New elections were held in May 2019, and Michel continued to serve as Prime Minister until a formal coalition could be established.
Two months later, in July 2019, he was elected President of the European Council, and on October 27, Sophie Wilmès succeeded him as the interim Prime Minister, taking the oath of office from King Philippe of Belgium.
It was noted that Wilmès faced a challenging role as head of government, leading the Francophone liberal party, which had lost in the May elections and was the fourth-largest party in the Belgian parliament.
Her government included two liberal parties and one Christian democratic party. In response to the outbreak of the COVID-19 virus in Belgium, opposition parties agreed to grant special powers to the transitional government to deal with the virus and its impact on public health and the economy. The transitional government subsequently became a permanent government under Wilmès' leadership.

After nearly 500 days of political deadlock, a coalition agreement was reached on September 30, 2020, leading to the formation of a government based on seven parties, including the Socialist and Francophone liberals, Greens, liberals, and Christian Democrats.
The agreement was led by Alexander De Croo and Paul Magnette, the leaders of the French-speaking Socialist Party. However, in the end, it was decided that De Croo, the representative of the Dutch-speaking community, would become Prime Minister, as Charles Michel, the last permanent Prime Minister, had been a French speaker. Sophie Wilmès' term as Prime Minister came to an end.


Personal Life:

After her appointment as the Prime Minister of Belgium, Wilmès mentioned that she views her Jewish heritage as a significant factor in her life. She is married to Christopher Stone, an Australian, and they have four children.
---
Reviews (0)
No reviews yet.