Sir Francis Henry Dillon Bell: A Pioneering Figure in New Zealand Politics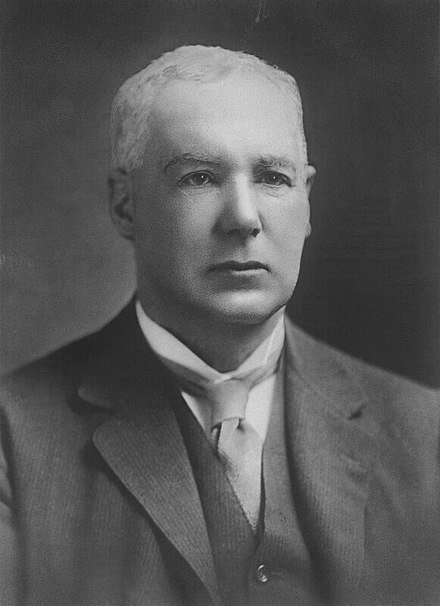 Sir Francis Henry Dillon Bell, born on March 31, 1851, and passing away on March 13, 1936, left an indelible mark on the political landscape of 20th-century New Zealand. Though his tenure as Prime Minister lasted only 20 days, from May 10 to May 30, 1925, he holds the distinction of being New Zealand's second Jewish Prime Minister and the first to be born within the country.
Early Life and Family
Bell was born in Nelson, a town located in the northern part of New Zealand's South Island. He was the eldest of six children born to Sir Francis Dillon Bell (1822–1898), an Anglican Christian who served as the Speaker of the House of Representatives and Treasurer in the New Zealand government.
His mother, Margaret Joachim Hertz, was of Jewish heritage and the third daughter of Abraham Hertz, a prominent figure in Wellington's Jewish community. The marriage of Bell's parents in 1849 was a civil ceremony, as no rabbi or priest would agree to officiate due to the interfaith nature of their union. Bell was baptized as an Anglican Christian after his birth.

After completing his secondary education, Bell traveled to the United Kingdom in 1869 for further studies. He earned a bachelor's degree in mathematics from the University of Cambridge in 1873 and subsequently joined the British solicitor's office. In 1875, he returned to New Zealand and, along with some partners, founded the "Colonial Law Journal," the country's first legal journal.
He later worked as a solicitor in Wellington, and the firm, which underwent several name changes over the years, continues to operate today as "Bell Gully and Others." Bell worked as a successful solicitor for approximately 18 years and also contributed to the "New Zealand Law Reports," where decisions and judgments from the Supreme Court and Court of Appeal of New Zealand were published.

In 1878, Bell married Caroline Robinson, and the couple had eight children. Prior to his marriage, he was rumored to be a ladies' man, but no such rumors persisted after he wed.


Political Career
In 1891, Bell was elected as the Mayor of Wellington as an independent candidate with strong liberal views, particularly on human rights and various social issues. In 1893, he was elected to the New Zealand Parliament, again as an independent candidate, while continuing his legal practice.
At that time, New Zealand's ruling party was the left-leaning "Liberal Party," which was also the only political party in the country. The conservative opposition consisted of independent representatives like Bell, who failed to unite.

In 1909, William Massey established the "Reform Party," a conservative party, and Bell, along with his son William Henry Dillon Bell, joined it. In 1911, the Reform Party became the majority party in the country, with William Massey as the Prime Minister. He appointed Bell as the Minister of Internal Affairs and Immigration in his government.
In 1922, William Massey passed away, and for a brief period of 20 days, Bell assumed the role of Prime Minister, formally appointed on May 14, 1925. However, he declined his party's proposal to succeed Massey and, on May 30, 1925, Gordon Coates was appointed as New Zealand's Prime Minister.

In 1926, Bell resigned from his government positions and returned as New Zealand's representative to the League of Nations (predecessor to the United Nations). In 1923, he was appointed as the Minister of External Affairs in Massey's government. In 1924, when Massey fell ill, Bell effectively took over his duties. Massey passed away on May 10, 1925, and Bell served as Prime Minister for a brief period.

In 1926, Bell resigned from his government positions and returned as New Zealand's representative to the League of Nations (predecessor to the United Nations). Ten years later, he passed away in Wellington, just half a year after the death of his wife Caroline.

Throughout his life, Bell held numerous public and political positions. He received British honors and was knighted as a Knight Commander of the Order of St Michael and St George (KCMG), following in the footsteps of his father.
He served as the President of the New Zealand Law Society, the President of the Wellington Rugby Union and Football Club, the President of the Wellington Racing Club, and the Grand Master of the Freemasons. From 1893 until his death, he was the President of the Wellington Cricket Association. He twice declined offers to become a judge.

Notably, Bell was New Zealand's second Prime Minister of Jewish descent, following Julius Vogel, a Jewish believer who served from 1873 to 1875 and again in 1876. Another Jewish Prime Minister, John Key, led the country from 2008 to 2016 and represented the National Party, the successor to the Reform Party, which Bell joined in 1909.
---
Reviews (0)
No reviews yet.