Sarah Silverman: Pushing Comedy Boundaries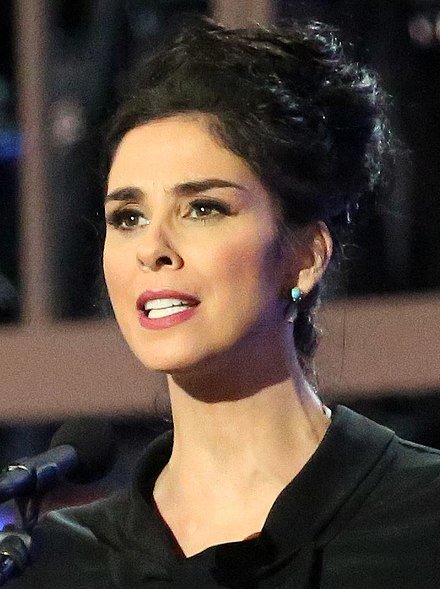 Sarah Kate Silverman, born on December 1, 1970, is a Jewish-American comedian, writer, and actress known for her edgy comedic style, often mixing black humor, vulgarity, and commentary on minority groups such as African-Americans, Asians, and Jews, which often challenges the norms of American politics.
She has had a long career as a stand-up comedian but gained her initial recognition through her writing and guest appearances on "Saturday Night Live." Additionally, Silverman produced and starred in the series "The Sarah Silverman Program," which aired on Comedy Central from 2007 to 2010.


Early Life
Silverman, the youngest of four sisters, was born in Bedford, New Hampshire, to a Jewish family of Polish and Russian descent. Her parents, Beth Ann (née Halpin), who worked as a photographer, and Donald Silverman, a social worker, divorced and remarried to other partners. Her sister Laura Silverman is an actress, and her sister Susan Silverman is a Reform rabbi living in Jerusalem.
At the age of 12, she began performing in community theater. At seventeen, she participated in a stand-up show at a restaurant and started her studies at New York University but dropped out at 19 to perform stand-up comedy at venues like Greenwich Village, New York. Her childhood friend, comedian Louis C.K., played a significant role in her early comedy career.


Career

Silverman's first significant role as a writer and performer in television was on "Saturday Night Live" during the 1994-1995 season, although she was not well-received and was eventually let go after her first season on the show. In 1996, she parodied her experience on "The Larry Sanders Show," portraying a character whose sketches, she claimed, were not being aired due to male chauvinism and the outdated views of the show's head writer. She reprised this role for two more seasons following the end of her SNL stint.

In 1996, Silverman began making guest appearances on various television series, including "Seinfeld" and "Star Trek: Voyager." She also acted in several films, such as "There's Something About Mary," "Evolution," "Rent," "The Aristocrats," and "The Way of the Gun."

In 2005, she released the film "Sarah Silverman: Jesus Is Magic," based on her stand-up comedy. In 2006, she starred in the comedy film "I Want Someone to Eat Cheese With" alongside Jeff Garlin. In 2007, she launched "The Sarah Silverman Program," a comedy series where she portrayed herself alongside her sister Laura Silverman and other actors. The show ran for three seasons, concluding in April 2010, with a total of 32 episodes. In June 2007, Silverman hosted the MTV Movie Awards.

On January 31, 2008, she appeared on "Jimmy Kimmel Live!" and declared "I'm Fucking Matt Damon" in a short musical segment. The video garnered widespread attention, became viral, and ultimately won an Emmy Award. In the following episode, Kimmel retaliated with "I'm Fucking Ben Affleck," a pre-planned response to Silverman's video.

In 2012, she voiced the character Vanellope von Schweetz in the animated film "Wreck-It Ralph."

In 2017, the first season of her television series "I Love You, America" premiered on Hulu. In the show, Silverman meets Americans from diverse backgrounds with differing viewpoints and aims to find common ground despite their differences.


Personal Life

Silverman was in a relationship with American comedian Jimmy Kimmel from 2002 to 2009. From 2014 to 2017, she dated Welsh actor Michael Sheen.

In 2011, Silverman visited Israel for the first time after being invited by President Shimon Peres to participate in the "Facing Tomorrow" Presidential Conference. During her visit, she also performed stand-up comedy at various venues in Tel Aviv. In 2014, she returned to Israel and appeared at the Jerusalem Jewish Film Festival.
She also joined the first group of Reform Jewish women to light the Hanukkah menorah at the Western Wall, alongside her sister and niece, who had previously been arrested for wearing a prayer shawl at the Western Wall. In 2015, during the Israeli parliamentary elections, she publicly expressed support for the Meretz party.

Silverman supported Barack Obama's presidential campaign and, in July 2012, released a YouTube video urging casino magnate Sheldon Adelson to divert his pledged donation to Mitt Romney's campaign to Barack Obama's campaign instead, in exchange for performing "sexual favors" (a humorous reference to lesbian relations). In the 2016 elections, she endorsed Democratic candidate Hillary Clinton.

Silverman has been a vegetarian since the age of 10 and abstains from alcohol due to its tendency to make her nauseous.

---
Reviews (0)
No reviews yet.