Samuel Goldwyn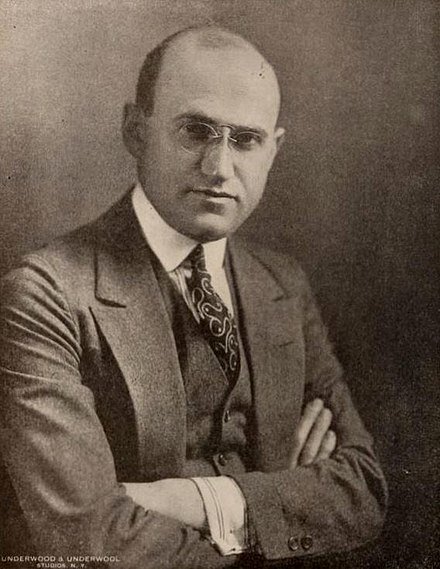 Samuel Goldwyn, born on August 17, 1879, and passing away on January 31, 1974, was a Jewish American film producer who played a significant role in the formation of two of Hollywood's major film studios: Paramount and Metro-Goldwyn-Mayer (MGM).
Early Life
Goldwyn was born in Warsaw as Schmuel Gelbfisz, the eldest of six children in a Polish Jewish family. His father passed away when he was 15 years old. At the age of 16, with no money, he left Warsaw and began walking towards Birmingham, England. There, he lived with relatives for several years and changed his name to the more English-sounding Samuel Goldfish.
In 1898, he immigrated to Nova Scotia, Canada, but failed to amass wealth. He then moved to the United States to seek his fortune, eventually arriving in New York City. Later, he settled in Gloversville, New York, where he worked in the garment industry.
Goldwyn demonstrated marketing skills and became a successful salesman. After four years, he rose to the position of vice president of the company he worked for and then moved back to New York City.

Samuel Goldfish became a naturalized U.S. citizen in 1902. Around the same time, the fledgling film industry was rapidly expanding. Goldfish was often watching movies in his free time and eventually entered the film business, working alongside vaudeville performer Jesse Lasky and theater owner Adolph Zukor.
Together, the three of them produced their first film, directed by young filmmaker Cecil B. DeMille. After a few years, disagreements and conflicts between the partners led to Goldfish's departure from the company, which later became Paramount Pictures.

In 1916, Samuel Goldfish partnered with Broadway producers Edgar and Archibald Selwyn. They named their new film company "Goldwyn Pictures" as a combination of their last names.
In this context, Samuel Goldfish changed his family name to Goldwyn. While Goldwyn Pictures achieved moderate success, it became particularly famous for its iconic trademark, the roaring lion.
Eventually, the company was acquired by Marcus Loew and his "Metro" film company, later forming Metro-Goldwyn-Mayer (MGM). However, before that, Samuel Goldwyn was forced to leave the company due to disagreements with his partners, so he did not become part of the new venture, "Metro Goldwyn Mayer."

In 1925, Goldwyn married actress Frances Howard, and their marriage lasted until his death. Their son, Samuel Goldwyn Jr., joined his father in the film industry after graduating from college.

After leaving "Goldwyn Pictures," Samuel Goldwyn established "Samuel Goldwyn, Inc." and founded the Samuel Goldwyn Studios in Santa Monica, California. Over 35 years, Goldwyn built a reputation as a film expert with a keen eye for talent.
He discovered actors like Gary Cooper, collaborated with director William Wyler, and hired screenwriters such as Ben Hecht, Sidney Howard, and James Roosevelt. During this time, Goldwyn produced numerous well-known films, some of which were Oscar-nominated for Best Picture, including "Arrowsmith" (1931), "Dodsworth" (1936), "Dead End" (1937), "The Little Foxes" (1941), "The Pride of the Yankees" (1942), and "The Best Years of Our Lives" (1946).
In 1946, he received the Irving G. Thalberg Memorial Award from the Academy of Motion Picture Arts and Sciences. That year, his film "The Best Years of Our Lives" won the Oscar for Best Picture. In 1950, he produced the film "The Heiress," which won several Academy Awards.

In the 1950s, Samuel Goldwyn produced several musical films, including "Hans Christian Andersen," "Guys and Dolls," and "Porgy and Bess," which featured an all-black cast. In 1955, he produced "Guys and Dolls" starring Marlon Brando, which was a major hit. Two years later, he was honored with the Jean Hersholt Humanitarian Award for his charitable work.

In 1983, he produced "A Time to Love," which was his last film. It was based on the opera of the same name by George Gershwin and starred Sidney Poitier, Dorothy Dandridge, Sammy Davis Jr., and Pearl Bailey. The film received three Academy Award nominations.

Samuel Goldwyn passed away at his Los Angeles home in 1974 at the age of 94. In the 1980s, the Samuel Goldwyn Studios were sold to the Warner Bros. company. He is honored by the Samuel Goldwyn Theater in Beverly Hills, and he also has a star on the Hollywood Walk of Fame.

While Samuel Goldwyn is often regarded as a ruthless businessman who lacked formal education and had a sometimes gruff demeanor that left him with very few close friends, he is considered a cinema genius who believed in quality and thrived in the competitive world of film business.
---
Reviews (0)
No reviews yet.