Winona Ryder: A Journey Through Hollywood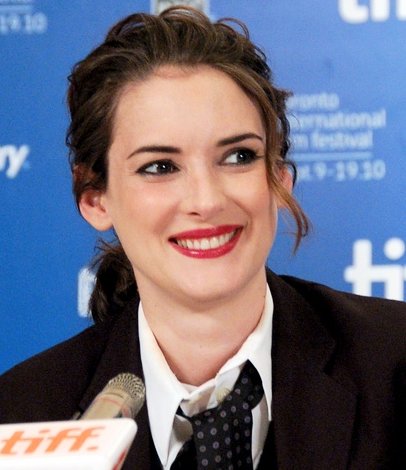 Winona Laura Horowitz, better known by her stage name Winona Ryder, was born on October 29, 1971. She is an American actress of Jewish descent who gained fame for her roles in iconic films such as "Beetlejuice," "Edward Scissorhands," "Reality Bites," and "Girl, Interrupted," as well as her work in hit TV series like "Stranger Things." Ryder has been nominated for two Academy Awards and has also won a Golden Globe.
Biography
Winona Ryder was born as Winona Laura Horowitz in Winona, Minnesota, USA. Her father, Michael Horowitz, was of Jewish descent, and many of his family members perished in the Holocaust. The original family name was "Tomchin," but it was changed to "Horowitz" upon their immigration to the United States.
Her parents, Michael Horowitz and Cynthia Palmer (née Istas), were both authors and editors. Ryder herself identifies as Jewish, much like her father, although her mother's family had a Christian background of Belgian, German, and British descent.

Her middle name, "Laura," was given to her by her parents because of their friendship with Aldous Huxley's wife, Laura Huxley. The stage name "Ryder" was inspired by the rock singer Mitch Ryder, whom her father admired.

Winona Ryder considers herself Jewish, despite her father identifying as an atheist and her mother being a Buddhist. Her parents encouraged her to learn about various faiths and choose her own spiritual path.

Ryder has a younger half-brother named Uri, named after cosmonaut Yuri Gagarin. She also has two half-siblings from her mother's first marriage.

At the age of seven, Ryder's family moved to Rainbow, a commune in California, where they lived with seven other families on a 300-acre piece of land. Due to their remote location, they had no electricity or televisions, which led Ryder to spend a significant amount of time reading.
She became an avid fan of the book "The Catcher in the Rye." Her mother introduced her to films screened at the commune's assembly hall, sparking her interest in acting.

When Ryder was ten years old, her family moved to Petaluma, California, to escape issues related to her schooling. There, she left school temporarily in 1983 and began studying acting at the American Conservatory Theater near San Francisco. At the age of twelve, Ryder developed aquaphobia due to a near-drowning incident.


Career

Winona Ryder made her film debut in 1986 in the movie "Lucas," alongside Corey Haim and Charlie Sheen.

In 1989, she starred in "Heathers" alongside Christian Slater, portraying the character Veronica Sawyer.

In 1990, Ryder appeared in Tim Burton's "Edward Scissorhands," starring opposite Johnny Depp, her then-boyfriend. The film was a commercial success, grossing $56 million at the box office in the United States alone.
In the same year, she also starred in "Mermaids" alongside Cher and Christina Ricci. Following her role in "Mermaids," she was nominated for a Golden Globe Award in the category of Best Supporting Actress in a Motion Picture.

In 1991, Ryder played a young taxi driver who dreams of becoming a mechanic in "Night on Earth." The film received limited theatrical release but garnered critical acclaim.

In 1993, Ryder starred in "The Age of Innocence" alongside Daniel Day-Lewis and Michelle Pfeiffer. She received a Golden Globe Award for Best Supporting Actress for her performance in this film.

In 1994, Ryder made a guest appearance in the television series "The Simpsons" in the episode titled "Lisa's Rival," where she voiced the character Allison Taylor.

In 1999, Ryder starred in "Girl, Interrupted" alongside Angelina Jolie. The film was based on Susanna Kaysen's autobiographical book of the same name.

In 2000, she appeared in the drama "Autumn in New York" alongside Richard Gere. The film received mixed reviews but performed well at the box office, grossing $90 million worldwide.

Ryder also made a guest appearance as Melissa Warburton, Rachel Green's college friend, in season 7, episode 20 of the sitcom "Friends."

After Ryder's arrest for shoplifting in late 2001, she took a three-year hiatus from the film industry.

In 2004, she had a small role as a psychologist in "The Heart Is Deceitful Above All Things." In 2005, Ryder starred in "The Darwin Awards," a film based on the book of the same name, alongside Joseph Fiennes.
In 2006, she appeared in "A Scanner Darkly," a film adaptation of the book of the same name, starring Keanu Reeves, Robert Downey Jr., and Woody Harrelson. The film premiered at the Cannes Film Festival and the Seattle International Film Festival.

In 2007, Ryder appeared in the dark comedy "Sex and Death 101."

In 2009, Ryder played Amanda Grayson, Spock's mother, in the film "Star Trek."

In 2010, she portrayed an aging ballet dancer in "Black Swan," alongside Natalie Portman. She also starred in the independent film "Stay Cool" alongside Hilary Duff in the same year.

In 2011, Ryder appeared in the comedy "The Dilemma" alongside Vince Vaughn. In 2012, she appeared in The Killers' music video for the song "Here with Me." She also voiced a character in the animated film "Frankenweenie."

In 2016, Ryder starred in the Netflix series "Stranger Things." The show's second season aired at the end of 2017.

In 2018, she appeared in the film "Destination Wedding" alongside Keanu Reeves.

During 2019, Ryder returned for the third season of "Stranger Things."


Personal Life

In June 1989, Ryder met Johnny Depp at the premiere of "Great Balls of Fire." Two months later, they began dating and got engaged in July 1990. Although they were engaged for three years, they did not get married. Between 1993 and 1996, Ryder dated Dave Pirner, the lead singer of the band Soul Asylum.
Between 1998 and 2000, she was in a relationship with actor Matt Damon, whom she later married and divorced. In 2011, Ryder began dating fashion designer Scott Mackinlay Hahn.

Winona Ryder received a star on the Hollywood Walk of Fame in October 2000. On December 12, 2001, she was arrested for shoplifting clothing worth $5,000 from Saks Fifth Avenue in Beverly Hills, California. In December 2002, she was sentenced to three years of probation, 480 hours of community service, a fine of $3,700, and $6,355 in restitution.
---
Reviews (0)
No reviews yet.