Meir Suissa: Multifaceted Israeli Entertainer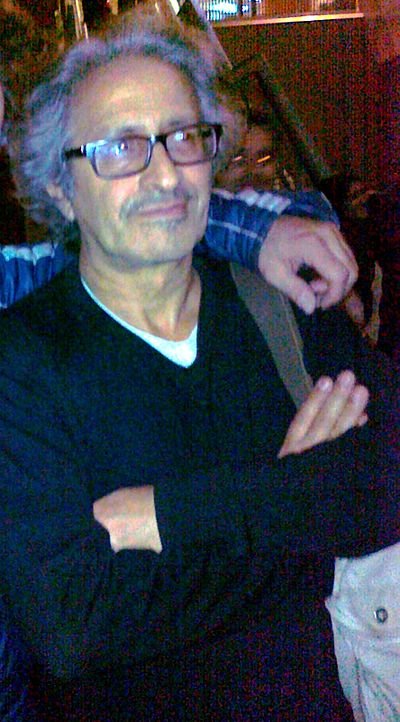 Meir Suissa, born on November 16, 1955, is a versatile Israeli artist known for his talents in acting, comedy, directing, and singing.
Biography

Meir Suissa was born in Casablanca, Morocco, and immigrated to Israel at the age of 15 in 1970. He grew up as a "youth village" resident in Kibbutz Yif'at in the Jezreel Valley. In 1973–1974, he served in the "Oded" entertainment troupe in Kiryat Shmona during his military service. After completing his army service, he began appearing in Israeli theater productions and films.

His breakthrough came in 1978 and 1979 when he played two notable cinematic roles. In the film "HaLahaka," directed by Avi Nesher, he portrayed "Bzuka," a friend of Gidi Gov in the army band. In the same year, he played the character "Moshe" in Nesher's film "Dizengoff 99." In both films, Suissa portrayed a similar character—an Eastern Mizrahi Jew, slender, tall, with a distinctive accent, and having comical difficulties in his interactions with the opposite sex. These roles became iconic for Suissa, defining his career.

In 1980, he joined the band "Betzeil Yeruk 80," known for hits like "Ahavat Tziyon" and "Ya Salam," both of which he composed.

In 1987 and 1988, Suissa appeared in a satirical sketch comedy show called "The Ensemble," created by Dan Almagor and directed by Tzadi Tzarfati. The show featured other notable artists like Dina Golann, Miki Kam, Chani Nahmias, and Moshe Beker. The ensemble performed sketches and satirical songs addressing contemporary issues and other topics relevant at the time. They had successful performances and even appeared in the Sharet Auditorium in 1989.

Suissa achieved success on the theater stage, particularly in comedies and satirical plays. He starred in the lead role of Woody Allen's "Play It Again, Sam" and many other productions. He gained significant commercial success with the shows "Suissa and Yitzhpan Begin" in 1993 and "Suissa and Yitzhpan Strike Again." These shows, co-starring Eli Yatzpan, were performed extensively throughout Israel and broadcasted on television.

In 2004, he appeared alongside Miri Bohadana in the successful play "Ani Im Ishitakh Gamarti" (I'm Done with Your Wife).

On television, he appeared in the comedy series "Shabbatot VeHagim" (Saturdays and Holidays) in 2004 and the drama series "Shabat Cohen" in 1991. In the mid-1980s, he made guest appearances in the comedy series "Krovim Krovim" (Close Relatives).

Towards the end of the 1980s, he featured in a television program called "Motzash" hosted by Avi Etgar, where he developed the character "Morris the Waiter." Alongside Moshe Ivgi, Suissa appeared in a program named "Doch Ivgi Suissa" (1998), where they traveled to various places and documented their experiences.

In 2006, he started writing and starring in a quasi-biographical series called "Karov LaVadai" (Probably), which received critical acclaim. In 2009, he played the role of Raphael in the series "Chatzuva."

In 2010, he directed the documentary film "Kol Anshei Kasit" about the famous "Café Kasit." A year later, in 2011, the second part, "Kol Anshei Kasit - The Last Generation," continued the story of the café's gradual decline. Suissa also wrote and composed the closing song for the film, "La'asot Mashehu" ("To Do Something"), in which he also sang.

In 2013, he joined the cast of the drama series "HaBorer" (The Arbitrator) as Carlos. In 2014, he participated in the docudrama reality TV show "HaYechida" (The Unit), which aired on HOT.

In the summer of 2015, he portrayed Tobias Even Zur, the head of the council, in the film "Guavas."

In the second decade of the 21st century, Suissa stars in the show "Yamim Shel Cinema" (Cinema Days) alongside Hani Nahmias, Israel Gurion, and Ilan Shchori. He also appears in the show "Tzochekim VeShirim" (Laughing and Singing) with Ilan Shchori.

In 2020, Suissa took part in Tamir Bar's hip-hop opera, "The Rise and Fall of Shem Tov HaEvi," portraying a dentist.


Personal Life

In his early twenties, Suissa was married to Tali Rabid for approximately a year and a half.

In his second marriage to Ruth, the younger daughter of Yefeh Yarkoni, he became a father to a daughter and two sons: Talia Suissa (a human rights activist who appeared in a series about her father's life, "Karov LaVadai"), Yishai Suissa (a musical producer and indie rock singer known as "Bnaviser," who participated in "Got Talent Israel"), and Michael Suissa (a rap and hip-hop artist).

Suissa is currently in his third marriage to Naama Mirmovitch, a teacher and educator at a young school, with whom he has been married for 18 years.
---
Reviews (0)
No reviews yet.