Martin Indyk: Scholar and Diplomat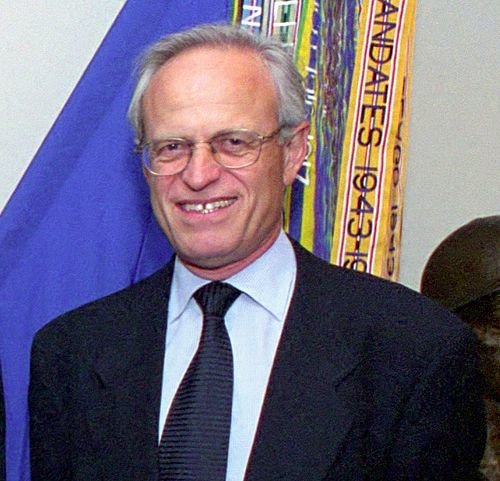 Martin Sean Indyk (born July 1, 1951) is an American-Jewish academic and diplomat who served as the U.S. ambassador to Israel in two non-consecutive terms. He held the position of Executive Director of the Belfer Center for Science and International Affairs at the Brookings Institution and served as the U.S. Special Envoy for Israeli-Palestinian Negotiations during the years 2013-2014. Prior to these roles, he worked as an advisor to the Secretary of State on Middle East policy during President Clinton's administration.
Early Life and Education
Indyk was born to Jewish parents in London, England, and grew up and was educated in the Sydney suburbs of Australia. He earned a B.A. in economics from the University of Sydney in 1972 and a Ph.D. in international relations from the Australian National University in 1977.
Career
In 1982, Indyk moved to the United States and began working as a research director for the pro-Israel lobby, AIPAC (American Israel Public Affairs Committee). In 1985, he founded the Washington Institute for Near East Policy, specializing in U.S.-Israel relations and Middle East policy more broadly, and served as its director for eight years until 1993, when he was succeeded by historian Robert Satloff.
He also held the position of adjunct professor at the School of Advanced International Studies at Johns Hopkins University, where he taught courses on Israeli politics and foreign policy.

Indyk later taught at Columbia University's Middle East Institute, Tel Aviv University's Moshe Dayan Center for Middle Eastern and African Studies, and the Department of Politics at Macquarie University in Sydney. He published extensively on the Israeli-Arab peace process, U.S.-Israel relations, and perceived threats to Middle East stability from countries like Iraq and Iran.

During his career, Indyk served as a special assistant to President Bill Clinton and as Senior Director for Near East and South Asian Affairs at the National Security Council. He was also a key member of the peace team during the Israeli-Palestinian peace process and served as the U.S. representative on the U.S.-Israel Science and Technology Commission.

Indyk was twice appointed as the U.S. ambassador to Israel, from April 1995 to September 1997 and from January 2000 to July 2001.

Since 2006, he has been a member of the Board of Directors of the New Israel Fund and also serves as Vice President and Board Member of the Brookings Institution.

In 2013, Indyk was appointed by President Barack Obama as the U.S. Special Envoy for Israeli-Palestinian Negotiations. However, he resigned from this role in June 2014 following the suspension of peace talks between Israel and the Palestinians.

He is married to Jill, and they have two children.


Controversy

In 2014, The New York Times reported that the Brookings Institution's Center for Middle East Policy, under Martin Indyk's leadership, had received $14.8 million in donations from Qatar while he was mediating between Israel and the Palestinians. The criticism raised concerns that donations from Qatar may have influenced the center's researchers to tailor their policy recommendations to align with the donors' interests.

---
Reviews (0)
No reviews yet.