Hazi Carmel: A Pioneer in Israeli Space Industry and Intelligence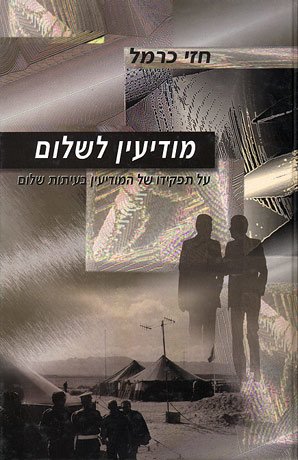 Hazi Carmel is an Israeli expert with a renowned reputation in the field of intelligence, an entrepreneur, and one of the founders of the Israeli space industry, along with Meir Amit. His contributions to the security of the state of Israel far surpass what little information can be found about him online. To those who may have more insights into this significant figure, we extend an invitation to share additional details.
"Modi'in for Peace: The Role of Intelligence in Times of Peace"
Author: Hazi Carmel
Published by Yediot Ahronot in 1998
Pages: 317

Book Summary:
Esteemed experts from the realms of academia and practical expertise collaborated in creating this book, contributing articles born from their pens. The common thread that binds these authors together is a profound conviction that intelligence serves a crucial and central role not only in times of crisis and war but also in an era of negotiation and diplomatic processes.

Within this book, there are descriptions and analyses of events, some of which are being published here for the first time, addressing endeavors and experiences in utilizing intelligence and the covert communication channels under its purview to advance diplomatic processes in the Middle East. The lessons from these experiences remain relevant to this day. Several articles delve deeply into the role of intelligence and covert diplomacy.

Hazi Carmel's significant contributions to Israeli intelligence and his role in promoting diplomacy, often shrouded in secrecy, highlight the critical interplay between intelligence and diplomatic efforts in the pursuit of peace in the Middle East. While the specific details of his work may remain undisclosed, his impact on Israel's security and diplomatic endeavors is undoubtedly substantial.
---
Reviews (0)
No reviews yet.