Eric Ivan Cantor: A Political Figure and Advocate for Israel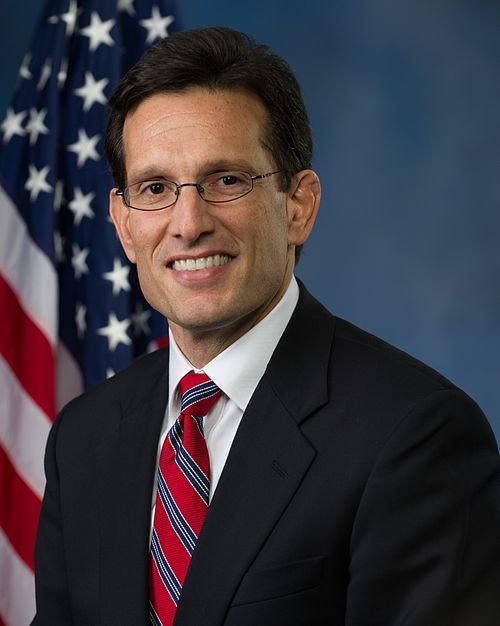 Eric Ivan Cantor, born on June 6, 1963, is a former American politician, attorney, and businessman of Jewish heritage. He represented Virginia's 7th district in the United States House of Representatives as a member of the Republican Party from 2001 until August 2014. From 2011 to July 2014, Cantor also served as the Majority Leader of the House of Representatives.
Cantor held the distinction of being the only Jewish Republican in the House of Representatives. He chaired the Virginia-Israel Advisory Board and was well-known for his strong support of Israel.

In June 2014, Cantor faced a surprising defeat in the Republican Party primary elections, losing to Dave Brat, who was associated with the Tea Party movement. Just two months later, Cantor decided to retire from his political career. After leaving office, he was appointed as a director at Moelis & Company.


Early Life and Education

Eric Cantor was born in Richmond, Virginia, and spent most of his life there. His father, Eddie Cantor, was a real estate developer and active in the Republican Party, while his mother, Mary Lee, was a teacher. Cantor attended George Washington University, where he earned his bachelor's degree in law. He also obtained a second degree in real estate development from Columbia University in New York. Cantor is married to Diana Fine, and the couple has three children: Evan, Jenna, and Michael.


Career

Eric Cantor began his political career while still a student at George Washington University, where he interned with Congressman Tom Bliley. After working in private practice as an attorney, he was elected to the Virginia State Legislature in 1992 and served there until 2001, when he was elected to the United States House of Representatives.

During his second term in the House of Representatives, Cantor served as the Deputy Whip for the Republican Party. In 2008, he was elected as the Republican Whip, and in 2011, he became the Majority Leader, the second-highest-ranking position in the House of Representatives.

Cantor was re-elected to the House of Representatives in the 2002 elections, defeating his opponent Ben L. Jones. In the 2006 elections, he defeated Democratic candidate Jim Nachman and Dr. Brad Blanton, receiving 64% of the votes.

On June 8, 2005, Cantor visited the Ward 9 community in Israel, which was led by the Democratic National Committee Chairman Howard Dean, who had referred to the Republican Party as "pretty much a white, Christian party."

Cantor stirred controversy when he misquoted Barack Obama, suggesting that Obama had referred to Israel as a "sore," while in reality, Obama had stated that the Israel-Arab conflict was the "sore spot" in the Middle East. Obama's statement was meant to describe the conflict's challenges.

In the lead-up to the 2008 United States presidential election, Cantor was considered a possible choice for the position of Vice President on the Republican ticket alongside presidential candidate John McCain. Ultimately, McCain chose Sarah Palin as his running mate.

Cantor's unexpected defeat in the 2014 Republican Party primary elections marked a significant turning point in his political career. He announced his resignation as Majority Leader in July 2014 and later stepped down from his position in the House of Representatives, even though his term was set to end in January 2015.


Political Positions

Cantor held strongly conservative positions on various issues. He was a staunch advocate for economic conservatism within the Republican Party and supported balanced budgets and drilling for oil in Alaska. Cantor also expressed opposition to same-sex marriage and supported a woman's right to choose abortion. He opposed embryonic stem cell research, even though this stance is rare among Jewish politicians.

In late September 2008, Cantor worked to soften the economic bailout plan proposed by the Bush administration to address the subprime mortgage crisis. In his view, the plan, which involved government acquisition of non-liquid financial assets, departed from the principles of free-market economics. As an alternative, he suggested that the government should only insure these assets. Ultimately, he supported the government's proposal.


His Relationship with Israel

Cantor was one of the key proponents of legislation that restricted American aid to the Palestinian Authority, particularly when it engaged in excavations on the Temple Mount in Jerusalem. He worked alongside Jewish Representative Shelley Berkley to amend the Atomic Energy Act to define Iran as ineligible for any nuclear assistance until it allowed full access to its nuclear facilities.

In June 2004, Cantor supported House Resolution 460, which expressed support for President George W. Bush's letter to Israeli Prime Minister Ariel Sharon. The resolution called for international efforts to build Palestinian capabilities to combat terrorism, dismantle terrorist organizations, and prevent threats to Israel. Cantor praised President George W. Bush's efforts in this regard.

On December 14, 2005, following an interview in which Iranian President Mahmoud Ahmadinejad called the Holocaust a "myth" and suggested moving Israel to Europe or North America, Cantor suggested that Israel might need to consider a preemptive strike against Iran for self-defense. On the same day, he introduced House Resolution 575, which sought to prohibit Hamas and other groups from participating in Palestinian elections and linked it to the Iranian nuclear threat.

Eric Cantor's political career was marked by his unwavering support for Israel and conservative economic policies. His tenure in the House of Representatives and his influence within the Republican Party left a significant impact on American politics during his time in office.

---
Reviews (0)
No reviews yet.