Dominic Raab: A Profile of the British Politician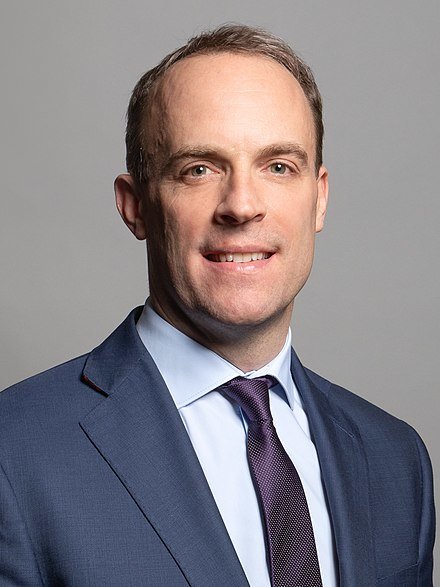 Dominic Raab's career has been marked by his involvement in international affairs, legal expertise, and contributions to British politics. His diverse background and extensive experience make him a significant figure in the Conservative Party and the UK government.
Dominic (Dom) Raab, born on February 25, 1974, is a prominent British politician. He is a member of the Conservative Party and holds several key positions within the British government, including Lord Chancellor, Secretary of State for Justice, and Deputy Prime Minister in the cabinet led by Prime Minister Boris Johnson. Additionally, he serves as the Member of Parliament for the constituencies of Esher and Walton.


Biography:
Dominic Raab was born in Buckinghamshire, England, to a Jewish-Czech father who had arrived in Britain as part of the Kindertransport program in 1938 and an English Anglican mother. Despite his diverse heritage, he was raised as an Anglican Christian. Tragically, Raab's father passed away when he was just 12 years old.
He pursued his education at the University of Oxford, where he earned his undergraduate degree in law, and later completed a second degree in international law at the University of Cambridge.
During his university years, Raab was also actively involved in sports, representing the university in both karate and boxing. After completing his studies, he worked at the "Linklaters" law firm in London, specializing in project finance, litigation, and corporate restrictions.

In 1998, he spent the summer studying the Israeli-Arab conflict at the Hebrew University of Jerusalem, located near Ramallah. During this time, he worked as a consultant on World Bank projects in the West Bank for the Palestinian Authority and also served as an advisor to the human rights organization "Liberty."

In 2000, Raab began working as an advisor at the Foreign and Commonwealth Office, where he focused on European Union affairs and the World Trade Organization. In 2003, he was appointed as an advisor at the British Embassy in The Hague, Netherlands, leading a team responsible for bringing war crimes suspects, including Slobodan Milosevic, Charles Taylor, and Radovan Karadzic, to justice. Upon returning to the UK in 2006, he continued his work on the Arab-Israeli conflict, European Union law, and Gibraltar until leaving the Foreign Office in 2006.

From 2006 to 2008, Raab served as Chief of Staff to David Davis during Davis's tenure as Shadow Home Secretary in David Cameron's shadow cabinet. After David Davis's resignation, Raab became the Chief of Staff to Dominic Grieve, who was the Shadow Secretary of State for Justice in the shadow cabinet.

In May 2010, Raab was elected as the Conservative Party representative for the Esher and Walton constituency in the British House of Commons. He was re-elected in 2015 and 2017, winning with a majority of 58.6%. In Parliament, he served on the Human Rights Committee, the Education Committee, and the Exiting the European Union Committee. In June 2017, he was appointed as the Minister of State for Courts and Justice. In January 2018, he was appointed as the Minister of State for Housing.

In July 2018, Raab was appointed as the Secretary of State for Exiting the European Union in Prime Minister Theresa May's cabinet. However, he resigned from this position in November 2018. In July 2019, he was appointed as the Secretary of State for Foreign, Commonwealth and Development Affairs and became the First Secretary of State in Boris Johnson's cabinet.

Following Boris Johnson's hospitalization due to COVID-19, Raab temporarily assumed his duties in April 2020.

Raab was later reassigned to the role of Secretary of State for Justice and Deputy Prime Minister after the Taliban's takeover of Afghanistan.


Published Works:

In 2009, Dominic Raab published his first book, titled "The Assault on Liberty—What Went Wrong with Rights," in which he criticized the government led by the Labour Party on human rights issues. In 2010, he released "Fight Terror, Defend Freedom," a book discussing the fight against terrorism. In 2011, he published "Strasbourg in the Dock," focusing on human rights matters.
Together with fellow Conservative Party members, Elizabeth Truss, Priti Patel, Chris Skidmore, and Kwasi Kwarteng, he co-authored "Britannia Unchained: Global Lessons for Growth and Prosperity" in 2012. This book offered critical insights into the UK's economic challenges.


Personal Life:

Dominic Raab is married to Erika, a Brazilian Catholic, and they have two children together.
---
Reviews (0)
No reviews yet.