Dennis B. Ross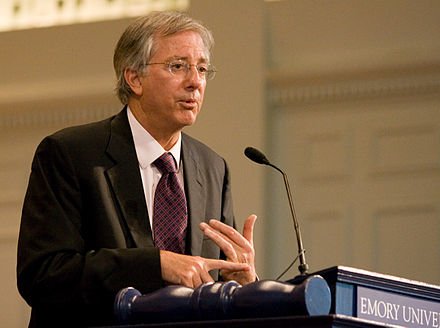 Dennis B. Ross (born November 26, 1948) is an American Jewish diplomat who has served as a special advisor to the United Nations Security Council. He has had a distinguished career in American diplomacy, including roles as the Director of Policy Planning in the Department of State during President George H.W. Bush's administration and as a special coordinator for the Middle East in President Bill Clinton's administration. Ross played a pivotal role in shaping U.S. involvement in the Israeli-Palestinian peace process.
Early Life
Dennis Ross was born in San Francisco. His mother was Jewish, and his father, a Catholic, raised him in Marin County, California, where they lived secular lives. Ross received his undergraduate degree from the University of California, Los Angeles (UCLA), and earned his doctorate from the same institution in 1970. His doctoral dissertation focused on the formation of the Soviet Union. He is married and has three children.
Political Career
With over two decades of experience in Middle East and Soviet policy as an academic and diplomat, Ross worked closely with American Secretaries of State, including James Baker, Warren Christopher, and Madeleine Albright. He is credited with establishing the Washington Institute for Near East Policy in 1980, a think tank focused on Middle East policy funded by the American Israel Public Affairs Committee (AIPAC).
In 1981, after Ronald Reagan's election victory, National Security Advisor Richard V. Allen appointed Ross to implement Reagan's foreign policy agenda. Alan proposed Paul Wolfowitz for the position of Assistant Secretary of State for Policy Planning, and together with Ross, they selected a team of foreign policy planners that included Scott Libby, Francis Fukuyama, Allen Keiswetter, Zalmay Khalilzad, Stephen Sestanovich, and James Roche. This team played a significant role in defining the Reagan administration's foreign policy objectives.
Ross wrote his doctoral thesis on the Soviet Union, and afterward, he served as the head of the Soviet and East European Studies program at the University of California, Berkeley and Stanford University, researching Soviet international behavior from 1984 to 1986.
Ross served as Director of Policy Planning in the State Department and was influential in shaping U.S. policy towards the former Soviet Union, German reunification, and NATO expansion. He was also involved in arms control negotiations and the development of the global coalition during the Gulf War.
He served as the Special Coordinator for the Middle East and was responsible for relations with South Africa in the National Security Council during Ronald Reagan's presidency. Additionally, he was Deputy Assistant Secretary of Defense for Near East and South Asian Affairs in the Pentagon.

Starting in the mid-1990s, Ross became heavily involved in the Israeli-Palestinian peace process as a special envoy under President Bill Clinton. During his public service, Ross received recognition for his contributions, including the Presidential Distinguished Service Award, the highest award given to career officials by the President of the United States.
He was also awarded the highest honorary degree by the University of California, Los Angeles (UCLA) and received honorary doctorates from the Jewish Theological Seminary, Syracuse University, and Amherst College.

After President Barack Obama took office in 2009, Ross was appointed as a Special Advisor to the Secretary of State for the Gulf and Southwest Asia, which included Iran. In this role, he acted as a de facto envoy for the U.S. government, engaging in diplomatic efforts with Iran.
However, he resigned from this position after a relatively short tenure, reportedly due to Iran's refusal to engage in substantive dialogue with him, given his Jewish background and connections to Israel. Following his departure, he was appointed as a Special Advisor to the United Nations Security Council, a position he held until November 2011.


Post-Political Career
Until 2009, Ross served as Chairman of the Jewish People Policy Planning Institute, an organization created by the Jewish Agency to enhance thinking and research regarding the Jewish people.
The institute organized brain trusts and discussion groups for various projects and engaged with leaders of the Jewish community, professional leaders, and Jewish volunteers worldwide. It aimed to strengthen the connection between policy planning and execution within the Jewish people.

Since 2006, Ross has been a lecturer on strategic studies at Georgetown University. He is also a foreign affairs analyst for Fox News and contributes regular columns to The Washington Post and The New York Times. His first column, titled "Statecraft," was published in The New Republic on April 9, 2007.


Connection to Israel
In the eyes of the Israeli public, Ross is best known as the special envoy of the American government during President Bill Clinton's administration, tasked with mediating Israeli-Palestinian negotiations.
During this period, he made multiple visits to Israel and neighboring countries to advance the diplomatic process and facilitate Israeli-Palestinian talks. He met with Israeli Prime Ministers Shimon Peres and Benjamin Netanyahu, as well as senior Palestinian officials, including then-chairman Yasser Arafat.
Throughout his tenure as a mediator in the Israeli-Palestinian peace process, Ross was both praised and criticized from various quarters. Palestinians often accused him of bias due to his Jewish background, while some in the Israeli right viewed him as overly sympathetic to Palestinian interests.
As a chief architect of the Oslo Accords, Ross played an essential role in laying the groundwork for the historic agreement between Israelis and Palestinians.

---
Reviews (0)
No reviews yet.