Daniel Charles Kurtzer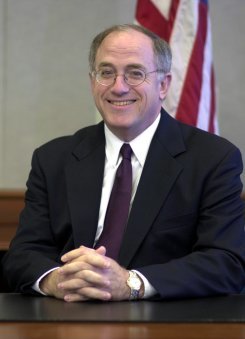 Daniel Charles Kurtzer (born June 1949) is a Jewish-American diplomat who served as the United States Ambassador to Egypt (1998-2001) and was later appointed by President George W. Bush as the United States Ambassador to Israel, where he served from 2001 to 2005.
Early Life

Daniel Kurtzer was born to Jewish parents, Nathan and Sylvia Kurtzer, in Elizabeth, New Jersey. He completed his undergraduate studies at Yeshiva University and earned his doctorate from Columbia University. Between 1977 and 1979, before joining the U.S. Foreign Service, he served as a faculty member at Yeshiva University.


Diplomatic Career

Kurtzer began his diplomatic career as a junior officer at the U.S. Embassy in Cairo, Egypt. During his tenure, Egyptian President Anwar Sadat was assassinated in 1981. Kurtzer later served as the Deputy Chief of Mission at the U.S. Embassy in Tel Aviv, Israel, where he also handled political affairs. After his postings in Egypt and Israel, he returned to the United States and served as Deputy Assistant Secretary of State for Near Eastern Affairs from 1982 to 1986.

During his diplomatic service, Kurtzer played an active role in the Multinational Force and Observers (MFO), an organization overseeing the peace treaty between Egypt and Israel in the Sinai Peninsula from 1981 to 1982. He later joined the policy planning staff as Deputy Assistant Secretary for Near Eastern Affairs and Deputy Assistant Secretary for Intelligence and Research. In 1988, he was among the architects of Secretary of State George Shultz's peace initiative.

In 1991, Kurtzer served as a member of the American delegation to the Madrid Peace Conference, a pivotal moment in Middle East peace negotiations.


Later Career and Achievements

In 2006, Kurtzer retired from the State Department and was awarded the Distinguished Service Award by the President of the United States. Following his retirement, he was appointed as the S. Daniel Abraham Professor in Middle East Policy Studies at Princeton University's Woodrow Wilson School of Public and International Affairs. In 2008, he published a book about the role of the United States in Middle East peacemaking.

Kurtzer also served as the Commissioner of the Israel Baseball League.


Political Involvement

Kurtzer publicly supported Senator Barack Obama's candidacy for President of the United States in 2008. According to the Wall Street Journal, Kurtzer, along with James Steinberg and Denis Ross, played a key role in crafting Obama's speech to the American Israel Public Affairs Committee (AIPAC). This speech was notable for addressing international issues and is considered one of the most prominent foreign policy speeches delivered by a Democratic presidential candidate.

Daniel Charles Kurtzer's diplomatic career, academic contributions, and political involvement have left a significant impact on U.S. foreign policy, particularly in the Middle East. His extensive experience and expertise continue to contribute to discussions and debates on international relations and peace efforts in the region.

---
Reviews (0)
No reviews yet.