"Ajami" (Film)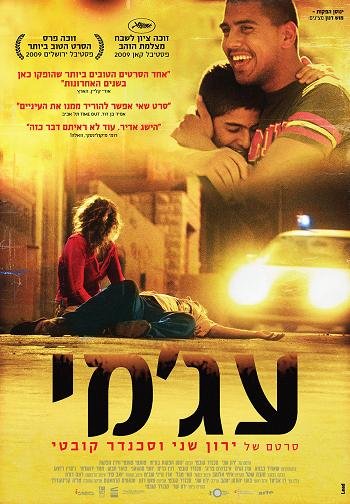 "Ajami" is a powerful Israeli film that offers a gritty portrayal of life in the Ajami neighborhood, combining multiple interwoven narratives that depict the complex social and criminal dynamics within the Arab community of Jaffa. The film's critical acclaim and commercial success highlight its significance in Israeli cinema.
"Ajami" is an Israeli film from the year 2009, directed by Yaron Shani and Scandar Copti, with a storyline set in the Ajami neighborhood of Jaffa. The film features mostly inexperienced actors, some of whom are actual residents of the Ajami neighborhood, including the co-director, Scandar Copti.
The narrative of the film is based on real events and depicts the harsh reality of Arab society characterized by crime, brutality, and deceit. "Ajami" achieved recognition by winning five Ophir Awards, including Best Film, and was also nominated for an Academy Award for Best Foreign Language Film, although it did not win.

Background:
The collaboration between Shani and Copti began at the International Student Film Festival, where they worked on a short project about the Ajami neighborhood. This collaboration eventually led to over seven years of effort in writing the script, directing the film, conducting acting workshops, and preparing the non-professional cast.

Plot:
The film's plot is structured into five interconnected chapters, interweaving multiple parallel stories, all centered around the Ajami neighborhood in Jaffa. The main characters are predominantly young Muslims and Christians. The film provides a glimpse into the harsh criminal underbelly and violence prevailing in the Arab society of Ajami. The neighborhood residents are deeply entangled in cycles of violent crimes, drug trafficking, and blood feuds.

The central storyline revolves around Omar, a young Arab Muslim, whose family becomes embroiled in a blood feud with a Bedouin family from the South after he wounded a member of the rival family during a confrontation at his restaurant. To resolve the conflict, Omar's family must pay a substantial blood price. Omar decides to raise the blood money by getting involved in drug deals. Meanwhile, he falls in love with the daughter of a wealthy Christian restaurateur, Abu Elias, who has connections to the criminal world.

Other parallel storylines include Malek, a Palestinian teenager from the West Bank working at Abu Elias' restaurant, who needs a large sum of money for his sick mother's medical treatment; Dando, a Jewish police officer in Jaffa, who is also dealing with the disappearance of his soldier brother; and Binj, a butcher who wants to leave the neighborhood and start a new life with his Jewish girlfriend but gets entangled in drug-related conflicts.

The film's narrative unfolds in a non-linear fashion, revealing surprising elements and scenes that have already been shown but from different perspectives, providing fresh insights. The atmosphere in the film is charged with tension, violence, but also extraordinary human kindness and empathy.

Critical Reception:
"Ajami" received widespread acclaim from Israeli film critics. Meir Schnitzer described it as "an incredible and surprising achievement" and praised all its components, including the script, direction, dialogues, and cinematography. Schnitzer, along with other critics like Molik Dubedvani from Ynet, compared the film to Pier Paolo Pasolini's early works, which also depicted struggling communities and featured non-professional actors. The film was also compared to crime films "City of God" and "Gomorrah" due to its focus on drug trafficking in Jaffa.

Notably, "Ajami" marked the first Arabic-language film submitted by Israel for consideration at the Oscars since "Paradise Now" and the second film to compete for an Oscar where the primary language spoken is Arabic, following "Paradise Now."

Commercial Success:
"Ajami" was a commercial success during its theatrical run in Israel, with approximately 165,000 viewers. It became the second most-watched Israeli film of 2009, trailing only behind "Big Bad Wolves."

---
Reviews (0)
No reviews yet.