Adam Schiff: A Political Portrait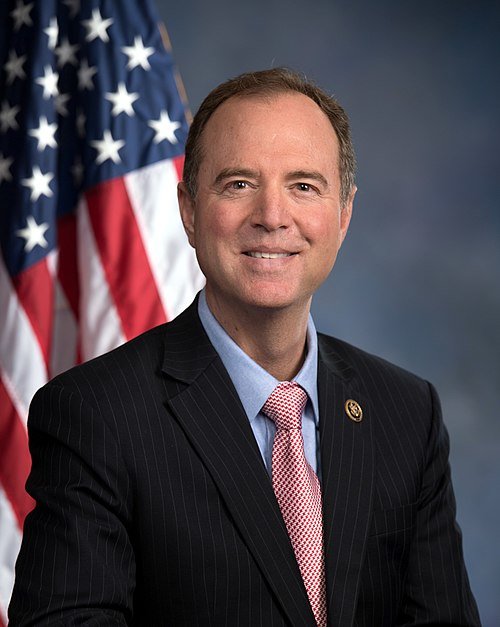 Adam Bennett Schiff, born on June 22, 1960, is an American Jewish politician affiliated with the Democratic Party. He serves as a member of the United States House of Representatives, representing California's 28th congressional district, which encompasses parts of central Los Angeles, including areas like Burbank, Hollywood, and West Hollywood. Schiff holds a prominent role as the Ranking Member on the House Intelligence Committee and led the investigation into the Trump-Russia connection.
Biography
Adam Schiff was born in Framingham, Massachusetts, into a Jewish family, the son of Edward and Sherrill Ann (née Glovsky) Schiff. During his high school years, he moved to the San Francisco Bay Area, where he later settled in Danville. Schiff earned his Bachelor of Arts degree in Political Science from Stanford University and a Juris Doctor (JD) degree from Harvard University.
He practiced law professionally and, before being elected to the California State Senate, he served as an Assistant U.S. Attorney in Los Angeles for six years, notably handling the case against the first FBI agent ever to be indicted for espionage. Following this, Schiff served in the California State Senate from 1996 to 2001 before his election to the U.S. House of Representatives.

Schiff resides in Burbank, California, with his wife, Eve, and their two children, Alexa and Elijah.


The California Senate Years
During his four-year tenure as a California State Senator, Schiff represented the 21st district. He chaired the Senate Judiciary Committee, the Senate Select Committee on Juvenile Justice, and the Joint Committee on the Arts. He led efforts to pass legislation guaranteeing up-to-date textbooks for classrooms, initiated substantial changes to child support fees, and passed a patients' bill of rights.
In addition to his legislative work, Schiff authored Assembly Bill 1847, Chapter 1021, signed into law in 1998, creating the Foothill Gold Line light rail authority, which extended the Metro Gold Line from Los Angeles County Metropolitan Transportation Authority (LACMTA) right-of-way in Pasadena.
In Congress
Schiff was elected to the United States House of Representatives in November 2000, defeating incumbent Republican James E. Rogan, who had garnered extensive support in Los Angeles County, California, and had suffered from his involvement in President Bill Clinton's impeachment trial.
In Congress, Schiff has focused on national security, community development, and what he calls the "children's agenda," promoting initiatives to improve education, safety, and healthcare for children.
He is highly active in issues of intellectual property theft and copyright protection. He not only serves on the Subcommittee on Courts, Intellectual Property, and the Internet but also co-chairs the Congressional International Anti-Piracy Caucus, a bipartisan group working with America's international partners to enforce intellectual property rights and ensure the enforcement of these laws.

Since 2017, Schiff has held the position of Ranking Member of the House Intelligence Committee, where he leads the House investigation into Russian interference in the 2016 United States elections and possible coordination between the Trump campaign and the Russian government.

Adam Schiff's career has been marked by a commitment to legislative action on a wide range of issues, from national security to children's rights, and his role in leading investigations has made him a prominent figure in American politics. His work continues to influence key debates and policy decisions in the United States.

---
Reviews (0)
No reviews yet.