Abba Achimeir: A Life of Leadership and Activism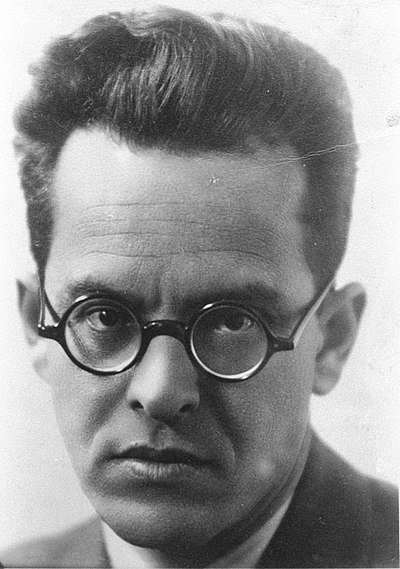 Abba Achimeir, born Abba Shaul Geisinovitz on November 2, 1897, was a spiritual leader of the Revisionist Zionist movement, the Betar youth movement, and the Revisionist Zionist Alliance. He was also a journalist, publicist, historian, and Israeli author known by various literary pseudonyms such as A. Shmai, A. Gai, A. Ma'aravi, A. Madini, Aba Sikra, Avishi, Aba Arikha, A. Asir-Tzion, and many others. The initials of his first name, Abba Ben Yitzhak, are represented by "Abba."
Achimeir was awarded the Z'votinsky Prize for literature and research. He was born in Dolgi, a village in the Minsk Governorate of the Russian Empire (now in Belarus), as the fourth of seven children to Sarah (née Gelfand) and Yitzhak Geisinovitz.
He received his early education from a private tutor, Rabbi Avraham Bar Baskin, who was both a knowledgeable teacher and a passionate Zionist. Later, he continued his studies with David Shmayonovitch, a poet and writer.

In 1912, at the age of 14, Achimeir immigrated to the Land of Israel, then part of the Ottoman Empire. He studied for two years at the Herzliya Gymnasium in Tel Aviv.

During his youth, Achimeir was drawn to socialist Zionism and became close to its leaders, including Aharon David Gordon and Berl Katznelson. He admired Leo Tolstoy's philosophy and incorporated aspects of it into his own worldview.

In the summer of 1914, while on vacation in Russia, World War I broke out, and he found himself unable to return to the Land of Israel. During the war, he completed his studies at a gymnasium in the town of Pritz near Bobruisk.
However, when the town was captured by the Bolsheviks, he was arrested after attempting to protect Jewish merchants from extortion. In 1918, he began his studies at the University of Kiev and worked as a journalist for the Soviet newspaper "Izvestia."
Although initially sympathetic to communist ideology, the events of the Russian October Revolution and the Russian Civil War led him to reconsider his views. He became disenchanted with the Bolshevik regime and perceived political communism as a threat to freedom and democracy.

In April 1919, his beloved brother Meir, who served as an officer in the Red Army during the Polish-Soviet War, was killed in action. This tragedy had a profound impact on Achimeir's life.

In 1921, before the end of the Russian Civil War, Achimeir managed to escape from Russia and arrived in Warsaw, Poland. From there, he went to the University of Liège in Belgium. In 1920, he moved to Vienna, where he first met the Zionist leader Ze'ev Jabotinsky.

In 1922, he published his first article in Hebrew in the Tarbut journal on the philosophy of Moses Hess. He completed his doctoral dissertation on the work of the historian and philosopher Oswald Spengler, titled "The Decline of the West," at the University of Vienna, earning a Ph.D. degree in 1924.

In 1924, Achimeir returned to the Land of Israel. His sister Bluma also immigrated to Israel and joined the Dgania B group. He was a member of the Hapoel Hatzair party from 1924 to 1928, contributing articles to various labor party newspapers, including "Hapoel Hatzair," "Kuntres," "Davar," and "Haaretz." He also established close relationships with Hebrew writers and intellectuals such as Shmuel Yosef Agnon, Yosef Klausner, Avraham Shmueli, and Emanuel Hertz.

In 1928, he joined the Zionist Revisionist movement, along with his friends Uri Zvi Greenberg and Joshua Hasel Yabin. The three of them founded the Revisionist Labor Union during a conference in Nahalat Yehuda. Achimeir began publishing articles on contemporary issues in the "Doar Hayom" newspaper and actively participated in the activities of the Revisionist youth movement, Betar. He also taught at the Betar officers' school.

In 1930, Achimeir married Chasia (Chasida Gershtkovich), and they had a daughter named Zeevah, named after Ze'ev Jabotinsky. His daughter Edah became a rabbi and the former head of the Rabbinical Council of the Advanced Judaism movement in Israel. Chasia passed away in 1938, after giving birth in difficult circumstances, and she was buried on the Mount of Olives. Their daughter Zeevah was adopted by her uncle, Bluma, and Eliezer Verdimon of Dgania B.

In 1930, Achimeir established the organization "Brit Habiryonim," the first group to openly protest and demonstrate against the British Mandatory authorities, which he referred to as "foreign rule." Following the assassination of Haim Arlosoroff in June 1933, Achimeir was arrested and detained for an extended period on suspicion of involvement in the murder.
He was tried alongside Abraham Stavsky and Zvi Rosenblatt. On May 29, 1934, after the conclusion of witness testimonies, Achimeir was acquitted of the charges but was arrested again and stood trial as a leader of the "Brit Habiryonim" organization. Together with other members of the organization, their trial became known as the "Brit Habiryonim Trial." Their defense attorney was Zvi Eliyahu Cohen. On June 18, 1934, Achimeir was convicted and sentenced to 21 months in prison.

While in Jerusalem Central Prison, where he served until August 1935, Achimeir wrote a daily diary of his trial and imprisonment. Some excerpts were published in the "HaYarden" newspaper under the pseudonym A. Asir Tzion. In 1946, part of this diary was included in the book "Reportage of a Prisoner."

In October 1935, Achimeir married Sonia (née Astrakhan) in a ceremony conducted by Rabbi Aryeh Levin. They had two sons: Yaakov Shlomo, a journalist with the Broadcasting Authority, and Yossi (Yosef Dov), also a journalist, former member of the Knesset from the Likud, and chairman of the Jabotinsky Institute.

After being arrested again in 1937, Achimeir spent time in Lebanon in 1938. During his absence from the Land of Israel, which was then under British Mandate, he traveled from Beirut to Piraeus and then to Warsaw.
His wife and son joined him, and the family spent a year in Poland. They returned to Israel with a group of about a hundred new immigrants, including Uri Zvi Greenberg, shortly after the outbreak of World War II. Achimeir's parents, Sarah and Yitzhak Geisinovitz, were sent to the Bobruisk ghetto and were murdered there by the Nazis.

In 1939, after returning to the Land of Israel, Achimeir resumed his involvement in the Betar movement and published articles in the movement's newspaper "Hazit HaAm." He also served as the chief of the Jewish military police during World War II.

In the early 1940s, Achimeir, together with Uri Zvi Greenberg, established the "Brit HaTzionim HaRevizionistim," a group that advocated armed resistance against British rule in the Land of Israel. He called for Jews to openly defy the British restrictions on immigration and land acquisition. In 1941, he was arrested and imprisoned in Latrun prison, where he spent eight months.

Following his release, Achimeir continued his activism and writing. He also played a prominent role in the Jewish resistance during the Arab riots of 1947-1948.

In 1948, when the State of Israel was established, Achimeir was offered positions of high rank in the IDF, but he declined and chose instead to continue his work in journalism and literature.

Achimeir's literary work included novels, essays, poetry, and plays. His literary style was characterized by his unique blend of nationalism, mysticism, and spirituality. Some of his notable works include "Black Candle" (Ner HaShachor), "Naphtali Ben Yair" (an historical novel), and "The Sins of Sinai."

Throughout his life, Abba Achimeir was a tireless advocate for Jewish self-determination and a staunch supporter of the Revisionist Zionist movement. He passed away on July 6, 1962, leaving behind a legacy of leadership, activism, and literary contributions that continue to be celebrated by those who share his commitment to the Zionist cause and Jewish identity.

---
Reviews (0)
No reviews yet.