Title: Tevya (Film, 1939)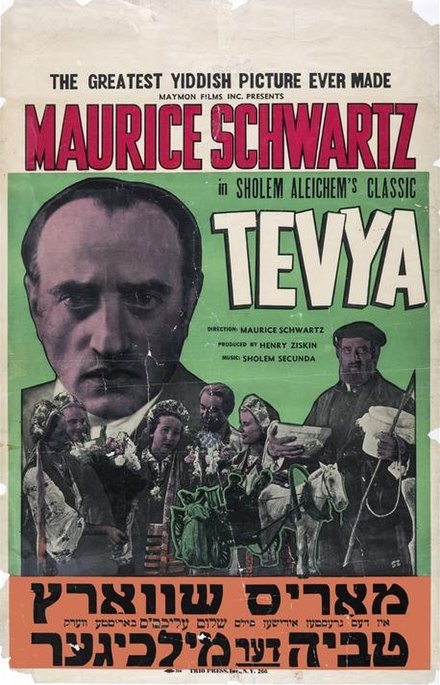 "Tevya" is a powerful and emotionally charged film that explores the complexities of Jewish identity, family, and the challenges faced by Jewish communities in Eastern Europe during a turbulent period. Its enduring impact and inclusion in the National Film Registry testify to its importance as a cinematic work that captures the essence of Sholem Aleichem's timeless characters and stories.
"Tevya," directed by Morris Schwartz, is an American film released in 1939. The movie is based on the character "Tevya the Dairyman," from Sholem Aleichem's Yiddish literary classic, "Tevye's Daughters." "Tevya" was selected in 1991 for preservation in the National Film Registry of the United States, becoming the first non-English language film to receive this honor.

Plot:
Tevya the Dairyman is a simple Jewish villager living with his wife, Golda, and their unmarried daughter, Hava, in a Ukrainian village where they are the only Jewish residents. They live in harmony with their surroundings and earn the respect of the locals, even if it is somewhat begrudging, thanks to the local priest, Father Alexis, who appreciates Tevya's refusal to convert to Christianity.

Tevya's married daughter, Zeitel, comes to visit with her two children and stays with him for a while. Hava, his unmarried daughter, is fascinated by the culture of the gentiles (she tries to explain to her father who Tolstoy and Gorky are) and falls in love with Petya Golgol, the younger son of one of the village's notables. She elopes, converts to Christianity, and marries him. Tevya disowns his apostate daughter and mourns the loss of his wife, Golda, who dies of a broken heart. Hava is forbidden to visit her ailing mother and is shunned by her husband's family.

Petya Golgol's father, a member of the local council, abuses his position to orchestrate the expulsion of Tevya and his family from the village within 24 hours. Hava leaves her husband and returns to her father's home, choosing to be expelled with him and Zeitel. After a series of hardships, Tevya forgives his daughter Hava.

Production and Reception:
The film is based on two previous works by Morris Schwartz, who directed the silent film "Havah" (also known as "Broken Barriers") in 1925 and the stage production "Tevya" in 1919. The screenplay was written by Marcy Klauber and Morris Schwartz, incorporating elements from Sholem Aleichem's stories "Havah" and "Lekh-Lekho." However, it differs from the original stories by having an open ending.

The film was shot at Biograph Studios and on Long Island, New York. During the production in August 1939, the invasion of Poland by Nazi Germany marked the beginning of World War II. Many of the actors in the film were from Polish Jewish backgrounds, and despite the unfolding events in Europe, filming continued successfully.

With a budget of $70,000, "Tevya" enjoyed great commercial success and critical acclaim. Unlike typical Yiddish films, which often featured light and comedic plots, "Tevya" delved into darker themes such as anti-Semitism and assimilation.

---
Reviews (0)
No reviews yet.