Stephen Fry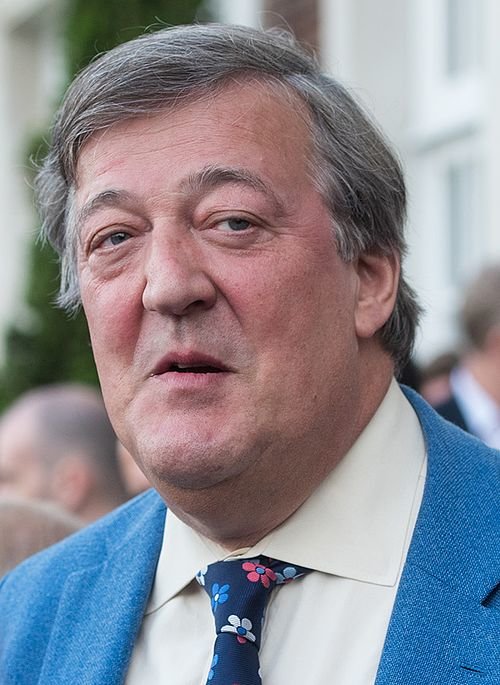 Stephen John Fry (born August 24, 1957) is a British-Jewish actor, comedian, playwright, author, and director.
Biography
Stephen Fry was born in Hampstead, England, to Alan John Fry, an English physicist, and Marianne (née Newman), the daughter of a Jewish family that emigrated from Shuran, a region that is now part of Ukraine, in 1927. Some of his maternal relatives perished in the Holocaust. Fry was raised without a religious affiliation.
In his autobiography, he describes himself as both Jewish and homosexual, dealing with the social ostracization he faced while attending a private school in England. He writes about the dilemmas of sexual identity and a persistent tendency to lie.
Fry became entangled in a credit card fraud and theft incident that led to his imprisonment. After his release from prison, he pursued studies at Queens' College, Cambridge.
A few years later, Fry was diagnosed as bipolar, and he even created a documentary about his life before and after the diagnosis, titled "Stephen Fry: The Secret Life of a Manic Depressive."


As an Author

In 1992, Fry published his first novel, "The Liar," a story about a young homosexual English boy attending a private school and Cambridge University (much like Fry himself). In 1997, he released his autobiography, in which he retells the events of his youth that he had originally fictionalized in his debut novel. His books are known for their humor and surprises. "The Stars' Tennis Balls" is his adaptation of Monty Cristo's novel, with characters' names being anagrams of Dumas' characters.


As an Actor and Host

Fry has been a prominent figure on television, appearing in the BBC series "Blackadder." He is particularly remembered for his collaboration with Hugh Laurie on the comedy show "A Bit of Fry & Laurie" and the television adaptation of P.G. Wodehouse's "Jeeves and Wooster," in which he played the impeccable valet Jeeves. In 1995, he starred in Simon Gray's play "Cell Mates" but disappeared and was found in Belgium after suffering a nervous breakdown.

In films, he portrayed Oscar Wilde in the movie "Wilde" and appeared in a biopic about Peter Sellers. He also starred in "Peter's Friends." In Robert Altman's film, "Gosford Park," Fry played a minor but important role as a bumbling police officer.

In 2003, Fry directed his first film, "Bright Young Things," based on Evelyn Waugh's novel, for which he also wrote the screenplay. The film portrays the hedonistic and decadent London high society of the 1930s, just before World War II.

From 2007 to 2009, Fry starred for three seasons in the British legal drama series "Kingdom" as Peter Kingdom, a lawyer and the owner of a law firm.

Starting in the same year, he began hosting the television panel show "QI," which continues to air as of 2021, with the show currently in its 19th season.

Fry created a documentary series for the BBC called "Stephen Fry in America," in which he journeyed across the United States in a black British cab.

In 2016, he appeared in the romantic comedy film "Love & Friendship," alongside Kate Beckinsale and Chloë Sevigny.

From 2016 to 2017, he starred in the American sitcom "The Great Indoors."


Personal Life

Fry identifies as homosexual and humanist and supports the British Labour Party. He is an advocate for freedom of information and open-source software. Fry is an outspoken supporter of human rights and has spoken out against racism and anti-Semitism, particularly in Europe. In one interview, Fry criticized Polish political parties with historical connections to concentration camps like Auschwitz, though he later retracted his statements after facing criticism.

He has frequently criticized Israeli policies toward Palestinians and signed a letter, along with hundreds of prominent British Jews, published in The Guardian in 2007, that strongly criticized Zionism. Despite his criticisms, Fry has refused to support boycotts against Israel and has visited the country multiple times, the last known visit being in 2011.
---
Reviews (0)
No reviews yet.