Meir Panim: A Lifeline of Compassion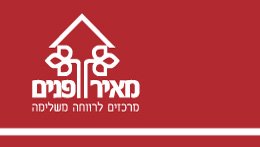 Meir Panim, the Hebrew term for "Shining Light," is an Israeli charitable organization dedicated to addressing the diverse needs of the vulnerable population while promoting social responsibility. Founded in the year 2000 by Dudi Zilbershlag and his wife Rivka in memory of their son Meir, who tragically passed away at the age of 13 from a severe illness he had struggled with since birth, this organization operates 40 activity centers across Israel.
Among these, 14 are specialized dining facilities that serve thousands of individuals from over a hundred communities throughout the country. The remaining centers include second-hand equipment warehouses, youth clubs, and job placement centers.


The Genesis of Meir Panim
Meir Panim was born from the deep compassion of Dudi and Rivka Zilbershlag, who were inspired by their personal tragedy to help others in need. The organization's hallmark lies in its commitment to respecting the dignity of those it assists and preventing any stigmatization of the recipients. Moreover, it actively strives to reintegrate beneficiaries into self-sufficiency.
After approximately seven years of dedicated service, Dudi Zilbershlag stepped down from his role. As of 2016, Chaya Morgenshtern assumed leadership of the organization.
Food and Nourishment
Meir Panim's dining facilities are designed to resemble regular restaurants, creating an atmosphere that preserves the dignity of those in need. The weekly menu is carefully crafted under the guidance of nutritionists, ensuring that it includes all essential food groups and vital vitamins. Volunteers who serve the meals not only provide sustenance but also offer warmth and emotional support to the beneficiaries.
These dining facilities provide hot meals for the elderly and individuals with disabilities on a daily basis. Volunteers also take an active interest in the health and well-being of the elderly, assisting with tasks such as purchasing medications and repairing electrical appliances.
Meir Panim extends its services to schools and kindergartens, ensuring that children attending long study hours receive at least one nutritionally balanced meal per day. These meals are offered for a nominal fee of 3 shekels per meal, or free of charge to families facing financial hardship.
During holidays and special events, the organization distributes food packages to those in need, often in collaboration with local welfare agencies.
Youth Clubs
Meir Panim operates a network of youth clubs that provide emotional and professional support to children from underprivileged backgrounds. These clubs operate in the afternoon, in collaboration with youth organizations and welfare services. Within the clubs, children receive assistance with homework, enrichment classes, exam preparation, and emotional support.
Each child's program is tailored in coordination with their educational institution. During their time at the clubs, children receive nourishing afternoon meals, and a light snack before returning home.

During school vacations, these youth clubs organize a variety of activities, including games and excursions.


Vocational Rehabilitation
The organization offers vocational opportunities to the elderly and individuals with disabilities through its various branches. This vocational rehabilitation includes food preparation, table setting, and meal service to those in need. In return for their work, participants receive a symbolic stipend that does not affect their social entitlements.
Meir Panim also employs individuals with a commitment to community service, often coordinating with correctional facilities to provide meaningful work opportunities.
Strength in Giving
"Strength in Giving" is a volunteer-based initiative that collects household items, furniture, and electrical appliances donated by the public for needy families. Donated items undergo a process of sorting, cleaning, and refurbishment by volunteers before being distributed to those in need. The recipients receive these items in exchange for a nominal fee.
Meir Panim operates approximately 15 "Strength in Giving" branches throughout the country.
Meir Panim continues to be a beacon of hope, compassion, and social responsibility in Israel, providing vital services and support to those facing challenging circumstances while maintaining the dignity and integrity of every individual they serve.
---
Reviews (0)
No reviews yet.