Jacob Cohen (Kahan)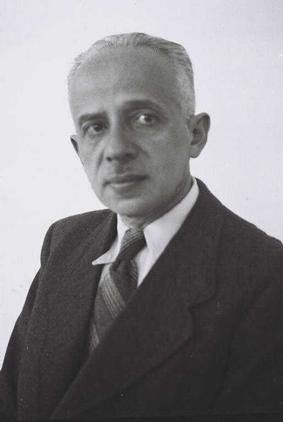 Jacob Cohen (Kahan) was an Israeli poet, playwright, translator, writer, and Hebrew linguist who received the Israel Prize twice. Born on June 26, 1881, in Slutsk, which was part of the Russian Empire at the time, he spent many years in Poland before immigrating to Israel in 1934. He was a Zionist from the age of 16 and later joined the Revisionist Zionist movement.
Early Years

Jacob Cohen was born in Slutsk, which is now in Belarus, into a family of diligent merchants, Benjamin Cohen and his wife, Pesia (née Vendrovski). He spent his childhood in Congress Poland, in the city of Zhytomyr, near Lodz. At the age of 13-14, Cohen became a self-taught learner. From 1909 to 1910, he studied at universities in Bern, Munich, and Paris. In 1909, he completed his doctoral thesis in philosophy at the University of Bern. After completing his studies, he returned to Poland.


Zionist Activities and Contributions to Hebrew

Starting in 1897, Cohen actively joined the Zionist movement. He was one of the founders of the Bnei Zion organization in Slutsk and consistently worked to promote spoken Hebrew. Between 1914 and 1910, he served as the head of the Society for Culture and Hebrew Language in Berlin. From 1927 to 1917, he supervised the teaching of Hebrew and Jewish studies in Jewish high schools established by Mordechai Brodetzky and later taught medieval Hebrew poetry and modern Hebrew literature at the Institute of Jewish Studies in Warsaw. During his time in Warsaw, Cohen was a member of the "Culture" organization.

Cohen began publishing poems in 1900, with his first recognized poem appearing in the literary journal "HaDor," edited by David Frishman, in 1901.

In 1934, he immigrated to Israel and lived for many years on Bialik Street in Tel Aviv. Throughout his life, he wrote poetry, short stories, plays, translations, and children's poems.

Cohen was a member of the Hebrew Language Academy since its establishment in 1936 and served as its vice president from 1957 to 1961. He was also a member of the Language Committee and the Transcription and Punctuation Committee.


Literary Contributions

In the wake of the Kishinev pogrom in 1903, Cohen wrote the poem "Song of the Victims," which was later set to music by Abraham Zvi Idelsohn.

His poem "Judah fell in blood and fire, Judah will rise in blood and fire" became the slogan for "Hashomer," later becoming the anthem of the Revisionist movement. His poem "Song of the Armies" served as the anthem for the religious-nationalist movement Brit HaHashmonaiim. Cohen was an active member of the Revisionist Zionist movement and part of Ze'ev Jabotinsky's inner circle. In 1933, due to differences within the movement regarding its direction, Cohen, along with Meir Grossman, founded the Hebrew State Party.

In 1938, he won the Bialik Prize for Literature for his book "Beside the Pyramids."

Cohen translated the first part of Goethe's "Faust" from German, as well as Turquato Tasso and "Iphigenia in Tauris" by Johann Wolfgang von Goethe. He also translated selected poems by Heinrich Heine. He won the Tchernichovsky Prize twice for his translation work: in 1945 for "Faust" and in 1958 for Heinrich Heine's poems.

Cohen served as the president of PEN, the International Association of Poets, Playwrights, Editors, Essayists, and Novelists.

In 1953 and 1958, he received the Israel Prize for Literature.

Jacob Cohen's name is commemorated with streets named after him in Be'er Sheva, Kiryat Hayim, Ramat Gan, and Rmat Hasharon. The Ariel Library in Beit El Al was established in his memory.

---
Reviews (0)
No reviews yet.