Gideon Levy: The Israeli Journalist and Provocative Columnist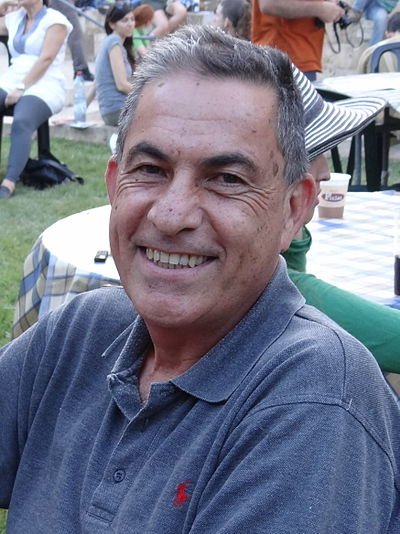 Gideon Levy, born on June 2, 1953, is an Israeli journalist and columnist widely associated with the radical left and a member of the editorial team at "Haaretz," a prominent Israeli newspaper.
Early Life and Background

Levy is the eldest of two sons in his family. His mother, originally from Czechoslovakia, arrived in the Israeli kibbutz during the Operation Magic Carpet, which rescued Jewish children. His father, Dr. Heinz (Tzvi) Levy, was born in the Sudetenland and was a lawyer with a German-Jewish cultural background. He immigrated to Israel aboard the "Tiger Hill," one of the last ships to arrive before World War II broke out. Levy's grandparents on both sides perished in the Holocaust.
The family settled on Tandar Street in Tel Aviv, where Levy attended the Municipal High School A. In his youth, after the Six-Day War, he traveled with his parents throughout Judea and Samaria (the West Bank), visiting sites like the Cave of the Patriarchs, the Western Wall, and Rachel's Tomb. He wrote about this period, stating, "I was part of Israel's great national-religious orgy that began then and has never really ended."

In the late 1970s and early 1980s, Levy worked as an editor and writer at "Galey Tzahal," the official magazine of the Israel Defense Forces. From 1978 to 1982, he served as the spokesman for Shimon Peres and assisted him alongside Yossi Beilin and Boaz Afula. He also accompanied Peres during the turbulent 1981 elections.

In addition to his journalism career, Levy teaches at the Social-Economic College and the "Manof to Art" School. He also actively participates in left-wing demonstrations and activities.

Between 1985 and 1995, Levy was married to journalist Sarit Yishai. The couple had two children, one of whom tragically passed away in infancy. After this loss, they adopted their third child, Uri. Today, Levy resides in Ramat Aviv with his Swedish partner, journalist Katarina Ormstad.

The "Twilight Zone" Column

Every week since 1988, Levy has ventured into the West Bank, initially accompanied by photographer Miki Kratsman and later by photographer Alex Levac, to document the impact of Israeli actions, particularly those of the IDF and settlers, on the Palestinian population. He aims to shed light on what he sees as the hidden reality of the occupation, a reality largely unknown or ignored by the majority of Israelis. He describes his mission as follows:

"I write in an Israeli newspaper, for Israelis who want to read about what the Palestinian people living under Israeli occupation are experiencing. I write from an Israeli perspective, not a patriotic one, for myself as well. I write mainly about what we do to them, not to help them or anyone else, but solely so that we know."

In his series of articles titled "Twilight Zone," Levy examines the situations faced by Palestinians due to the ongoing conflict and political struggles. He delves into the human consequences of the Israeli-Arab conflict from the Palestinian point of view, focusing on civilians who find themselves caught in the crossfire between Israeli security forces and armed Palestinians.
Levy critically assesses Israel's actions in the West Bank, Gaza, and previously in Gaza Strip, including home demolitions, property damage, intentional and accidental injuries, denied medical treatment, and the experiences of displacement and dispossession among Palestinians.

Although Levy does not speak Arabic, the language of most of his interviewees, he relies on local translators. When asked about this limitation, he stated, "It's my biggest failure. I had a private tutor, and after a year, I only managed to grasp one word, 'thank you,' which I already knew." Critics argue that his reports suffer from this language barrier.

Regarding the accusation that he publishes interviews without verification, Levy responded, "The danger still justifies what I see as an important journalistic mission, to say the least, if not sacred." An example of such danger is a case where IDF soldiers opened fire on the car Levy was traveling in near Tul Karm.

In 2004, Levy compiled his series of articles from 1988 to 2003 into a book titled "Twilight Zone: Life and Death Under Israeli Occupation," published by Babel.

In December 2014, Levy and photographer Alex Levac were detained for several hours on suspicion of violating a military order (entering a village in Area A) and insulting a soldier.

Opinion Writing

In addition to his weekly "Twilight Zone" column, Gideon Levy contributes opinion pieces to "Haaretz" where he consistently highlights the injustices of the occupation. In these columns, he addresses various issues relevant to Israeli society, including education, political campaigns, and even pieces that challenge societal norms. One such article appeared shortly after the death of Israeli author Israel Poliakov.

Levy is known for his sharp criticism of the actions of the IDF. During Operation Protective Edge, he strongly criticized the Israeli government's policies. He condemned the military's actions and described the operation as a failure for Israel.

During Operation Cast Lead, Levy's criticism targeted the Israeli Air Force pilots in his column titled "The Evil Ones Who Fly." In this piece, he portrayed the pilots as heroes against the weakest of the weak, those without an air force or air defense, barely even an airplane, and questioned how they slept at night.

Levy's articles during Operation Protective Edge and Operation Cast Lead received sharp condemnation, even from moderate left-wing individuals. As a result of threats to his life, security was assigned to him. Complaints about his coverage during the military operations were dismissed by the legal advisor of the Israeli Press Council, Ilan Shadmi, and by the president of the Press Council, Dalia Dorner.

On April 1, 2018, following the large-scale "Great March of Return" protest, during which 16 Palestinians, including ten militants, were killed on the first day, Levy published an article in "Haaretz" referring to the IDF as the "Israel Defense Slaughter Army."

When addressing Palestinian attacks against Israelis, Levy often emphasizes actions taken by Israel towards Palestinians, drawing parallels between them. For example, after the terrorist attack at the Mercaz Harav yeshiva, he wrote:

"Naturally, nothing can justify the terrible killing of young people in a library, but it is worth remembering, even during these difficult times, what this yeshiva has produced... The most extremist elements and the most hate-filled supporters of harming Arabs emerged from the Mercaz Harav."

Gideon Levy's journalism and provocative commentary continue to provoke discussion and debate in Israeli society, reflecting his commitment to shedding light on the complexities of the Israeli-Palestinian conflict and challenging the status quo.

---
Reviews (0)
No reviews yet.