Black" - A Cinematic Journey into Israeli Culture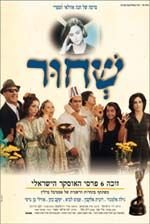 "Black" is a gripping film that explores themes of family, tradition, and cultural identity. It delves into the complexity of Moroccan-Jewish customs and the struggles of a young girl trying to reconcile her rational understanding with her family's mystical practices. The film's rich storytelling and powerful performances have solidified its place as a significant work in Israeli cinema history.
"Black" is an Israeli film directed by Samuel Hasfari, based on a screenplay by Hannah Azoulay-Hasfari. The film was released in 1994 and received widespread acclaim and recognition. In the year of its release, it garnered six Israeli Academy Awards (Ophir Awards), including Best Actress (Ronit Elkabetz and Orly Ben-Garti), Best Cinematography (David Gurfinkel), Best Art Direction, Best Director, and Best Picture.
Additionally, the film introduced Orly Ben-Garti, who received Oscar Israel nominations and the Best Newcomer Award for her performance. Following its success, "Black" participated in international film festivals, including Berlin, where it won a special prize for Best Foreign Film.

Plot Summary:
Hali (Hannah Azoulay-Hasfari) is a late-night talk show host on a commercial television channel in Israel. During a live broadcast of her show, she receives a phone call from her brother (Yakov Cohen) informing her of their father's passing (Amos Lavi). Rachel, accompanied by her sister-in-law Ruth, retrieves their elder sister, Pnina (Ronit Elkabetz), from a psychiatric institution where she has been hospitalized. The three women embark on a journey together to attend their father's funeral.

Throughout the journey, Rachel reminisces about her childhood in Israel in 1972 when she was thirteen years old and known by her full name, Rachel (Orly Ben-Garti). She struggled to comprehend the significance of the "Black Magic" ritual, a Moroccan-Jewish family tradition aimed at solving everyday problems through spells and ceremonies. Young Rachel grapples with understanding this form of magic, while also fearing the powerful forces at play within her family, especially her sister Pnina.

As the story unfolds, Rachel undergoes a process of understanding and coming to terms with this peculiar form of magic. She is simultaneously haunted by the intimidating powers of her sister Pnina and the family's naturalistic traditions, represented by her mother Emma (Gila Almagor) and her father Eliyahu.
---
Reviews (0)
No reviews yet.