Amnon Abramovich: Israeli Journalist and Political Commentator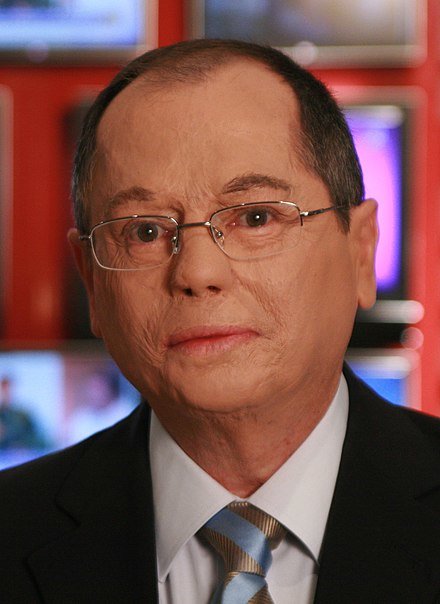 Amnon Abramovich, born on September 15, 1951, is a prominent Israeli publicist, journalist, and political commentator. He is best known for his role as the political correspondent for Channel 12 News in Israel.
Biography
Amnon Abramovich was born in Kibbutz Nir Am to parents who were among the founders of the kibbutz. At a young age, he moved with his family to Kiryat Ata. In 1969, he enlisted in the Israel Defense Forces (IDF) and served in the Armored Corps. In 1972, he began his studies in law at Tel Aviv University.
During the Yom Kippur War in 1973, he was called up to the reserves and served as a tank commander under the command of Lt. Col. Uzi Ben-Yitzhak in the 409th Battalion of the 600th Brigade.
On October 9, 1973, during the fourth day of the war, he was injured in battles near the Suez Canal. Despite suffering severe injuries to his face and body, he continued to operate the tank because he believed that there were still people inside it.
For his bravery and dedication to the mission, he was awarded the Chief of Staff Medal of Courage. After recovering from approximately 60 surgeries, he resumed his legal studies and specialized in criminal law in the Tel Aviv District Prosecutor's Office and as a private attorney in civil law. In 1978, he obtained his law license.

Amnon Abramovich began his journalistic career during his university years as a member of the editorial team of the student newspaper "Yitush" and wrote for the weekly supplement "Darban" of "Yedioth Ahronoth" newspaper. In 1977, he started working at the newspaper "Al HaMishmar," and in 1978, he was appointed deputy editor of the newspaper's supplement, "Hatam."
Simultaneously, he began contributing to the "Monitin" magazine in 1979. In 1981, he joined the "Maariv" newspaper, serving as a political correspondent, London correspondent, and senior commentator. He left "Maariv" in 1994 in protest of the newspaper's involvement in the "Lavon Affair" (an incident involving a planted espionage network within Egypt) and moved on to work as a political commentator at Channel 1. Since 2003, he has served as a commentator for Channel 2 News and regularly appears on the panel of the program "Friday Studio."


Political Views

Amnon Abramovich is often associated with the Israeli left-wing political spectrum. In 1995, while serving as a commentator on Channel 1, the Association for Civil Rights in Israel petitioned the Supreme Court, claiming that his political views were being expressed in his broadcasts, and demanded representation for other positions. Following the petition, Channel 1 committed to providing space for other perspectives. Another petition by the Association in 1996 was rejected.


Notable Exposures and Controversies

Two weeks after the assassination of Prime Minister Yitzhak Rabin in July 1995, Amnon Abramovich exposed the testimonies of Yigal Amir's brother, Hagai Amir, and Margalit Har-Shefi. He also repeatedly revealed that Avishai Raviv, who had infiltrated right-wing extremist groups, was an agent of the Shin Bet (Israel Security Agency) and used the code name "Champagne."
Abramovich published this information without prior military censorship. Subsequently, an investigation was conducted by the police, but it was decided not to prosecute him after he expressed remorse and committed to forwarding any future cases of doubt regarding security-related information to the military censor.
In an interview in the same year, he said, "In a second thought, I wouldn't have published it. I didn't foresee what would develop from it. I didn't want to be the one giving gifts to the right-wing."

About six months before the implementation of the disengagement plan, Abramovich said in a discussion at the Van Leer Institute in February 2005, "We need to preserve [Ariel] Sharon like an etrog, keep him in a sealed box, cushioned with foam, grapevine wool, and tissue paper, at least until the disengagement is completed."
At that time, Sharon was the Prime Minister of Israel and was being investigated for corruption, making him the central figure in the disengagement plan. According to Abramovich, he was the only one who could carry it out. Abramovich's statement led to significant criticism, including from his colleagues, such as Nahum Barnea.
He addressed this statement several times, explaining in May 2005, "The ridiculous, impudent, arrogant accusation from all of them is the accusation that we, the journalists, are covering up Sharon's criminal acts, real felonies, all for the sake of the disengagement." In July 2005, he wrote that in his statement, he meant that interpreters should not present Sharon in a negative light but rather as someone "important."
Due to the way Abramovich used the term, it has since become synonymous with turning a blind eye to corrupt actions when they are carried out by those in power and have political implications.

In August 2006, Abramovich exposed a meeting between President Moshe Katsav and the government's legal advisor, Meni Mazuz, during which Katsav complained that his former bureau chief, A., was trying to blackmail him with allegations of misconduct.

In August 2010, Abramovich, together with Roni Daniel, unveiled the "Galant Document," a document that allegedly sought to discredit the then-serving Chief of General Staff, Lieutenant General Gabi Ashkenazi, as part of a supposed power struggle involving Yoav Galant's appointment as the next Chief of General Staff.
The revelation caused a political and military storm, leading to Abramovich being summoned to testify in a police investigation. After a police investigation, it was determined that the document was forged, and it was leaked to Abramovich by Lieutenant Colonel (res.) Gabi Siboni, a friend of Ashkenazi, whom Abramovich described as a "reliable source, trustworthy, and outside of the scene, with no interest in this matter."

In December 2012, shortly after a press conference in which Prime Minister Benjamin Netanyahu and Foreign Minister Avigdor Lieberman announced the merger of the Likud and Yisrael Beiteinu party lists ahead of the 2013 Knesset elections, Abramovich claimed to have discovered a secret document in which Netanyahu and Lieberman allegedly agreed to rotate the position of Prime Minister between them. This revelation turned out to be false.

In February 2013, Abramovich gave an interview to "Haaretz" in which he stated that the most important issues for him in his journalistic work were "talking about the occupation and the price of the occupation" and "convincing the public of what is important."

During 2017, Abramovich made several disclosures related to investigations against Prime Minister Benjamin Netanyahu, including summoning billionaire Ron Lauder to testify when he arrived for the funeral of Shimon Peres, and the resignation of Arnon Milchan from his initial testimony.

In August 2017, journalist Yossi Yehoshua published a recording of a phone conversation between himself and Abramovich in which Yehoshua pretended to be Ehud Barak, claiming that he intended to run for the leadership of the Labor Party.
In the conversation, Abramovich agreed to the necessity of ending Benjamin Netanyahu's tenure but later realized that it was a prank and characterized it as a "pure fabrication." Yehoshua denied Abramovich's claim and released the full recording.


Criticism

During Operation Protective Edge in July 2014, around 150-200 people demonstrated against Abramovich outside the Channel 2 News studio. In September 2016, while attending the military court in Jaffa to cover Elor Azaria's trial, dozens of protesters surrounded him, chanting derogatory slogans. In both cases, he required police assistance.


Legal Proceedings

In 1996, Abramovich accused Pinchas Fishler, who served as the director of the Prime Minister's Office under Benjamin Netanyahu, of criminal offenses in his role. Fishler filed a civil lawsuit, and a criminal case was also opened against Abramovich. Four years later, in 2000, Abramovich apologized for his remarks on air, and as a result, Eliakim Rubinstein, the government's legal advisor, dropped the criminal proceedings against him.


Personal Life

Amnon Abramovich is married to Rachel and is the father of two children. He resides in Ramat Hasharon and is known as a fan of the Maccabi Haifa soccer team.

---
Reviews (0)
No reviews yet.