Yehoshua Sobol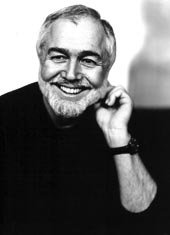 Yehoshua Sobol, born on August 24, 1939, is an Israeli playwright, author, screenwriter, theater director, and journalist.
Biography
Sobol was raised in Tel Mond. In the mid-1960s, he wrote stories that were published in the magazine "Keshet." He submitted plays to Israeli theaters but did not receive any response. He studied literature and history at Oranim College and philosophy in Sorbonne, Paris.
While studying in Paris, he learned about a blood libel case against Jewish merchants in the city. He wrote about this issue and subsequently became a journalist for "Al HaMishmar" in Paris. Upon returning to Israel a year later, he began writing feature articles for the same newspaper, focusing on disadvantaged neighborhoods in the 1970s. These articles later served as background material for his play "Crisis."

His first play, "The Days to Come" (1971), was performed at the Haifa Theater. He then worked there as a playwright and assistant to the artistic director. In 1984, he was elected as the artistic director of the Haifa Theater, and as a result, he retired from journalism and started publishing promotional articles.
His play "Ghetto" from 1983 achieved international success, being translated into twenty languages, performed in major theaters in twenty-four countries, and receiving favorable reviews and numerous awards. Following public protests sparked by his play "Jerusalem Syndrome" in 1988, he resigned from his position as artistic director and focused more on playwriting.

Between 1995 and 2000, he worked in Europe on his plays "Almah" and "Plock," both of which were successful.

Sobol wrote lyrics for his productions, including "Children Are Joy" and "Atzilnu BeKfar Tudra" performed by the Natural Selection band (for the play "Crisis") and "The Song About the Land" performed by Nurit Galron, reflecting on the loss of societal values ("Where is that land they called Ktan-tonet? Where are those simple, joyful lives?"). In addition, his song "VeHaHayim" was composed by Eran Tzur and recorded in the album "Cutting Through Gold" in 2006.

In 2006, at the age of 67, Sobol took the stage for the first time as an actor in Anton Chekhov's play.

In 2007, he wrote the script for the film "Eskimos in the Galilee."

In 2008, his only novel, "I'm Not Drayfus," was published and performed by Alex Ansky. In 2009, he wrote "I'm Not Drayfus" as a play, which was performed in other countries as well.

Sobol won the Israeli Theater Award for Lifetime Achievement in May 2010.

He is married to stage designer Adina Sobol. His son is the singer Yehali Sobol, and his daughter, Neta Sobol, was an actress and is currently a philosophy lecturer. He resides in Tel Aviv.


Political Activity and Beliefs

Sobol has written numerous publicist articles, primarily on social issues and against Israeli control in the territories.

In 2005, he published his book "Whiskey Is Okay," and in 2006, his book "Here and Now - Amir Peretz and the Israeli Situation" was released, in which Sobol analyzed the difficult social situation in Israel through the stories of contemporary laborers and the story of Amir Peretz, whom he supported.
The book was written after extensive visits to factories and peripheral cities, and it portrayed Amir Peretz as the great hope of the Israeli left. In 2008, he joined the intellectual leadership of the "Oz" political party.
In the early 21st century, he joined those demanding a change from "Jewish" to "Israeli" in the national anthem, a lawsuit that was rejected by the Supreme Court in the Uzzi Ornan verdict against the Interior Ministry.
In 2010, he signed the actors and theater creators' petition stating that they would refuse to perform in Ariel "as well as in any other settlement." In June 2018, he stated that if he were a Palestinian child in Gaza, he would also launch incendiary kites towards Israel.

Sobol was placed in symbolic positions on the Meretz party's list for the 19th Knesset elections, ranking 107th, and for the 20th Knesset elections, ranking 111th. He is a member of the Public Council of Yesh Din.


Characterization of His Plays

Sobol's plays primarily deal with three main themes:

1. On the Play "Almah"

Sobol's play "Almah" delves into the tumultuous journey of a Jewish girl who disguises herself as an Arab boy to save herself from the Nazis during the Holocaust. The play examines themes of identity, survival, and the blurred lines of gender and ethnicity in times of crisis. "Almah" is a powerful and thought-provoking work that challenges traditional notions of heroism and sacrifice.
---
Reviews (0)
No reviews yet.