Raviv Drucker: Investigative Journalist and Pundit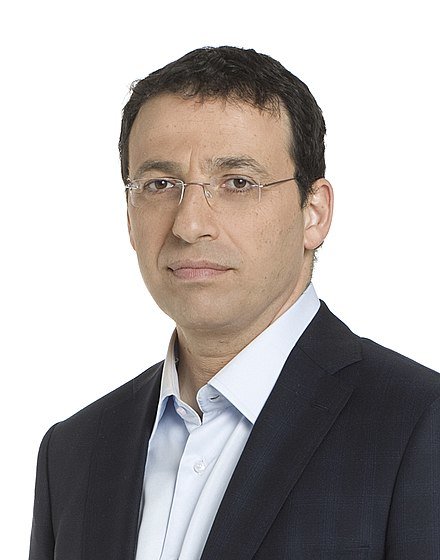 Raviv Drucker, born on September 11, 1970, is an Israeli journalist, researcher, and publicist. He was awarded the Sokolov Prize for Electronic Media in 2011 and currently serves as the political commentator for Channel 13, as well as hosting the show "HaMakor" (The Source).
Drucker is the middle child among three siblings, with his older brother Sharon Drucker being a basketball coach. He grew up in the Ramat Vraver neighborhood of Petah Tikva, attended "Neve Ouz" elementary school in the city, and completed his high school education with an emphasis on the sciences.

During his military service, Drucker worked as an investigator in the Military Police, and after his release, he worked as a private investigator in the field of insurance. He holds a degree in law from Tel Aviv University.

Drucker began his career as a general reporter at the "Ma'ariv" newspaper. He later served as a reporter covering real estate and infrastructure, and subsequently as a political reporter. In 1998, he became the political correspondent for Galei Tzahal (IDF Radio). At times, he also hosted the radio show "Ma Bo'er" (What's Burning).

From August 2003, he worked as the political correspondent for "Channel 10 News." From March 2006 to April 2009, he co-hosted the Friday night edition of "Shishi" (Sixth) alongside Ofer Shelah. Starting in May 2009, both of them hosted the investigative program "HaMakor." Later on, Drucker co-hosted the show with Miki Rosenthal and Razi Barkai before hosting it by himself.

In 2004, he was involved in founding the Movement for Freedom of Information and served as its chairman until December 2016.

Twenty-two days before the 2006 elections, Drucker exposed the "Olmert Diaries," lists containing political appointments made by Omri Sharon, the son of the former Prime Minister Ariel Sharon. On June 15, 2007, three days after the internal elections for the leadership of the Labor Party and Ehud Barak's victory, Drucker revealed recordings from Arab polling stations that showed the actual voter turnout was significantly lower than the high reported voter percentages. This disclosure led to a police investigation.

In March 2007, Drucker exposed an internal document from Ehud Olmert's office, documenting the benefits given by Olmert and his associates to Likud activists. Several months later, the government's legal advisor, Meni Mazuz, ordered an investigation by the police into this matter.

In 2008, Drucker revealed that during the Second Lebanon War, Benjamin Netanyahu, accompanied by his wife Sarah Netanyahu, had incurred high expenses during a public relations trip to London, which were allegedly covered by a London-based donor. In response, Netanyahu filed a libel suit against Drucker and Channel 10, which he later withdrew. It was found that Sarah Netanyahu's trip had not been approved as required by the Ethics Committee, and Netanyahu received a reprimand from the committee.

In June 2008, Drucker exposed irregularities in the appointment book of Haim Katzav, leading to a police investigation.

In November 2016, Drucker published an article alleging that Yair Netanyahu, the son of the Prime Minister, benefited from Australian billionaire James Packer. In response, Benjamin Netanyahu accused Drucker of "brainwashing" and "character assassination."

In April 2018, Drucker began hosting the documentary series "The Cabinets," which examines the leadership of six former Israeli prime ministers.

In March 2011, Drucker published an investigation on "HaMakor," alleging that between 1999 and 2008, Benjamin Netanyahu and his family traveled abroad at the expense of private entities, even after Netanyahu's return to politics in 2002. This investigation, known as the "Bibitours Affair," led to a review by the State Comptroller. Ultimately, in September 2014, the Government Legal Advisor, Yehuda Weinstein, decided to adopt the recommendations of the police and the State Prosecutor's Office and close the case, stating that "the material collected did not provide grounds for initiating an investigation."

In 2015, Drucker and Channel 10 News filed a lawsuit in the Jerusalem District Court to obtain information about all the conversations held between Prime Minister Netanyahu and Amos Regev, the editor of "Israel Hayom," and the newspaper's owner Sheldon Adelson. Judge David Mintz ruled that Netanyahu must provide a full list of the dates of his conversations with Adelson and Regev but also allowed them to oppose the release of this information beforehand.
Adelson and Regev opposed, citing concerns about their privacy, and in February 2016, the Supreme Court overturned the District Court's decision. In July 2016, Mintz ruled that Netanyahu was not required to provide the information, stating that in the circumstances of the case, the public interest in obtaining the information did not outweigh Adelson and Regev's right to privacy.
In October 2016, Drucker and Channel 10 News appealed the decision, and in August 2017, the Supreme Court accepted the appeal, stating that the public interest in receiving the information under the Freedom of Information Act prevailed over the infringement on the privacy of Adelson and Regev.

In November 2016, Drucker exposed an email address belonging to David Shimron, the former legal advisor to Prime Minister Benjamin Netanyahu. The email provided evidence of Shimron's involvement in the submarine affair, where he represented Israeli agent Miki Ganor, the local representative of the submarine manufacturer ThyssenKrupp. This revelation became part of the larger submarine scandal, which ultimately led to indictments.

In 2007, Ran Erez, the head of the Teachers' Union, filed a libel suit against Drucker, "Channel 10 News," and other employees of the channel. This was in response to a news report on "Channel 10" alleging that the Teachers' Union was part of a conspiracy to replace the Minister of Education, Yuli Tamir, with Knesset member Ami Ayalon.
The initial judgment ruled in favor of the plaintiffs, awarding them compensation of half a million shekels. However, this decision was later appealed, and the Supreme Court reduced the compensation to 300,000 shekels.

In January 2017, Drucker and "Channel 10 News" filed a libel suit against journalist Ariel Segal. They claimed that in an investigation published by Drucker, he tried to discredit the commander of the Givati Brigade, Lt. Col. Ofer Winter, for ideological reasons. Following the lawsuit, Segal issued an apology.

In October 2021, Drucker filed a 1 million shekel libel suit against Yakov Bardugo, Galatz (IDF Radio) radio station, Noam Pattai, Yotam Zamiri, and Galay Israel and Radio Darom, radio stations where they broadcast, alleging that they falsely accused him of committing the criminal offense of extortion by threats against Defense Minister Benny Gantz in an op-ed published in "Haaretz."

Personal Life

Raviv Drucker is married to journalist Anat Goren, and they reside in Tel Aviv with their three children. In his free time, Drucker enjoys playing soccer and has even played in a semi-professional league. He is known for his meticulous research and investigative skills, and his work has had a significant impact on Israeli politics and public discourse.

Please note that the information provided here is based on my knowledge as of September 2021, and there may have been developments in Raviv Drucker's career or personal life since that time.
---
Reviews (0)
No reviews yet.