Meshulam Riklis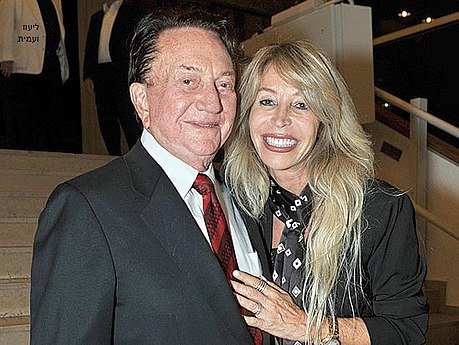 Meshulam (Zosha) Riklis (December 2, 1923 – January 25, 2019) was an Israeli-American businessman.
Biography
Riklis was born in Istanbul, Turkey, to parents of Russian Jewish descent who were on their way to Israel. His father, Pinchas Riklis, was a "Shomer" activist and served as an officer in the Turkish army.
His family was among the descendants of the Baal Shem Tov. Riklis grew up in Tel Aviv and attended the Herzliya Gymnasium. In 1947, he traveled to the United States to study, accompanied by his wife, Yehudit Levi, and their two children.
Some sources suggest he left Israel in 1946 and was considered a deserter during the early days of the Israeli War of Independence. He studied mathematics at Ohio State University, earning his bachelor's degree in 1950. In 1966, he completed a master's degree in business administration at the same university.

Early in his career, he taught Hebrew and Talmud at a school in Minneapolis and later worked as an analyst for the investment firm Piper Jaffray. In the 1960s, he began making his fortune through acquisitions and takeovers of various American companies traded on the stock market, subsequently selling them after their value increased. In 1974, he sold his company to Shearson Loeb Rhoades (now part of Morgan Stanley) for only $16 million.
By the late 1960s, he served as the chairman of the board for the American company Rapid-American. In 1980, he established the Riklis Family Corporation, which employed over 20,000 people.
During the 1980s, he was one of the wealthiest individuals in the United States and appeared on Forbes' list of the 400 richest people in the world. However, in the 1990s, his assets declined, and he faced financial difficulties.

Riklis was known for his close friendship with Ariel Sharon, the former Israeli Prime Minister. In 1972, Riklis loaned Sharon, then commander of the Southern Command, funds for purchasing the Kadima Ranch. In 1983, Riklis supported Sharon in his defamation lawsuit against the American magazine "Time."

He also contributed to George W. Bush's U.S. presidential campaign and the Republican Party.


Personal Life

Riklis was married for the first time to Yehudit in Israel. The couple had two daughters and one son together. After divorcing Yehudit, Riklis married American actress and singer Pia Zadora in 1977 when he was 53 years old, and she was 23.
They had one daughter and one son together. The couple divorced in 1993. In 2009, Riklis married Tali Sinai, the former wife of singer Eyal Golan, despite a significant age difference (he was 35 years her senior). They had a daughter together in 1985 and a son in 1987, both of whom were born during Riklis' previous marriages.

In 2010, Riklis and his wife Tali participated in several episodes of the Israeli reality TV series "Ma'usharot" (The Wealthy).

Meshulam Riklis passed away on January 25, 2019, at Ichilov Hospital in Tel Aviv at the age of 95.
---
Reviews (0)
No reviews yet.