Menachem Kaddishman: An Israeli Sculptor and His Enduring Legacy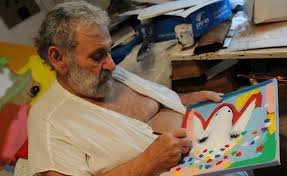 Menachem Kaddishman, born on August 21, 1932, and passing away on May 8, 2015, was a renowned Israeli painter and sculptor, celebrated for his contributions to the world of art. He was honored with the Israel Prize in the field of sculpture, recognizing his exceptional talent and lasting impact on the art community.
Early Life and Education
Menachem Kaddishman was born in Tel Aviv to Blaha and Ben-Zion Kaddishman. Despite the pioneering spirit of his family, an atmosphere of support for the arts prevailed in his home. His father, as a hobby, crafted aluminum cutouts related to the pioneers of the time. In his youth, Kaddishman studied painting with Aharon Avni. Subsequently, he pursued sculpture under the guidance of Moshe Sternschuss. Simultaneously, he was an active member of the youth movement "Gordonia."
In 1950, Kaddishman's father passed away. He completed his high school studies at the Max Fein Vocational School in Tel Aviv. Upon his enlistment in the Israel Defense Forces (IDF), he joined the newly formed Nahal Brigade. Kaddishman was stationed at Kibbutz Ma'ayan Baruch in the Galilee, where he worked as a shepherd. This pastoral experience significantly influenced his later works.
His memories as a shepherd were meticulously documented through charcoal and pastel drawings, often featuring sheep. These works often depicted scenes from the border areas of Israel, particularly the fences of the Tzelim kibbutz. His choice of subject matter was partly influenced by the fact that even the sheep were limited by international borders.

From 1947 to 1950, Kaddishman studied sculpture with Moshe Sternschuss, and later with Rudi Lehmann. He was a member of Kibbutz Yizre'el for several years but was compelled to leave because the kibbutz refused to fund his academic studies. In 1959-1960, he studied at St. Martin's School of Art (Central Saint Martins) in London under the tutelage of Antony Caro, alongside fellow student Buky Schwartz. He also attended the Slade School of Fine Art in London. During the 1960s, he lived and began to make a name for himself in London.

In 1968, he represented Israel at Documenta in Kassel, Germany. In 1978, he exhibited 18 blue-painted sheep at the Venice Biennale in a project titled "The Sheep Project: Nature as Art and Art as Nature." This exhibition was later reconstructed at the Tel Aviv Museum of Art in December 2005, under the name "Paint Me a Sheep." Kaddishman also gained fame for his colorful painted sculptures of sheep, a series he began in 1995, resulting in thousands of pieces from this series.


Sculpture and Artistic Style

Kaddishman's sculptures often incorporated iron and other materials to create impactful environmental art. In the early 1960s, he sculpted in an abstract style, employing geometric forms. Over time, his sculptures became less abstract, with notable works including "The Binding of Isaac," a corten steel street sculpture located in front of the Tel Aviv Museum of Art and the Tel Aviv Courthouse.

One of his most iconic street sculptures is "The Sacrifice of Isaac," created from corten steel and standing at a height of 15 meters. The sculpture is located near the Habima Theatre in Tel Aviv and is a prominent landmark in the city.

In 1995, he started creating colorful, painted, and lifelike sheep sculptures, which have become emblematic of his work. Since then, he produced thousands of sheep sculptures as part of this series.


Legacy and Recognition

In 1995, Menachem Kaddishman was honored with the Israel Prize in the field of sculpture. His contributions to the world of art extended beyond his sculptures, as he also played roles in films directed by Ze'ev Revach, including "Just for Today" and "The Thief Who Robbed Himself."

Kaddishman was married and had two children. His son is a painter, and his daughter, the actress Maya Kaddishman, is married to the artist Eran Shakine.

Menachem Kaddishman passed away on May 8, 2015, at the age of 82, and he was laid to rest in the Kiryat Shaul Cemetery.


Honoring His Memory

In recognition of Menachem Kaddishman's contributions to the arts and culture of Tel Aviv, a memorial plaque was placed on his former residence at 2 Bar Kokhba Street.


Selected Works

1. Tension, 1966: Painted steel, 302 cm tall. Israel Museum, Jerusalem.
2. Negative Trees, 1975: Corten steel, Rockach Street 77, Tel Aviv.
3. Elevation, 1976: Iron, 15 meters tall. Habima Square, Tel Aviv.
4. Continuity, 1979: Corten steel, Weizmann Institute of Science, Rehovot.
5. Fragments: Bikur Holim Hospital, Petah Tikva.
6. Binding of Isaac, 1982-1985: Corten steel, Tel Aviv Museum of Art and Tel Aviv Courthouse.
7. Birth, 1989: Iron, 230/300/250 cm. Open Museum, Tefen.
8. Flute Player: Van Leer Institute, Jerusalem.
9. Prometheus: Corten steel, Herzliya Museum of Contemporary Art, Tel Aviv.
10.Binding of Isaac: Tel Aviv University.
11.Pair of Birds: Esther Hamalka Street, Tel Aviv.
12.The "Shalechet" Sculpture: Jewish Museum, Berlin.
13.Partisans Monument: Ramat Gan.

Menachem Kaddishman's innovative and thought-provoking sculptures have left an indelible mark on the world of art. His work continues to captivate audiences and serves as a testament to his enduring legacy.

---
Reviews (0)
No reviews yet.