Liat Dror and Nir Ben-Gal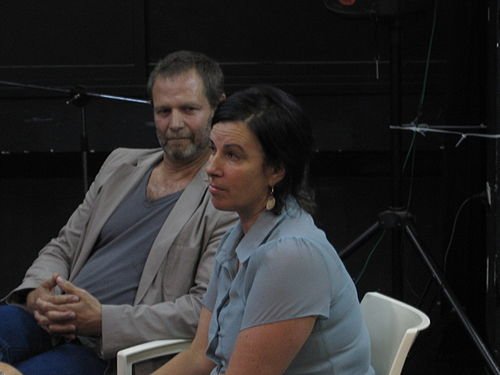 Liat Dror and Nir Ben-Gal are a renowned Israeli duo of dancers and choreographers.
Biography
Liat Dror, born in 1960 and raised in Kibbutz Lochamei HaGeta'ot, and Nir Ben-Gal, born in 1959 and raised in Kibbutz Rosh HaNikra, first crossed paths at the regional high school in Gesher HaZiv. After completing their military service, they both relocated to Tel Aviv.
Ben-Gal worked as a maintenance worker in Neve Tzedek, where he witnessed rehearsals of the Inbal Dance Theater and Ruth Ziv Eyal's dance troupe. His interest in dance began to flourish, leading him to take dance lessons with Rena Schenfeld. Not long after, the couple moved to Jerusalem and began their studies at the Rubin Academy of Music and Dance.

Dror and Ben-Gal initiated their shared journey as dancers in the Jerusalem-based dance ensemble "Inbal." They made their debut appearance at the Israel Festival in 1986, garnering praise. Subsequently, they were invited by choreographer Yehudit Arnon to join a workshop alongside the Kibbutz Contemporary Dance Company in Ga'aton.
During the workshop, they won first prize in a choreography competition in Kiel, Germany. They also collaborated with the local dance company "Reflex" in the Netherlands. Upon returning to Israel, they created their first choreography, "A Two-Room Apartment," which made waves in the dance world, earning them the first prize at the "Colors in Dance" festival in 1987. In June 1988, they achieved first place at the Bagnolet International Choreography Competition in Paris.

Continuing their collaboration, Dror and Ben-Gal created two more duet programs: "Donkeys" (1988) and "The Third Dance" (1990), performing them in Israel and around the world. Eitan Fox produced the documentary film "Donkeys" about their work. In 1992, they performed at the prestigious Montpellier Dance Festival.

When they felt ready as a couple, they founded an independent dance group in late 1990. Throughout the 1990s, they created several acclaimed works, including "In the Thicket of Passion" (1991), "Figs" (1993), "Inta Omri" (1994), "To Rise and Greet My Beloved" (1996), and "Inquiry" (1996).

Over the years, Dror and Ben-Gal also delved into teaching, conducting movement and observation workshops alongside their work as choreographers. In 1999, they created "The Dance of Nothing" to the music of Yuval Micenmacher, featuring Palestinian musicians.
This performance, held in a specially erected tent in the Suzanne Dellal Center courtyard, was presented both internationally and at dance festivals across Europe. It was a kind of life ritual of the Hai tribe in the desert, where they baked cookies for their guests. As the storytelling, love, and dancing concluded, and when the cookies were ready, the dancers served them to the audience.

In 2000, they moved to Mizpe Ramon and established "Hangar Adama." In August 2016, Dror and Ben-Gal left for Sderot, where they opened a school for dance and movement.

Throughout their careers, Dror and Ben-Gal have nurtured and taught many artists who have gained recognition, including Emanuel Gat, Niv Sheinfeld, Michal Herman, Roni Lavon, Yuval Pick, Shelly Palmon, Shlomi Pesnar, Michal Mualem, Maya Levy, Hanan Anando Mars, Saar Harari, and Sigal Yvalonski.
---
Reviews (0)
No reviews yet.