Igor Kolomoisky: The Ukrainian Jewish Tycoon and Oligarch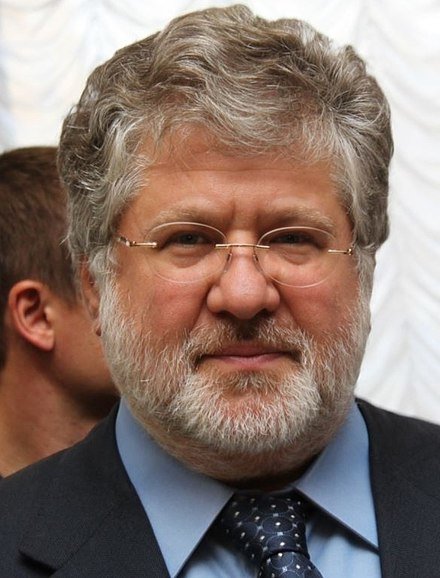 Igor Valeriyovych Kolomoisky, born on February 13, 1963, is a prominent Ukrainian businessman of Jewish descent and an oligarch. He was ranked 57th on Israel's "TheMarker" list of the 500 wealthiest individuals in 2020, with an estimated net worth of billions of dollars.
Biography
Kolomoisky was born in Dnipropetrovsk, then part of the Soviet Union, and graduated with a degree in metallurgy in 1985. He holds triple citizenship in Ukraine, Israel, and Cyprus, despite Ukrainian law prohibiting dual citizenship. Kolomoisky has stated that "Ukrainian law prohibits dual citizenship, but triple citizenship is not prohibited."
Along with Gennadiy Bogolyubov, Kolomoisky co-founded the Privat Group conglomerate and became its board chairman in 1997. His business interests encompass various sectors, including iron ore mining, finance (through PrivatBank), oil and its derivatives, aviation, and telecommunications. Additionally, he held ownership stakes in the Dnipro football club and had interests in basketball and ice hockey.
Business Career
Through PrivatBank, Kolomoisky controlled several airlines, including Aerosvit, Dniproavia, and Donbassaero (which later ceased operations). He also controlled Skyrizon Express, City Airlines, and Kimber Sterling Airlines through the asset management company Mansvell Enterprises Limited. Kolomoisky maintained interests in Ukrainian media, such as the 1+1 Media Group, which operates multiple Ukrainian television channels.
Since 2010, there have been reports of increased scrutiny and pressure on Kolomoisky's assets by authorities.
In September 2013, Kolomoisky faced criticism from a London court following a dispute involving alleged wrongful takeover attempts of the oil and gas company JKX by Alexander Zhukov. The judge ruled that Kolomoisky had "a man of influence" who used coercive tactics to control businesses.
After Russia's annexation of Crimea in 2014, his assets in Crimea were seized. According to Crimea's leader, Sergei Aksyonov, this was "completely justified" due to Kolomoisky's involvement in the special operation against terrorism in eastern Ukraine, where Russian citizens were killed. In response, Kolomoisky filed a complaint against Russia with the International Court of Arbitration. Russia argued that the court had no jurisdiction in the matter and refused to participate in the proceedings.
In late 2016, the Ukrainian government nationalized PrivatBank, which held about one-third of Ukraine's citizen deposits, after it faced a near-collapse due to the economic crisis in the country. Kolomoisky and Bogolyubov, who held a 49% stake in the bank, were accused of embezzlement. In December 2017, the UK Supreme Court ordered the freezing of assets owned by Kolomoisky and Bogolyubov valued at $2.5 billion.
Although both denied siphoning money from the bank, Kolomoisky left the country. In December 2019, the bank filed a $2.1 billion lawsuit against Igor Kolomoisky and his partner Gennadiy Bogolyubov, as well as against Discount Bank, where Kolomoisky and Bogolyubov transferred money. Kolomoisky and Bogolyubov were residing in Israel at that time. Subsequently, Kolomoisky returned to Ukraine in an attempt to regain control of the bank through his political connections, supporting Volodymyr Zelenskyy, who was elected as Ukraine's President.


Political Involvement in Ukraine

Kolomoisky was a political patron of Ukrainian politician Yulia Tymoshenko and her party. However, their relationship soured, possibly due to his refusal to fund Tymoshenko's election campaign in 2010. Croatian newspaper Nacional claimed in September 2007 that Kolomoisky became a godfather to Ukraine's President Viktor Yanukovych and financed his party.

On March 2, 2014, amidst the Ukrainian-Russian conflict, President Oleksandr Turchynov appointed Kolomoisky as the governor of Dnipropetrovsk Oblast. Two days later, Russian President Vladimir Putin referred to Kolomoisky as a "gangster" and stated that the residents of Dnipropetrovsk Oblast were unhappy with his appointment as governor. Putin alleged that Kolomoisky and his allies had cheated billionaire Roman Abramovich, who was reportedly cheated out of billions.

A few weeks after his appointment as governor, Kolomoisky was photographed wearing a t-shirt with the inscription "Dnipro-1." Underneath the text was the symbol of Ukrainian nationalism - a sharpened Trident.
The word "Zhidobanderivets" appeared beneath the symbol, a combination of the Russian and Ukrainian words for Jews and the name of Stepan Bandera, the most controversial figure in Ukrainian history. Some of Bandera's supporters participated in pogroms and the killing of Jews.

In April 2014, Kolomoisky offered a reward for capturing Russian-supported fighters and encouraging them to use arms against them. He also contributed approximately $10 million for the establishment of the Dnipro-1 volunteer battalion and financed other volunteer battalions fighting against Russia.
In response, Russia requested Interpol to include Kolomoisky on its wanted list. On July 2, 2014, a Russian regional court issued an arrest warrant for him on charges of "organizing the killing of civilians."

In March 2015, following the dismissal of Oleksandr Lazorko, who was under Kolomoisky's patronage, as the CEO of UkrTransNafta, the state-owned oil pipeline company in Ukraine, reports emerged that Kolomoisky's personal militia stormed UkrTransNafta's headquarters to oust the new management. While Lazorko was responsible for state-owned oil pipelines, both allegedly transferred oil to Kolomoisky's rivals during the conflict.

On March 25, 2015, Ukraine's President signed an order removing Kolomoisky from his position as governor of the province.

During the 2019 Ukrainian presidential elections, Kolomoisky was one of the oligarchs behind the elected candidate, Volodymyr Zelenskyy. Kolomoisky owned the television channel that broadcasted the series "Servant of the People," in which Zelenskyy starred.


Philanthropy
Kolomoisky, along with his partner Gennadiy Bogolyubov, made contributions to Yad Vashem.
In 2008, they donated to the reconstruction of the destroyed synagogue in Jerusalem's Jewish Quarter. On September 21, 2011, they jointly founded the Jewish News One channel, which operated from 2011 to 2014.
Personal Life
Kolomoisky is married and has two children. He owns a luxurious residence in Herzliya Pituach, Israel, but has been residing mainly in Switzerland since 2015.
In March 2012, Forbes estimated Kolomoisky's wealth at around $3 billion. In March 2015, after a significant devaluation of the hryvnia (the Ukrainian currency), The Economist estimated his wealth at approximately $1.36 billion.
---
Reviews (0)
No reviews yet.