Carmela Menashe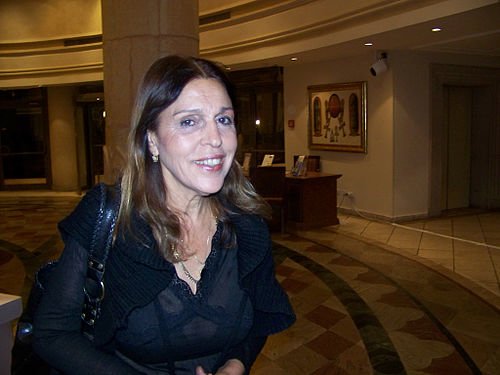 Carmela Menashe, born in 1949, is an Israeli journalist serving as a military affairs correspondent for the broadcasting corporation "Kan."
Biography
Born into an Iraqi Jewish family, she is the niece (Ebadi) of the renowned Kabbalist Rabbi Yehuda Petaya. Her cousin is Moshe Bar-Zohar. In her youth, she was a member of the Labor Zionist youth movement, working and studying in the Kan Borochov neighborhood of Givatayim.
In 1967, she enlisted in the Israel Defense Forces (IDF) and served as an officer in Battalion 50. In 1974, after her military service, she began working as a secretary at Kol Israel.
In 1986, following the completion of a journalism course, she became a reporter for the program "All the Colors of the Network" and the weekly program "The Weekly Column." In the same year, she joined the news department and held various positions.
Among other things, she reported on traffic updates from "The Light Plane." In 1984, she was appointed as a reporter covering crime and police matters. Starting in 1988, she has been serving as a military affairs correspondent for Kol Israel, now part of the Kan broadcasting corporation. In the past, she also served as the head of the military writers' unit.

Among the military personnel, she earned the nickname "The Soldiers' Mother" due to her numerous reports exposing misconduct and scandals within the security establishment and her coverage of soldiers' issues through her broadcasts on the station.

In December 2019, she reported that the IDF had inflated the number of ultra-Orthodox recruits.


Education

Carmela Menashe holds a Bachelor's degree in the History of the Jewish People and the Land of Israel, which she completed in 1989. She also earned a second degree in the History of the Jewish People with honors at Tel Aviv University. Her thesis for the second degree, completed in 1992, was titled "The Non-Immigration Aliyah from Iraq to the Land of Israel in the Years 1947-1951," under the guidance of Professor Daniel Carpi.


Awards

Throughout the years, she has received several awards for her public exposure and journalistic work, including the Sokolov Prize, the "Daughters of the Covenant" Prize, the Exemplary Contribution to Civil Security Award, and the "Knight of the Quality of Government" Prize.

In September 2008, she received the Ometz Award.

In March 2009, she was awarded the Israel Broadcasting Authority Director General's Award.

In August 2010, Carmela Menashe was declared the winner of the Emet Prize for 2010 in the field of social sciences and journalism.

On Israel's Independence Day in 2014, she lit a torch during the torch-lighting ceremony.


Personal Life

Menashe is a single mother to her daughter. In the past, she was in a relationship with radio personality Gidon Lev-Ari and with brain researcher Danny Michaelson.

---
Reviews (0)
No reviews yet.