Benny Steinmetz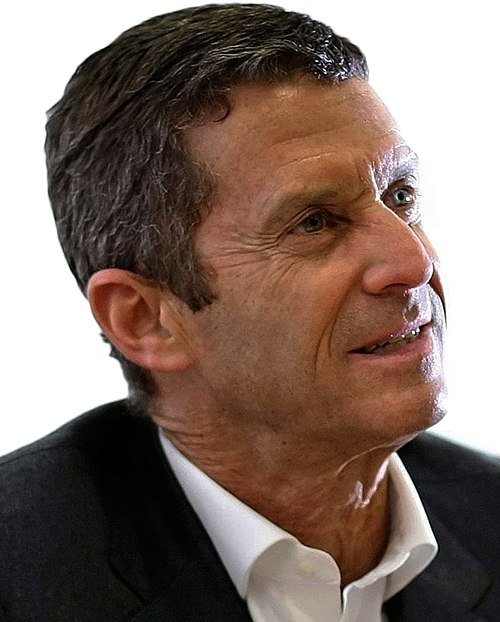 Benny Steinmetz, born in 1956, is an Israeli-French businessman with an estimated net worth of around $1.1 billion as of November 2019. He has faced legal issues and investigations in Romania and Switzerland.
Biography

Benny Steinmetz was born in Netanya, Israel, as the youngest son of diamond dealer Reuben Steinmetz. After completing his military service, he relocated to Antwerp, Belgium, where he focused on the diamond business. In 1997, he returned to Israel.

Steinmetz describes himself as a "consultant" in the "Benny Steinmetz Group" (BSGR), which invests in diamond mining, gold, and metals through subsidiaries operating in Africa, Europe, and Russia. BSGR is also involved in real estate and investments in various industries.

In 1995, Steinmetz established the trust fund "Hermitage," in partnership with Republic Bank of New York, owned by the Sapir brothers. The fund invests in stocks of companies registered in Russia.

In the early 21st century, the group acquired control of BSG Resources (BSGR), a major player in the global natural resource industry. BSGR was sold to the Italian company Beni Steinmetz Group for mining operations in 2012.

In 2010, a company from the Steinmetz Group acquired a 42.5% stake in the offshore licenses known as "Pelagic," which held five natural gas exploration licenses in Israel's economic waters.

In March 2011, the Steinmetz-controlled Scorpio Real Estate faced financial difficulties and failed to make payments to bondholders. As part of a debt arrangement, Steinmetz paid $100 million to the company.


Controversies in Various Countries

In August 2009, Steinmetz was suspected of evading taxes in Israel. In 2012, he left Israel due to disputes with tax authorities.

Steinmetz's disputes with tax authorities stem partly from his self-identification as a "consultant" rather than an "owner" of the companies in the "Benny Steinmetz Group." Although he is considered to "benefit" from the income generated by the group's companies, which have multibillion-dollar turnovers, he has paid taxes in Israel since 1998 based on declared income of ILS 1.8 million per year.

In August 2017, Steinmetz was arrested in Israel on charges of bribery, fraud, and obstruction of justice in relation to public officials. The allegations involved payments of tens of millions of dollars to senior public officials in Guinea in exchange for promoting his businesses there.

In February 2019, BSGR and Guinea's President Alpha Conde reached an agreement to settle their differences, ending a dispute that had lasted for seven years over the Simandou mineral deposit, one of the world's richest mineral reserves.

In August 2019, the Swiss Attorney General's Office filed an indictment against Steinmetz on charges of corruption and forging documents. In January 2021, he was convicted of bribery and sentenced to five years in prison and a fine of CHF 50 million.

In December 2015, Steinmetz, along with Tel Aviv-based businessman Tal Silberstein and Romanian Prince Paul, faced accusations of bribery and fraud related to a land deal in Romania. In June 2019, Steinmetz, Silberstein, and two other Israelis who were investigated were acquitted of corruption charges related to land deals in Romania.

In April 2017, the Steinmetz Group filed a $10 billion lawsuit against billionaire George Soros in a New York state court for his alleged involvement in a worldwide campaign that used international organizations and non-profits to undermine and damage the Steinmetz Group's reputation and business.


Family

Benny Steinmetz is married to Ania (Agnes) Luszycki, whom he met while working on a farming settlement during the Yom Kippur War, and they have four children.

He is the brother of Danny Steinmetz and the cousin of Raz Steinmetz, who were co-owners of Ampal, an investment company, until 2001.


Ania and Benny Steinmetz Foundation

In 2007, Benny Steinmetz and his wife Ania (Agnes) established the "Ania and Benny Steinmetz Foundation" with the aim of consolidating their voluntary activities under one philanthropic organization. The foundation primarily focuses on funding programs in the fields of education, health, and culture for young children.

The foundation also supports organizations that help at-risk youth, operates youth clubs for children from disadvantaged families, and provides study scholarships to students from economically challenged backgrounds in exchange for social engagement and community service.

Additionally, the foundation extends its assistance to other organizations and institutions, including the Tel Aviv Museum, hospitals, soldiers' welfare organizations (with an emphasis on soldiers from the Golani Brigade), and cancer research organizations.

In late 2016, the foundation celebrated a decade of activity, with representatives of the many organizations it has supported over the years, receiving cumulative contributions totaling tens of millions of shekels.
---
Reviews (0)
No reviews yet.