Ben Caspit: Israeli Journalist and Political Commentator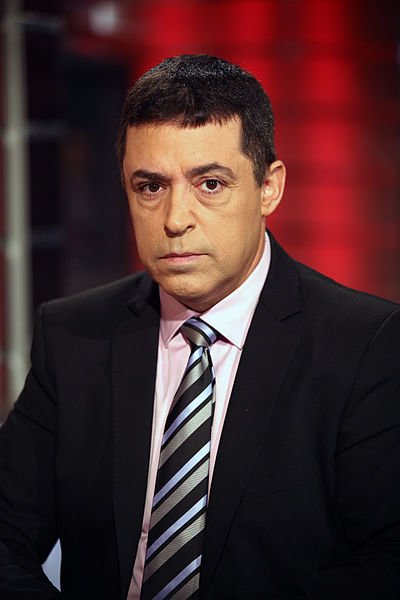 Ben Caspit, born on October 18, 1960, in Tel Aviv, is a prominent Israeli journalist and political commentator. Throughout his career, he has held various roles in journalism, including serving as the political correspondent for the "Maariv" newspaper, writing opinion columns, hosting television programs, and authoring books. Today, he is a respected political analyst and a senior writer for "Maariv HaShavua" newspaper, as well as a contributor to the Arab-American news website, Al-Monitor. Additionally, Caspit hosts daily radio programs on 103fm.
Biography:

Ben Caspit was born in Tel Aviv to Rachel and Yitzhak Caspit. His father, Yitzhak Caspit, was a member of the Likud party's central committee and deputy chairman of the Pensioners' Association. Caspit grew up in Holon. In 1979, upon his enlistment in the Israel Defense Forces (IDF), he was assigned to the Armored Corps, where he underwent training as a tank commander. He served as a tank commander in the 82nd Battalion of the 7th Armored Brigade until his release in 1982.

After completing his military service, Caspit pursued a Bachelor's degree in law at Tel Aviv University. He also worked as a private investigator, specializing in economic and insurance-related investigations.

In 1985, Caspit began his journalism career at "Maariv," initially as a sports journalist. Over time, he transitioned to municipal reporting, police reporting, and eventually, he became the newspaper's political correspondent. For four years, he served as Maariv's correspondent in New York City after which he returned to Israel and assumed the position of political correspondent for the newspaper.

In November 2012, during the acquisition of "Maariv" by Shlomo Ben-Zvi, Caspit, along with other employees, was dismissed from the newspaper. Shortly after his dismissal, he, along with other former "Maariv" staff members, contributed to the launch of the new weekly publication, "Sof HaShavua."

In May 2014, following the acquisition of the "Maariv" newspaper and its merger with "Sof HaShavua" by The Jerusalem Post Group, Caspit returned to work for the newspaper, now known as "Maariv HaShavua." He is one of the senior columnists for the newspaper and regularly writes opinion pieces in the main section and the "Maariv Sof HaShavua" supplement.

In the past, Caspit also served as the public representative on the Israel Football Association and chaired the Education and Explanation Committee on its behalf.

Since 2012, Caspit has hosted a daily radio program on 103fm. Initially, he co-hosted the show with Emanuel Rosen, and in 2013, he continued hosting alongside former Knesset members Aryeh Eldad and Roni Bar-On.

Starting from 2012, he has been a commentator on the Arab-American news website, Al-Monitor.

Caspit is known for his critical views on former Israeli Prime Minister Benjamin Netanyahu. He has also authored two books about Netanyahu: "Netanyahu: The Road to Power" and "Netanyahu: A Biography." According to Caspit, "I admit I am obsessive. I am a father of three, and if someone wants to harm my child, I will be obsessive in trying to stop them. In my positions, I am generally right-wing, but I have been following Netanyahu since 1988, and I think he is dangerous for the State of Israel."


Television:

In addition to his written work, Ben Caspit has hosted several television programs over the years, using his platform to provide political analysis and commentary on various issues.


Personal Life:

Ben Caspit is a father of three. In August 2019, he separated from his wife, Hila, after 20 years of marriage. Together, they have two daughters. Caspit currently resides in Hod HaSharon.

Ben Caspit's career has left a lasting impact on Israeli journalism and political commentary. His critical analysis and reporting have made him a prominent figure in Israeli media, with his views and insights contributing to the national conversation on political matters.

---
Reviews (0)
No reviews yet.